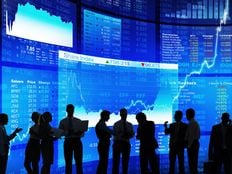 Global commodity prices ranging from precious metals to crude oil surged this week, as the combination of political maneuvering and a plunging US dollar drove gains in greenback-denominated assets. The Group of 20 Summit in Hangzhou, China shone a spotlight on several countries including the host nation and Brazil – two economies on very different trajectories.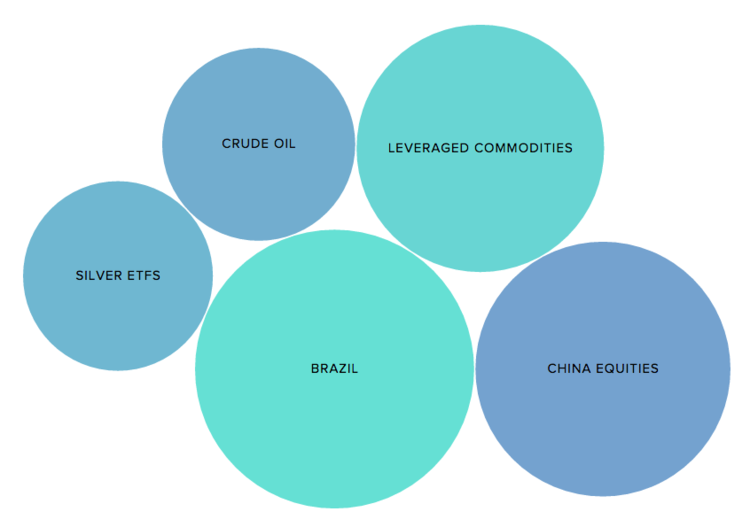 Brazil Talks up Economic Stability
Brazilian stocks were the leaders this week, as Latin America's largest economy remained a focal point for investors. Brazilian ETFs saw their traffic spike 45% from the week earlier. According to Brazilian Finance Minister Henrique Meirelles, Brazil's presence at the G20 boosted investors' interest in the country.
"The interest to invest in Brazil is very high. This is an extremely promising sign as it shows the belief in Brazil's recovery," he said.
Brazil has emerged as a prime destination for investors at a time when its economy is mired in the worst crisis since the 1930s. Brazil plunged into recession last year after commodity prices collapsed and a major corruption scandal plagued the nation's state-run oil company, Petrobras. Less than two years after the corruption scandal was uncovered, Brazilian President Dilma Rousseff was impeached for administrative misconduct and violating the country's Fiscal Responsibility Law. She was officially dismissed on August 31. Shortly after Rousseff's impeachment, Acting President Michel Temer was sworn in as President of Brazil.
Temer has pledged significant reform to steer the economy back to safer shores, and in the process has instilled confidence that Brazil will return to strength – or at least that the worst of the crisis has ended. Expectations for continued low-rate stimulus by the US Federal Reserve have also helped Brazilian stocks reach multi-year highs. The iShares MSCI Brazil Index ETF (EWZS A) has surged 55% this year, having only recently approached four-week highs.
---
Content continues below advertisement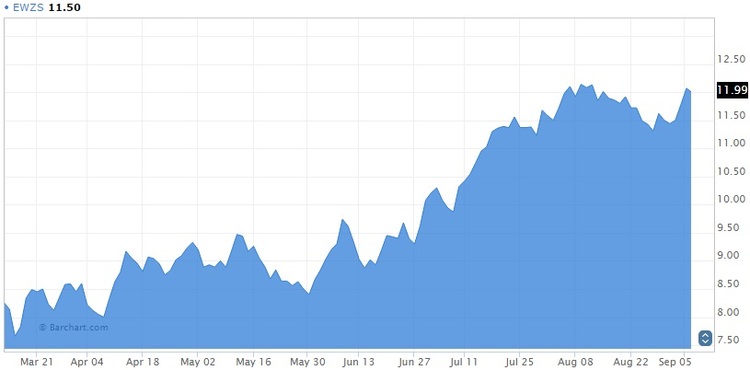 Chinese Equities Rise on Fed Cues
In terms of overall viewership, Chinese equities have taken the second spot on this week's list with a 30.6% increase. Chinese equities received a boost, as disappointing US economic data put to rest any hopes of a September rate hike by the Federal Reserve. The iShares MSCI Pacific Index excluding Japan (EPP A-) traded near one-year highs Wednesday, having gained more than 3% over the previous five sessions.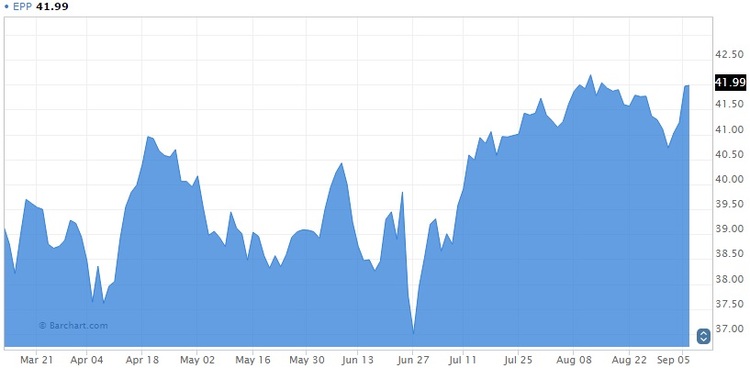 Chinese and global equities spiked in response to last Friday's US nonfarm payrolls report, which showed the net creation of 151,000 jobs in August. The reading was slightly below forecasts calling for 180,000 and well-below levels that would convince the Fed to resume tightening monetary policy at its next meeting on September 20-21. As of Wednesday, traders placed the chances of a September rate hike at just 15%, according to the CME Fed Fund futures prices.
Leveraged Commodities Thrive on Low-Rate Bets
Leveraged commodities ETFs had their viewership increase nearly 30% this week, tracking closely behind Chinese equities.
As traders lowered their bets on a September rate-hike, demand for the US dollar declined sharply. The dollar index, which tracks the performance of the greenback against a basket of six currencies, has plunged 1% since last Friday's jobs report. This allowed dollar-denominated commodities across several asset classes to regain momentum. The VelocityShares 3x Long Gold ETN (UGLD) has spiked 9% over the past week, with gains accelerating since the Labour Day holiday.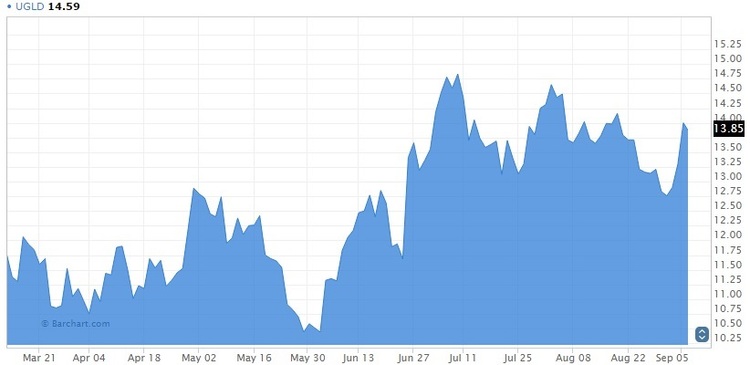 Traders who longed crude experienced a more volatile week, as markets continued to doubt the likelihood of a production freeze at a key meeting in Algeria later this month. Rising US crude inventories and higher rig counts also weighed on the market. The VelocityShares 3x Long Crude Oil ETN (UWTI B-) declined sharply at the end of last week, but has since regained its footing. Post Labour Day, the ETF is up over 9%.
Production-Freeze Optimism the Source of Recovery for Crude Oil
With a 16.3% increase in traffic, crude oil has taken fourth place on our weekly list. After a volatile second half of August, oil prices have rebounded amid hopes that OPEC, Russia and other major producers would agree to freeze output. Energy ministers from Russia and Saudi Arabia recently agreed to form a working group to monitor the oil market. Both countries – and several others – will hold informal meetings on the sidelines of the International Energy Forum in Algeria on September 26-28.
The West Texas Intermediate (WTI) benchmark for US crude futures has advanced 3.6% through the first week of September, reaching a high of $46.42 a barrel on Wednesday. The futures price staged a dramatic recovery through the first half of August after OPEC confirmed that its members will attend informal meetings in Algeria. US Oil Fund (USO B) has moved in lockstep with the futures market. The ETF closed up 1.3% at 10.52 on Wednesday after the American Petroleum Institute (API) reported the biggest drop in crude inventories since 1999.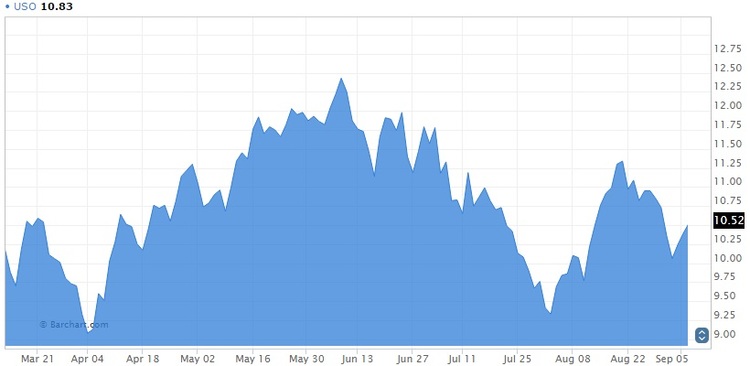 Silver ETFs Launch a Recovery as Precious Metals Return to Strength
Silver ETFs round out our top-five with a nearly 13% rise in traffic, as fundamental events tied to the US dollar drove demand for precious metals. The weakening of the US dollar following the August nonfarm payrolls report sent silver prices soaring to one-month highs. Since the beginning of the month, silver futures have gained 6.2%. The December contract settled above $20 a troy ounce on Tuesday, before consolidating below that psychological level the following day. As a result, silver's premium to gold narrowed to its lowest level in nearly one month. As of Wednesday, one ounce of gold was worth 68.03 ounces of silver.
The bull market in silver ETFs has intensified over the past five sessions. The iShares Silver Trust ETF (SLV B-) declined 1.4% on Wednesday, but is up more than 6% since the beginning of the month. Year-to-date, the ETF has gained 34%.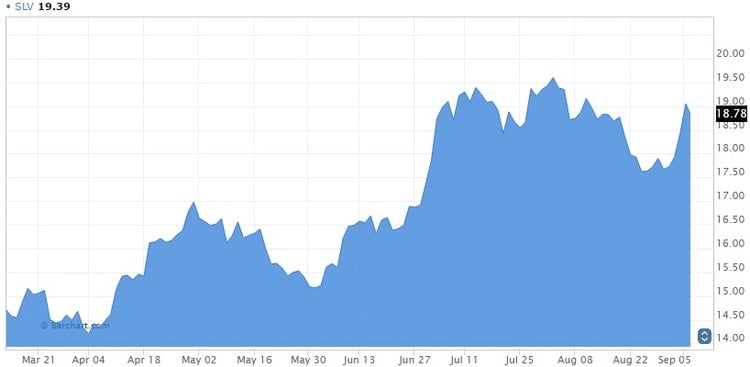 The Bottom Line
The month of September started on a high note for commodities and key segments of the equity market. Activity on Wall Street has been more tepid, as investors returned from the Labour Day long weekend to what's generally defined as a historically difficult month for US equities. A deluge of geopolitical, economic and technical forces will dominate market headlines for the rest of the month, giving investors more clues about the health of the world economy. This will no doubt influence precious metals, crude oil and emerging market stocks.