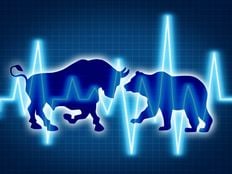 To help investors keep up with the markets, we present our ETF Scorecard. The Scorecard takes a step back and looks at how various asset classes across the globe are performing. The weekly performance is from last Friday's open to this week's Thursday close.
Admittedly, last week was richer in economic events than this week. In fact, this week's most important variable was revealed last Friday.
The U.S. economy added as many as 227,000 jobs in January, crushing estimates of 175,000. The figure is the best since August. Meanwhile, average hourly earnings disappointed, rising just 0.1% compared to the 0.3% predicted. The unemployment rate increased to 4.8% from 4.7% previously, as labor force participation jumped to 62.9% from 62.7%.
U.S. Non-Manufacturing

PMI

fell to 56.5 from 57, but is still in expansion mode. Analysts had predicted a reading of 56.6.
U.S. trade deficit improved in December to $44.3 billion from $45.7 billion in the prior month. Consensus stood at $45 billion.
U.S. job openings (

JOLTS

) fell 5.50 million in December from 5.52 million last month.
Crude oil inventories unexpectedly surged 13.8 million barrels in the week ended February 3. Pundits had forecasted U.S. stockpiles to rise just 2.7 million. This week's increase is the fourth in a row.
U.S. unemployment claims came in at 234,000 for the week ended February 4, lower than consensus estimates of 250,000. Prior figures stood at 246,000.
Risk Appetite Review
The broad market (

SPY

) has risen 0.78% since last Thursday, representing the second best performance.
High Beta

ETF

(

SPHB

) was the worst performer of the pack, down 0.45%.
Sign up for ETFdb Pro and get access to real-time ratings on over 1,900 U.S. listed ETFs.
---
Content continues below advertisement
Major Index Review
Markets were all up for the week, with one small exception.
The technology index (

QQQ

) was the best performer over the past five days, rising 1.17%. The performance was largely on the back of strong earnings announced by many tech heavyweights, including Apple (

AAPL

) and Facebook (FB). The continued bright performance was in spite of political headwinds stemming from the election of Donald Trump as president.
For the rolling month, emerging markets (

EEM

) posted the best performance, advancing 4.82%.
iShares

MSCI

EAFE

Index Fund (

EFA

) – an index containing stocks from Europe, Australasia and the Far East – was the worst performer, dropping 0.02%.
Foreign Equity Review
Foreign equities were mixed.
Chinese stocks (

FXI

) posted the best performance this week, up 3.22%, as investors saw value again on the back of strong economic data. However, risks still abound – internally, the nation is battling with capital outflows and skyrocketing corporate debt, while externally it faces a trade war with the U.S., although Trump recently signaled he wanted the two nations to cooperate. The U.S. president sent a letter to his Chinese counterpart saying he seeks a "constructive relationship."
For the rolling month, India (

EPI

) was the best performer, up 8.07%.
Russia (

RSX

) is again the worst performer both for the week and the rolling month, falling 1.60% and 0.69%, respectively, despite renewed signs the Trump administration is considering lifting sanctions.
To find out more about ETFs exposed to particular countries, use our

ETF

Country Exposure tool. Select a particular country from a world map and get a list of all the ETFs tracking your pick.
Commodities Review
Commodities posted mixed results.
Oil (

USO

) was down 1.22% this week on the back of surging stockpiles in the U.S., even as

OPEC

cuts production.
Silver (

SLV

) was the best performer for the rolling month, advancing 6.01%.
Currency Review
Emerging currencies (

CEW

) fared the worst, shedding 1.05%, largely because of a stronger U.S. dollar.
The Australian dollar (

FXA

) was again the best performer for the rolling month, rising 3.75% on an improving domestic outlook and the Chinese economy.
For more ETF analysis, make sure to sign up for our free ETF newsletter.
Disclosure: No positions at time of writing.