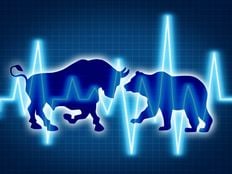 To help investors keep up with the markets, we present our ETF Scorecard. The Scorecard takes a step back and looks at how various asset classes across the globe are performing. The weekly performance is from last Friday's open to this week's Thursday close.
This week was rather slow in data and impactful events, as the U.S. celebrated President's Day on Monday.
UK retail sales fell by 0.3% in January, registering the second consecutive decrease. In the previous month, retail sales fell by a whopping 2.1%. Analysts had predicted a rise of 1.0%.
U.S. February

PMI

of 54.3 came in below expectations of 55.5 and marked a slight decrease compared to the last month when the index stood at 55.1.
Existing home sales for January edged up to 5.69 million compared to an upwardly revised 5.51 million last month. Consensus among pundits had been 5.57 million.
U.S.

FOMC

minutes revealed that policymakers see a small risk of overshooting their inflation target, despite the

CPI

hovering around 5-year highs of 2.5%. However, many members of the committee agreed that another interest rate hike may come soon.
U.S. jobless claims for the week ended February 18 were in line with estimates of 244,000. The figure for the prior month was slightly revised downward to 238,000.
U.S. crude oil stockpiles increased by 0.6 million barrels for the week ended February 17, marking the seventh consecutive weekly increase, though below forecasts of a 3.4 million rise.
The Institute for Economic Research's German business climate index rose to 111.0 in February from 109.9 previously.
The British

GDP

for the fourth quarter was upwardly revised to an increase of 0.7% from 0.6% previously.
Sign up for ETFdb Pro and get access to real-time ratings on over 1,900 U.S. listed ETFs.
Risk Appetite Review
The broad market (

SPY

) has rallied more than 1% this past week, representing the second-best performance from the pack.
The Low Volatility

ETF

(

SPLV

) was the best performer with a gain of 1.50%.
The High Beta

ETF

(

SPHB

) was again the worst performer from the pack for the third consecutive week, dropping 0.05%.
---
Content continues below advertisement
Major Index Review
Global equities posted strong gains again this week on unwavering optimism about the global economy.
For the rolling month, the technology index (

QQQ

) beat all other indices, rising 5.19%.
Amidst this overall bright picture, iShares Russell 2000 Index (

IWM

) was the worst performer, advancing just 0.22% this week, as investors wait to see signs of Donald Trump delivering on his promise to help smaller American firms before buying more.
For the rolling month, iShares

MSCI

EAFE

Index Fund (

EFA

) was the worst performer for the second week in a row, with a gain of just 2.34%.
Foreign Equity Review
Foreign equities were all up this week, with the exception of Russia.
After last week's poor performance, India (

EPI

) started to catch up on its emerging market peers, advancing 3.21%. The outperformance was despite disappointing corporate earnings, a surprise decision by the central bank not to cut interest rates and negative economic data. The equities benefited from foreign inflows. India is also the best performer for the rolling month, up 8.67%.
Russia (

RSX

) is the only loser from the pack both for the week and the rolling month, down 0.80% and 1.21%, respectively. Investors were treading cautiously after it became clear that U.S. sanctions may not be removed in the near term, if ever. Although more tempered, Trump is still insisting on improving relations with the country.
To find out more about ETFs exposed to particular countries, use our

ETF

Country Exposure tool. Select a particular country from a world map and get a list of all ETFs tracking your pick.
Commodities Review
Commodities were all down, with the exception of precious metals.
Silver (

SLV

) was again king. The metal rose 1.06% this week and 5.90% for the rolling month.
Similar to last week, natural gas (

UNG

) continued its downward slope, falling as much as 7.64% and extending monthly losses to a staggering 20.36%. The performance would have been even more disappointing if not for an upbeat inventory report Thursday showing stockpiles decreased 89 billion cubic feet for the week ended February 17. Expectations of warm weather in the U.S. will put further pressure on prices.
Currency Review
Currencies were all up, with the exception of the euro.
The single currency (

FXE

) dropped 0.76% this past week, extending monthly losses to 1.59%. Investors have been dumping the euro just as right-wing politician Marine Le Pen is gaining ground in French polls. Le Pen is campaigning on a promise to take the country out of the Eurozone.
For more ETF analysis, make sure to sign up for our free ETF newsletter.
Disclosure: No positions at time of writing.