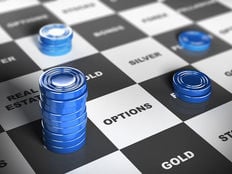 As many of the bread-n-butter and broad indexes have already been covered by exchange-traded fund (ETF) sponsors, smart beta has now taken the spotlight regarding new product launches. However, building a proper smart-beta portfolio remains elusive. This week, a new series of launches hope to help make it easier for investors to do just that. On the flipside, investors are getting a big dose of the Gospel, as faith is squarely in the crosshairs for issuers.
Either way, ETF sponsors continue to tap the smart-beta and alternative-indexing markets to craft new ways of building out a market-beating portfolio.
---
Content continues below advertisement
'Inspire' Heads Down the Road Already Traveled
Environmental, social and governance (ESG) investing has become one of the biggest trends in investing as more and more portfolios are being tilted toward the individual investor's morals. And while the bulk of that ESG focus has been green technologies and other governance standards, religion is quickly becoming a big topic for portfolio "tilting." Enter the new issuer Inspire and its two new ETFs, Inspire Global Hope Large Cap ETF (BLES B-) and Inspire Small/Mid Cap Impact ETF (ISMD B).
Both BLES and ISMD seek to offer investors a global portfolio of stocks in their respective market caps that are tilted toward conservative, evangelical Christian values. The funds will apply a "biblical" screening methodology which will remove stocks engaged in abortion, gambling, alcohol, pornography and rights violations such as association with or doing business in terrorist-sponsoring countries. In addition, a first for an index/ETF is that both BLES/ISMD will also remove those firms that support or have positive policies dealing with the LGBT lifestyle.
This isn't the first time religion has been used as the basis for an ETF. Unfortunately for Inspire, the results are usually poor. Back in 2009, FaithShares Funds launched a broad suite of "religiously responsible" ETFs covering a variety of Christian sects. FaithShares ultimately couldn't attract enough assets and shuttered its doors two years later. Similarly, the first U.S.-based ETF marketed toward Muslims closed its doors only months later as well. Today's current spate of religious ETFs has also failed to attract investors' interest.
With their more conservative focus, both BLES and ISMD may attract a following. But the real factor will be how they perform. Based on history, that might not be so great. Both ETFS charge 0.61% or $61 per $10,000 invested.
Use our Head-to-Head Comparator tool to compare two ETFs issued by any ETF sponsor.
PowerShares Makes Smart Beta Adoption Easy
It's no secret that smart beta has taken over the ETF world. As one of the earliest adopters of fundamental indexing, PowerShares' entire line-up of ETFs is basically devoted to these alternatives. The problem is, with hundreds of smart-beta funds on the market, how does the average Joe know exactly which ones will fit together to create the best overall portfolio? There are a lot of moving parts and factors to consider when looking at smart beta.
PowerShares now has you covered.
The firm launched four active allocation ETFs focused on fundamental indexing. The PowerShares Conservative Multi-Asset Allocation Portfolio (PSMC A-), PowerShares Balanced Multi-Asset Allocation Portfolio (PSMB A), PowerShares Growth Multi-Asset Allocation Portfolio (PSMG B+) and PowerShares Moderately Conservative Multi-Asset Allocation Portfolio (PSMM A) will own a basket of other underlying PowerShare smart-beta ETFs. The "fund of funds" will each be benchmarked to a certain risk tolerance and hold a mixed basket of stocks, bonds and alternatives to match that risk profile. Need more growth? Then the PSMG is your choice. Already in retirement? Then the PSMC should get the nod.
All-in-one allocation funds – such as target-date retirement funds – have become one of the fastest growing segments in the investing world as investors look to simplify their holdings and lives. However, this is the first time that allocation has been done strictly for smart beta. In that regard, PowerShares could have a series of major hits on its hands. Many of the new suites underlying ETFs have already proven their worth with their long histories of operation. For investors new to the smart-beta game, the four allocation ETFs could be a very vital tool to help build-out their portfolios.
Expense ratios for the ETFs range from 0.37% for the most conservative options to 0.39% for the more growth-oriented funds.
For a list of all new ETF launches, take a look at our ETF Launch Center.
The Bottom Line
Smart beta continues to dominate the ETF landscape. This week's new launches from PowerShares and Inspire add to the plethora of new alternatives that investors have to play with. In the end, the real winners are our portfolios as we now have the ability to get extra returns.
Sign up for ETFdb Pro and gain access to more than 50 all-ETF model portfolios, each of which is backed by a unique investment thesis.