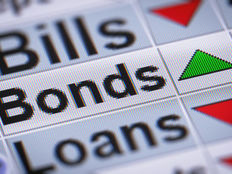 The new fund launches came fast and furious this past week with more than a dozen new products hitting the marketplace, covering a number of sectors, regions and styles.
Smart beta funds continue to be the strategy of choice for most providers, with ETF giant BlackRock, in particular, fortifying its fixed-income lineup.
Here are some of this week's most notable ETF launches.
---
Content continues below advertisement
BlackRock Adds Five ETFs to Its Roster
The iShares family has added several new funds focused on environmental, social and governance (ESG) factors over the past several months, so it shouldn't come as a surprise that it adds two more this week. The iShares ESG USD Corporate Bond ETF (SUSC B-) and the iShares ESG 1-5 Year USD Corporate Bond ETF (SUSB B) both focus on US dollar denominated investment-grade bonds, but give greater weight to those companies that score highly based on MSCI's ESG research.
Also added on the fixed-income side are the iShares Edge High Yield Defensive Bond ETF (HYDB A-) and the iShares Edge Investment Grade Enhanced Bond ETF (IGEB B+). Both of these ETFs attempt to deliver superior risk-adjusted returns by eliminating bonds showing high probabilities of default and focusing on bonds that offer attractive default-adjusted spreads.
The broader-based iShares Russell 2500 ETF (SMMD B+) is a small- and mid-cap focused fund that invests in the smallest 2500 companies by market cap from the Russell 2500 index.
For more ETF news and analysis, subscribe to our free newsletter.
Oppenheimer Expands on Its Commitment to Revenue-Weighted Strategies
Oppenheimer has enjoyed some success with its family of funds that eschew traditional market cap weighting for a revenue-weighted strategy. It adds to its ETF menu this week with three new ETFs that start with well-known global and international indices and revenue-weight them to achieve the funds' objectives. The Oppenheimer Emerging Markets Revenue ETF (REEM ) uses the MSCI Emerging Markets Index, the Oppenheimer International Revenue ETF (REFA B-) has the MSCI EAFE Index as its starting point and the Oppenheimer Global Revenue ETF (RGLB B-) uses the MSCI ACWI Index. All three portfolio weight their components by trailing 12-month revenue figures, and cap individual weightings at 5%.
To check out all of the other Oppenheimer ETFs, click here.
Invesco Takes the Conservative Route
Invesco's PowerShares ETF family establishes two new funds to add to its already diverse lineup. The underlying index of the PowerShares S&P 500 Minimum Variance ETF (SPMV A-) uses a managed volatility strategy that looks to minimize exposure to those securities forecasted to have the highest volatility while maintaining the S&P 500's overall characteristic profile. The PowerShares Russell 1000 Enhanced Equal Weight Portfolio (USEQ B+) targets stocks that display upward price momentum but maintain fair valuations. It screens for stocks using cash flow yield, earnings yield and the price-to-sales ratio.
You can use our head-to-head ETF comparison tool to compare the above 2 PowerShares ETFs.
AdvisorShares Looks to Capitalize on FANG Popularity
The FANG stocks – Facebook (FB), Amazon (AMZN), Netflix (NFLX) and Alphabet (GOOG) – represent the biggest and the best of the tech world. The AdvisorShares New Tech and Media ETF (FNG C) looks to capture the excitement and potential of this area of the market by targeting companies it labels "disruptive innovators," companies that constantly evolve and stay ahead of market trends within the tech and media industry. The fund focuses primarily on large-cap names and is managed by longtime portfolio manager and market technician David Chojnacki.
For a list of all new ETF launches, take a look at our ETF Launch Center.
The Bottom Line
The ETF industry offers investors a lot of new choices this week. Many of the smart beta offerings utilize common sense strategies such as reducing overall portfolio risk and targeting businesses with healthy balance sheets. It's no surprise that many of this week's new funds are capitalizing on already-popular trends, but for some, the combination of relatively conservative strategies and low expense ratios makes them interesting options.
Sign up for ETFdb Pro and gain access to more than 50 all-ETF model portfolios, each of which is backed by a unique investment thesis.