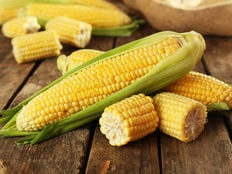 ETFdb.com analyzes the search patterns of our visitors each week. By sharing these trends with our readers, we hope to provide insights into what the financial world is concerned about and how to position your portfolio.
Corn has taken first place on the list this week, as investors started to worry about the impact of weather on prices. Currencies have also trended, with the Euro and the dollar taking second and third spots, respectively. Biotech equities continued their rally, as part of broad market optimism. Chinese equities, last on the list, have also advanced.
Read our previous trends edition at Trending: Embattled Retail Stocks Get Respite.
---
Content continues below advertisement
Corn Prices Volatile on Weather Worries
Corn prices are volatile as the plant has been in a critical pollination period and investors are watching weather patterns across the U.S. closely. Corn, which saw its traffic rise 129%, has dropped over the past few days, despite some downbeat projections about U.S. crops. The Teucrium Corn ETF (CORN B) has declined 3.25% over the past week, trimming year-to-date gains to just around 1%.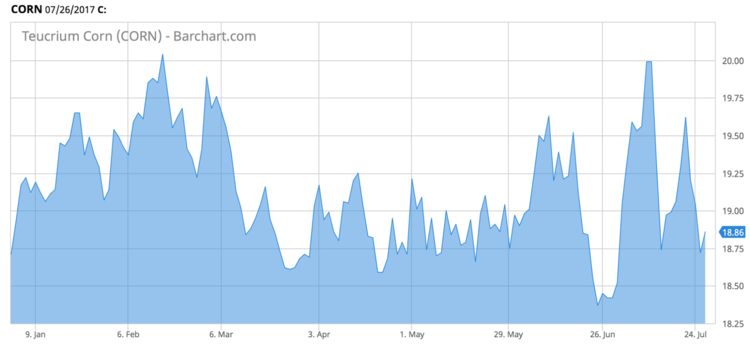 The U.S. Department of Agriculture has predicted corn yields will drop 2% to 170.7 bushels per acre in the 2017/18 season. However, it also said demand may fall around 1.5%. In June, this data combined with unfavorable weather drove a rally in corn prices. But subsequent rains and favorable temperatures in some parts of the country, including the Northeast, soothed investors' worries. Now the pollination period is almost over and prices fell due to expectations of a good corn crop this year.
Crop conditions, however, may not be as good as last year. USDA reported that 62% of corn was in good-to-excellent condition, 14% less than last year.
Euro Rallies on Good Data
The Euro has taken second place on the list this week with 79% increase in viewership, as a rally in the shared currency raised eyebrows. CurrencyShares Euro (FXE A) jumped 0.6% over the past five days, extending year-to-date gains to nearly 11%.
For a deeper analysis on individual ETF investments such as (FXE A) or (CORN B), use our ETF Analyzer tool. You can select ETFs by category or type as well as add individual ticker symbols to compare performance, expenses and dividend yield, among other metrics.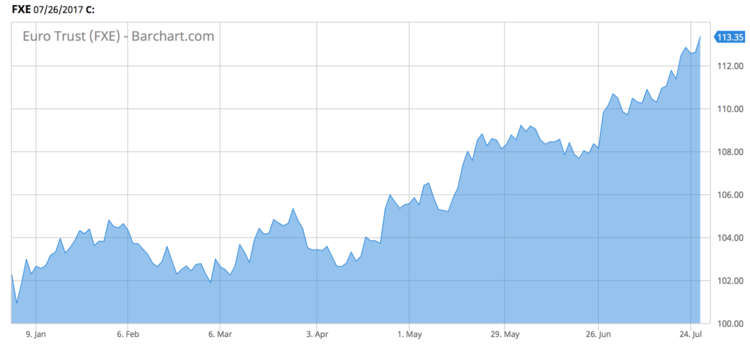 An improving European economy coupled with hawkish signals from the European Central Bank and a temporary relief of political tensions benefited the euro. The ECB's unprecedented stimulus measures have been showing signs of success, with the overall economy, inflation and unemployment rate all improving of late. Mario Draghi, the ECB's president, clearly signaled that there was an improvement in the underlying conditions and suggested the bank will discuss in the fall plans to change its €60 billion quantitative-easing program. Draghi also made clear that the inflation rate was not at his desired level of 2% and the economy needed further support. He mentioned, however, that the deflationary pressures subsided. Analysts are predicting that the euro will continue to rise, particularly against a weaker dollar, but there are risks to such a scenario.
A rising euro may pose risks to an incipient euro area recovery and Draghi may emerge with a more hawkish rhetoric. In addition, if the U.S. economy exits its current rough patch, the Federal Reserve may accelerate the pace of its rate hikes.
Dollar Falls on Worries About Economy
The U.S. dollar has seen its viewership rise as much as 78% over the past week, closely behind the euro. After a very strong few years, the greenback has started to depreciate massively, largely due to a political gridlock in the U.S. and soft economic data of late. The Federal Reserve took notice and suggested this Wednesday it will hold off on raising interest rates.
However, the central bank said it will start to gradually unwind its massive balance sheet and sell assets because it has confidence in the economy and the job market. The sale of Treasury bonds and mortgage-backed securities will start relatively soon, according to the Fed, which will follow a plan unveiled in June. Some policymakers raised worries about the recent decline in inflation, suggesting pressure is rising on the bank to keep rates steady for a longer period of time. The inflation rate fell from a five-year peak of 2.7%, reached at the beginning of the year, to just 1.6% in June.
Political gridlock in Washington also had a negative influence on the greenback, with the repeated failures of Republicans to repeal and replace the Affordable Care Act, or Obamacare, taking center stage. PowerShares DB US Dollar Bullish (UUP B) has dropped 1.50% over the past five days, extending year-to-date losses to nearly 9%.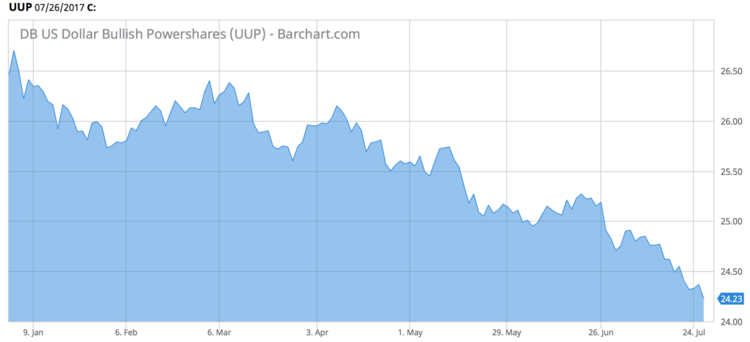 Biotech Stocks Back in Favor
Biotechnology shares are evidently back in favor, continuing their rally this week. Biotechnology ETFs have seen their viewership advance 45% over the past week. The Federal Reserve's dovish report this week was the major catalyst for another leg upward in the biotechnology space. iShares Nasdaq Biotechnology (IBB A-) has jumped nearly 2% over the past five days, comfortably beating the S&P 500, which posted flat gains.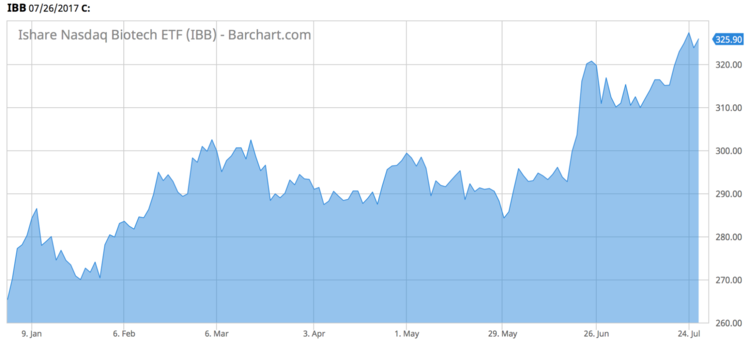 Another reason for the biotech rally was Vertex Pharmaceuticals (VRTX), which makes up about 5% of the (IBB A-). Vertex surged more than 20% about a week ago after the firm announced positive phase one and two data for its drug treating Cystic Fibrosis.
Sign up for ETFdb.com Pro and get access to real-time ratings on over 1,900 U.S.-listed ETFs.
China Equities Rise
China equities were last in the list with an increase in traffic of 41%. Chinese equities benefited from strong demand of late, in no small part because of its accession to MSCI indexes. Over the past week, iShares China Large-Cap ETF (FXI A) has gained more than 1%, extending gains since the start of the year to as much as 22%.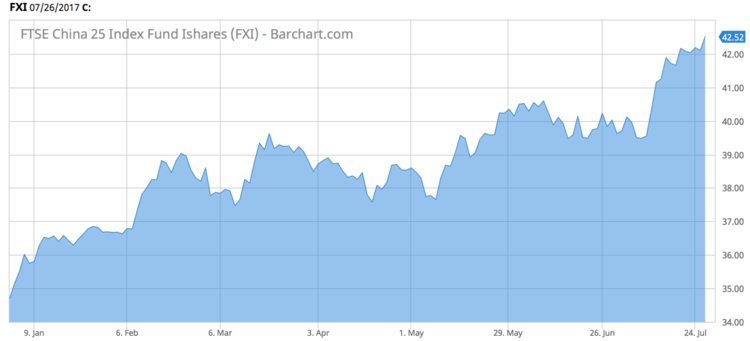 A rising stock market is also the result of a private sector that has been improving, with financial institutions reducing exposure to shadow banking. Given the deleveraging, the Chinese economy is expected to gradually slow down in the coming quarters, but the stock market may still benefit from a round of inflows from foreign investors.
To easily find ETFs exposed to a particular country, use our ETF Country Exposure tool. Select a specific country and get a list of all the ETFs with exposure to your pick.
The Bottom Line
This week was all about corn and the world's most important currencies, the euro and the U.S. dollar. Corn has been falling of late due to expectations of good crops this year following rather favorable weather conditions over the pollination period. The euro has been creeping up at a quick pace against the U.S. dollar and other currencies, as the ECB signaled it may start tapering its quantitative-easing program in the fall. The dollar, meanwhile, was beaten up following a dovish monetary report from the Federal Reserve. Biotech stocks have surged lately thanks to a broad rally and positive earnings, while Chinese equities are becoming attractive thanks to an improvement in the private sector.
By analyzing how you, our valued readers, search our property each week, we hope to uncover important trends that will help you understand how the market is behaving so you can fine-tune your investment strategy. At the end of the week, we'll share these trends, giving you better insight into the relevant market events that will allow you to make more valuable decisions for your portfolio.