ETFdb.com analyzes the search patterns of our visitors each week. By sharing these trends with our readers, we hope to provide insights into what the financial world is concerned about and how to position your portfolio.
Retail stocks have rallied this week on better-than-expected foot traffic data, delivering a long-awaited respite to the embattled sector. First in the list, the retail industry was followed by airlines, which were impacted by a somewhat downbeat report by United Airlines. Investment grade corporate bonds were in the news, as credit spreads continued to tighten, while the Canadian dollar got a boost from Bank of Canada's rate hike. Lithium closes the trends' list.
Check our previous trends edition at Trending: Aerospace Sees Gains Thanks to Boeing and Lockheed Martin.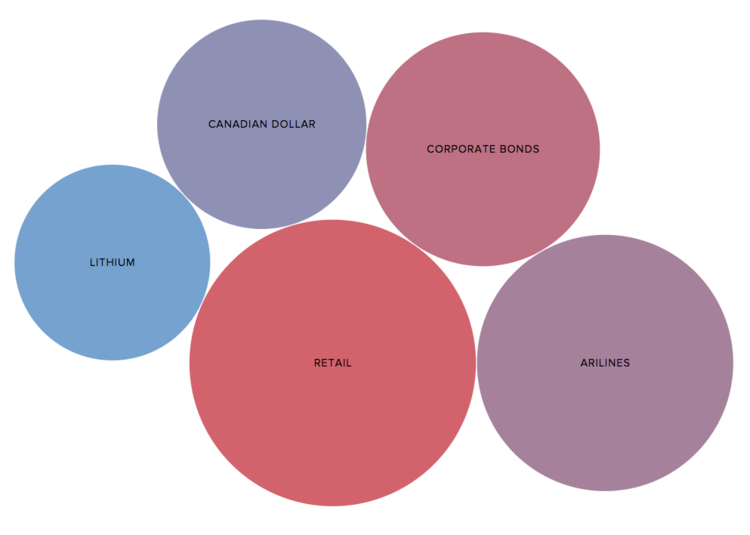 ---
Content continues below advertisement
Retail Rallies, but Prospects Still Unclear
Retail ETFs have seen their traffic advance an impressive 245% this week, as the industry stocks rallied on strong foot traffic data. SPDR S&P Retail (XRT B+) has risen 2.6% over the past five days, although its year-to-date returns are still in the red for the year, down almost 8%.
Foot traffic in retail stores dropped around 9.5% for the week ended July 15 compared to the same period a year ago, according to research outfit Cowen, which analyzed National Traffic data. However, clothing retailers' traffic dropped just 5.3% year-over-year, less than other categories. Electronics retailers have been among the worst hit by the secular move to online, with foot traffic tumbling 26.2% in the July 15 week. The gap between the fall in foot traffic at apparel retailers and electronics stores has been widening of late, in a testament to customers being more comfortable buying gadgets online than clothes.
The retail ETFs also benefited from an upbeat earnings forecast by Target (TGT), with the large retailer saying it expects a modest increase in the second-quarter comparable-store-sales. The discount store operator previously predicted that sales would drop, as they did in the past four quarters. The upward revision has had a positive impact on the stock price of other retailers, as investors believe Target's revision is a sign of a broad improvement in the brick-and-mortar retail industry.
The long-term prospects of the brick industry remain unclear, however. Competition from online stores such as Amazon (AMZN) is increasingly intensifying and stock prices are reflecting that. While Target has fallen 25% since the beginning of the year, Amazon advanced 37%.
Airlines Drop on Poor United Continental Guidance
Traffic to airlines ETFs has risen 227% over the past week, taking second place in the list. The interest was largely driven by a mixed report published by United Continental Holdings (UAL). United's stock fell more than 6% on Wednesday after the company announced a thoroughly disappointing revenue guidance.
The steep drop happened despite second-quarter revenues and profits beating analysts' estimates, with earnings per share coming in at $2.75, higher than forecasts of $2.65. United said it expected unit revenue (a measure of capacity in relation to an airline's sales) to drop 1% or rise 1% in the third quarter.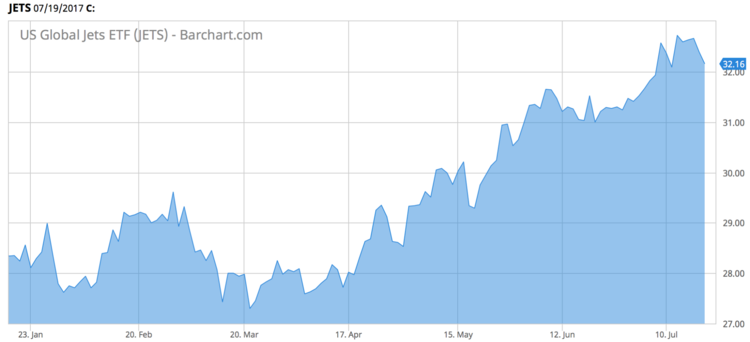 The expected drop raised worries that the airline industry as a whole may face challenges ahead, with Delta Air Lines (DAL) and American Airlines (AAL) also falling slightly. US Global Jets (JETS C+), an ETF tracking the airline sector, has declined more than 1% over the past five days, trimming year-to-date gains to as much as 15%.
But some analysts have argued that United's expected issues may be company-specific as opposed to industry-wide. The firm is still recovering from an incident involving the forced dragging of a passenger who had refused to leave a plane in exchange for compensation. The company is also expected to suffer from aggressively investing in increasing its capacity. If demand starts to pull back, United's problems may only worsen.
Sign up for ETFdb.com Pro and get access to real-time ratings on over 1,900 U.S.-listed ETFs.
Corporate Bonds Spreads Continue to Tighten
Spreads on investment-grade corporate bonds have continued to tighten this summer, as a result of unusually low volatility in the global markets. Investment-grade corporate bonds have seen their traffic jump 154% this week, taking third place in the trends' list. The performance of ETFs tracking corporate bonds has also been positive since the beginning of the year. iShares iBoxx $ Investment Grade Corporate Bond (LQD A) is up more than 3.5% this year, and the march higher has been relatively without many hindrances.
Meanwhile, spreads on investment-grade corporate bonds have continued to tighten, reaching multi-year lows this summer. The average spread of the Morningstar Corporate Bond Index fell 2 basis points at the end of last week at +109, representing the lowest level since September 2014.
For a deeper analysis on individual ETF investments such as (LQD A) or (JETS C+), use our ETF Analyzer tool. You can select ETFs by category or type as well as add individual ticker symbols to compare performance, expenses and dividend yield, among other metrics.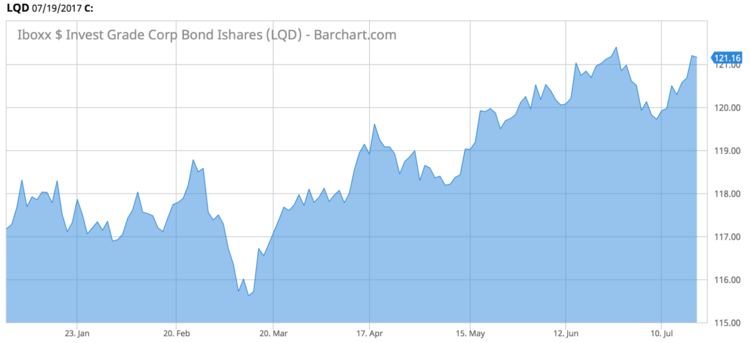 Loonie Advances on Rate Hike
The Canadian dollar is fourth in the list with an increase in viewership of 105%. The loonie has been rising lately thanks to an improving Canadian economy and a decision by the Bank of Canada to raise interest rates for the first time in seven years. Guggenheim CurrencyShares Canadian Dollar Trust (FXC A-) has jumped 1.3% over the past five days, extending year-to-date gains to as much as 6.5%.
To easily find ETFs exposed to a particular country, check our ETF Country Exposure tool. Select a specific country and get a list with all the ETFs with exposure to your pick.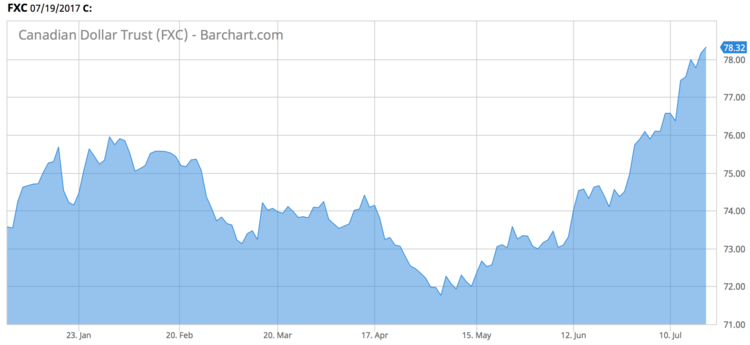 Canada's central bank raised its benchmark interest rate to 0.75%, citing an improvement in the health of the nation's economy. The bank added that there is no predetermined path to raising interest rates and it is unclear when the next hike will take place.
Lithium
Lithium's popularity this week could be linked to Tesla (TSLA), which took the fifth place in the last trends' article. Last week, Tesla announced downbeat second-quarter deliveries, triggering a plunge in its stock price. Surprisingly, Global X Lithium (LIT C+) remained largely unscathed. (LIT C+), which had nearly 6% exposure to Tesla as of yesterday, is up more than 1% this week and as much as 25% since the beginning of the year.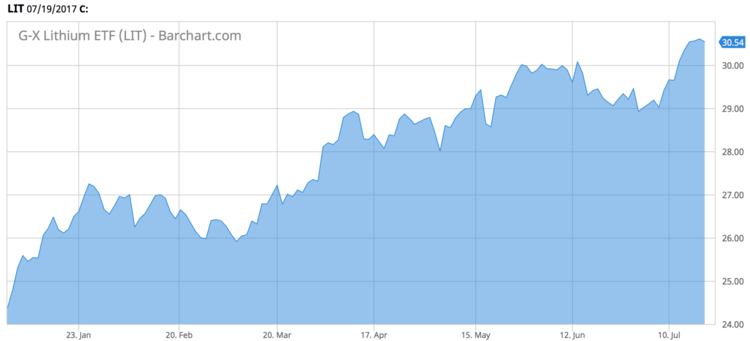 Lithium's prospects remain strong. Although there are investors who may doubt the relevance of certain green individual companies, including Tesla, few are skeptical that the green revolution will be stopped. Demand for batteries using lithium may continue to rise.
The Bottom Line
Retailers and airlines have been the clear leaders in our trends' this week. While retailers gained some respite due to a string of good data, airlines were hit by poor guidance published by heavyweight United Continental. Investment-grade corporate bonds have continued their march higher, while spreads reached multi-year lows. The Canadian dollar advanced, thanks to a rate hike by the nation's central bank and upbeat economic data. Lithium, meanwhile, kept rising, despite Tesla's stumble.
By analyzing how you, our valued readers, search our property each week, we hope to uncover important trends that will help you understand how the market is behaving so you can fine-tune your investment strategy. At the end of the week, we'll share these trends, giving you better insight into the relevant market events that will allow you to make more valuable decisions for your portfolio.