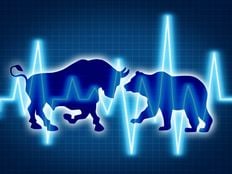 To help investors keep up with the markets, we present our ETF Scorecard. The Scorecard takes a step back and looks at how various asset classes across the globe are performing. The weekly performance is from last Friday's open to this week's Thursday close.
This week was not rich in market-moving events, with only the U.S. Federal Reserve announcing its monetary policy.
As widely expected, the U.S. Federal Reserve has kept interest rates steady at between 1% and 1.25%. Officials were upbeat about the job market, saying gains were solid of late. But they were worried about a quick drop in inflation, down to 1.6% in June on a year-over-year basis.
Existing home sales in the U.S. again showed signs of weakness, slipping 1.8% in June compared to the previous month. Year-over-year, sales rose 0.7% to 5.52 million.
Consumer confidence in the U.S. is strong for the month of July, rising nearly 4 points to 121.1, easily beating estimates of 117. The index currently sits near 16-year highs, with the peak reached in March at 124.9.
U.K.

GDP

grew by 0.3% in the second quarter compared to the previous one, largely in line with estimates.
Crude oil inventories are dropping at an alarming pace. For the week ended July 21, stockpiles fell by a whopping 7.2 million barrels, the fourth consecutive weekly decrease. Crude oil inventories have been on a downward trajectory line since April 12.
U.S. new home sales posted zero growth in June, remaining at the same elevated level of 610,000. The figure slightly disappointed analysts, who had expected 611,000 new home sales.
Unemployment claims in the U.S. were a bit behind forecasts but still strong. In the week ended July 22, around 244,000 people filed for unemployment, 4,000 more than analysts had expected. The figure is an indicator of a strong labor market.
New orders rose a staggering 6.5% in June, but the robust figure may be misleading. Core orders, excluding transportation, were up just 0.2%. A big order of aircrafts in June was responsible for the strong headline number. Year-over-year, new orders are up 16.1%, while core orders jumped 6.8%.
Risk Appetite Review
Low Volatility (

SPLV

) was the strongest performer, advancing 0.42% over the past five days.
Equal Weight (

RSP

) was up 0.21% over the past week, representing the worst performance from the pack.
Sign up for ETFdb.com Pro and get access to real-time ratings on over 1,900 U.S.-listed ETFs.
---
Content continues below advertisement
Major Index Review
Global equities have rallied, with a few exceptions.
The Dow Jones (

DIA

) has been the best performer, jumping 1.18% thanks to strong earnings from a host of companies in the index.
Sectors Review
Consumer staples (

XLP

) was surprisingly the best performer this week with a gain of 1.84%, representing the best performance from the pack as many of the companies in the sector have been posting strong earnings of late.
Foreign Equity Review
Volatility in foreign equity markets was rather weak.
China (

FXI

) is the best performer for the week, with a rise of 0.88%, as the country is benefiting from foreign inflows following its accession to the

MSCI

indexes.
Brazil (

EWZ

) has fallen less than 1% this week, but its monthly performance remains the best, up 10.44%.
Japan (

EWJ

) was one of the worst performers for the rolling month, advancing just 0.98%.
To find out more about ETFs exposed to particular countries, use our

ETF

Country Exposure tool. Select a particular country from a world map and get a list of all ETFs tracking your pick.
Commodities Review
Copper (

JJC

) was the best performer this week, surging more than 5%. The commodity was helped by supply disruptions and rising demand from China, which accounts for roughly half of global demand.
For the rolling month, oil (

USO

) posted gains of 11.90%, enough to outpace its other peers from the commodity pack. Oil has been rallying of late thanks to dropping inventories in the U.S. and a falling U.S. rig count.
Currency Review
Volatility in currencies was quite tepid.
Emerging markets currencies (

CEW

) posted the worst losses this week, falling 0.37%.
The British pound (

FXB

) rallied the most this week, gaining 0.55% as the country's

GDP

growth remained strong in the second quarter.
The U.S. dollar (

UUP

) has been the worst performer for the rolling month, sliding 2.80%.
The Australian dollar (

FXA

) is the best performer for the rolling month with an impressive 5% gain, helped by an improving demand from China.
For more ETF analysis, make sure to sign up for our free ETF newsletter.
Disclosure: No positions at time of writing.