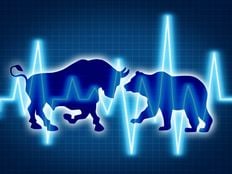 To help investors keep up with the markets, we present our ETF Scorecard. The Scorecard takes a step back and looks at how various asset classes across the globe are performing. The weekly performance is from last Friday's open to this week's Thursday close.
This week, negative political developments once again took center stage, although central banks have been in the spotlight too.
Several top U.S. executives resigned from Donald Trump's Manufacturing Council, after the president failed to denounce white supremacists for the violence in Charlottesville. Given that many other executives also threatened to step down, Trump said he would disband both the Manufacturing Council and the Jobs Council.
Investor sentiment was rather weak on Friday, after a terrorist attack in Barcelona killed at least 14 people and left many more wounded.
The U.S. Federal Reserve's policy minutes revealed that policymakers are growing frustrated with the lack of inflation in the U.S., and suggested further rate hikes should be halted until there is more evidence that the weakness is transitory. In July, inflation stood at 1.7%, down from 2.7% at the beginning of 2017.
Across the Atlantic, the European Central Bank's minutes have shown that policymakers are becoming worried about the recent strength of the euro, which complicates the bank's mandate to hit its inflation goal of 2%.
The U.S.

CPI

rose 0.1% month-over-month in July and is now up 1.7% compared to the same period a year ago. Core

CPI

stands at 1.7%.
Chinese industrial production slowed down in July to 6.4% from 7.6% in the previous month. Analysts had expected a reading of 7.1%.
Britain's year-over-year

CPI

for July came in lower than expected, 2.6% against 2.7%, which is unchanged from the previous month.
U.S. retail sales finally showed some signs of improvement, with the July figure coming in at 0.6% compared to consensus estimates of 0.3%. Core retail sales were also strong, advancing 0.5% in July. In June, both core and overall sales were down 0.2%.
The U.S. housing picture is deteriorating, with housing starts falling from 1.21 million in June to 1.16 million in July. Analysts had on average expected housing starts to jump to 1.22 million. Permits also fell but they were above 1.20 million.
Crude oil inventories dropped an astonishing 8.9 million barrels for the week ended August 8.
U.S. unemployment claims stood at 232,000 for the week ended August 12, 12,000 fewer applications compared to the previous week.
Risk Appetite Review
This was a mixed week for stock markets around the world.
High Beta (

SPHB

) was the poorest performer, falling 1.33%.
Low Volatility (

SPLV

) is the king with a loss of just 0.15%, as investors preferred low-risk assets.
The broad market (

SPY

) posted the second-consecutive weekly drop, down 0.38%.
Sign up for ETFdb.com Pro and get access to real-time ratings on over 1,900 U.S.-listed ETFs.
---
Content continues below advertisement
Major Index Review
Global equities were mixed this week.
Emerging markets (

EEM

) rose 1% in the past five-day period, with Chinese stocks leading the gains, as other assets disappointed. (

EEM

) would have ended the week on a better note but a terrorist attack in Barcelona and increasing doubts over Trump's ability to revamp the tax code soured investor sentiment.
iShares Russell 2000 Index (

IWM

) is again the worst weekly performer, dropping nearly 1%. The small-cap index's performance is tied to the Trump presidency and its ability to deliver economic growth by cutting taxes. However, investors are becoming increasingly skeptical that Trump will be able to execute the promised reforms. (

IWM

) is now the worst performer for the rolling month, down 4.67%.
Dow Jones (

DIA

) rose the most in the 30-day period through Thursday, as investors flocked to secure blue-chip companies amid rising geopolitical tensions.
Sectors Review
The real estate sector (

XLRE

) slightly beat many of its peers this week, tepidly advancing 0.69%.
There is no doubt as to which asset was the worst-performing – the energy industry (

XLE

) fell off a cliff this week, losing 3.35%. Many companies saw their stocks underperform as earnings suffered from continued weakness in the price of oil. This week's drop was enough to make (

XLE

) the worst-performing asset for the rolling month, with a fall of 5.54%.
After several weeks of outperformance, utilities (

XLU

) are now ahead of every other asset for the past 30 days, with a gain of 3.63%.
Foreign Equity Review
For the rolling month, Brazil (

EWZ

) gained the most – nearly 4%, as investors are still confident that embattled President Michel Temer will be able to implement his market-friendly reforms.
To find out more about ETFs exposed to particular countries, check our

ETF

Country Exposure Tool. Select a particular country from a world map and get a list of all ETFs tracking your pick.
Commodities Review
Commodities were mixed, with gold and silver the only commodities posting gains.
Gold (

GLD

) was the best weekly performer with a small jump of 0.20%, as investors favored its safe-haven status.
Currency Review
For more ETF analysis, make sure to sign up for our free ETF newsletter.
Disclosure: No positions at time of writing.