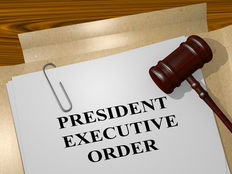 ETFdb.com analyzes the search patterns of our visitors each week. By sharing these trends with our readers, we hope to provide insights into what the financial world is concerned about and how to position your portfolio.
Infrastructure ETFs took the spotlight this week, with U.S. President Donald Trump attempting to shift focus away from the Charlottesville events and to the jobs created in the infrastructure sector thanks to his executive order. The Amazon struggle of retail stocks is continuing to generate headlines. Japanese stocks posted a strong performance, despite a strong yen of late. Oil trended thanks to a rally in the past week, while cloud computing ETFs are in great demand.
Check our previous trends edition at Trending: U.S. and North Korea Exchange Military Threats.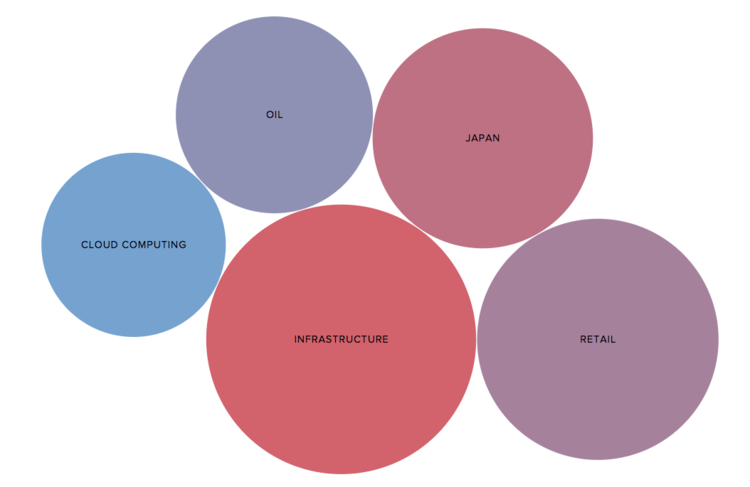 ---
Content continues below advertisement
Trump Rolls Back Regulation on Infrastructure
Infrastructure ETFs took first place on the list this week, with a traffic increase of 87%, as U.S. President Donald Trump signed an executive that will purportedly make the approval process easier. iShares Global Infrastructure (IGF A) had a good week since last Thursday, advancing 0.65%. (IGF A) is up 1.5% in the past month and more than 17% in the past year.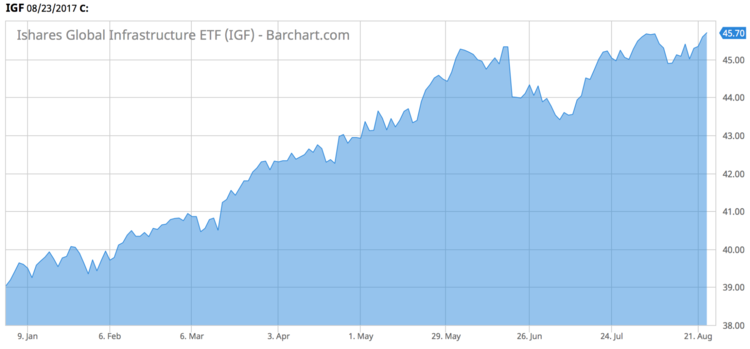 In essence, the executive order rolls back some Obama-era regulation that required federal governments to consider climate change and rising sea levels when approving infrastructure projects. Trump said the new rules will in effect reduce red tape significantly and spur infrastructure programs and bring back manufacturing jobs. The new order aims to streamline the process of obtaining permits to build infrastructure facilities, with agencies now obliged to issue decisions within 90 days for small projects and two years for major ones.
Trump had promised to spend $1 trillion on rebuilding the U.S. infrastructure, but so far has failed to design a bill. Republicans along with Trump had first wanted to overhaul healthcare, but an attempt to repeal Obamacare failed to get the necessary support. The U.S. President said the healthcare defeat will not prove a drag on his infrastructure plan, arguing there is bipartisan support for a spending bill.
The performance of infrastructure companies hinges on Trump's success to approve the bill. Infrastructure companies have had a good year so far largely on Trump's promise to invest massively in infrastructure.
On Tuesday, it emerged that seven members of Trump's 27-strong Infrastructure Council resigned, saying the President's actions "undermine" America's "moral infrastructure."
Retail Gets Glimmer of Hope
Retail ETFs took the second spot on the list, with a traffic rise of 81% since last Thursday, stepping up from fourth place the week prior. The main reason for retail's popularity is an impressive rise in U.S. retail sales in the past month. Retail sales rose 0.6% in July compared to June, beating estimates of 0.3%. Moreover, the June figures were revised up from negative 0.2% to growth of 0.3%. The strong growth was not achieved with the help of one-time boosters such as gas and autos. Core retail sales, excluding automobiles, were up 0.5% in July. Analysts had expected an advance of 0.3%.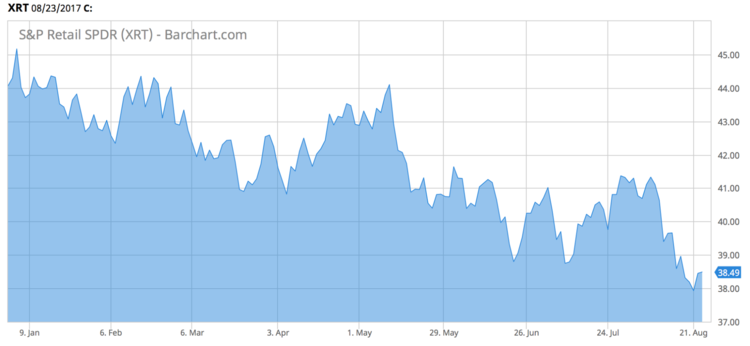 Despite the strong results, many U.S. retailers are still suffering, as shown by their stocks' performance. SPDR S&P Retail (XRT B+) has fallen more than 12% this year, underperforming the S&P 500 by more than 21 percentage points. The stunning success of Amazon (AMZN) is the chief reason for retail's underperformance. Many traditional retailers are struggling to adapt to the shopping habits of millennials, who broadly prefer to order online than go to a traditional store. The failure to lower prices to lure more customers is another issue facing retailers.
For a deeper analysis on individual ETF investments such as (XRT B+) or (IGF A), use our ETF Analyzer tool. You can select ETFs by category or type as well as add individual ticker symbols to compare performance, expenses and dividend yield, among other metrics.
Japan
Japan saw its viewership surge by 60% despite a lack of major events. Worth noting, though, the Japanese stock market appeared resilient in the face of an appreciating yen. Over the past few years, the Japanese economy has been dependent on exports to drive economic growth, so a rising yen usually makes its products less attractive overseas. This usually had a knock-on effect on the stock market, creating a strong inverse relationship between the two assets. However, this link has been weakening of late as domestic demand improved. iShares MSCI Japan (EWJ A) is up 0.4% over the past month, while the yen rose nearly 2%.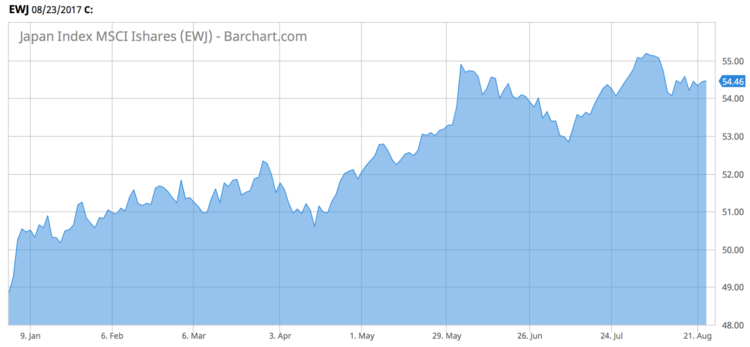 A host of positive economic data along with rising corporate earnings has boosted investor sentiment. Japan has posted economic growth for six consecutive quarters, the best winning streak in more than ten years. Good data and surging investor sentiment represent signs that the Bank of Japan's unprecedented monetary stimulus is working.
Sign up for ETFdb.com Pro and get access to real-time ratings on over 1,900 U.S.-listed ETFs.
Oil Rises on Declining Supplies
Oil saw its viewership rise 31% this week, as investors were lured by a rally. United States Oil Fund (USO B) has jumped nearly 3% over the past five days, although it remains down 16% since the beginning of the year.
Oil has been rising consistently over the past month thanks to a continuous decline in U.S. supplies. For the week ended August 23, crude stockpiles dropped by 3.3. million barrels, in what was the eighth consecutive weekly fall. Oil supplies are now down 30 million barrels year-over-year and 70 million since the peak reached in March. Crude demand remains strong while production increased, but showed signs of slowing down.
Cloud Computing
Cloud computing stocks took last place on the list with a small 26% rise in viewership. First Trust Cloud Computing (SKYY B), the only ETF tracking cloud companies, has dropped nearly 1% this week, as the broad market was weak. Year-to-date, however, (SKYY B) is up more than 17%, nearly double the gains posted by the S&P 500.
Cloud computing is a hot growth business that is also profitable. For example, Amazon, which makes up more than 4% of (SKYY B), has posted small profits of late largely thanks to its thriving cloud unit.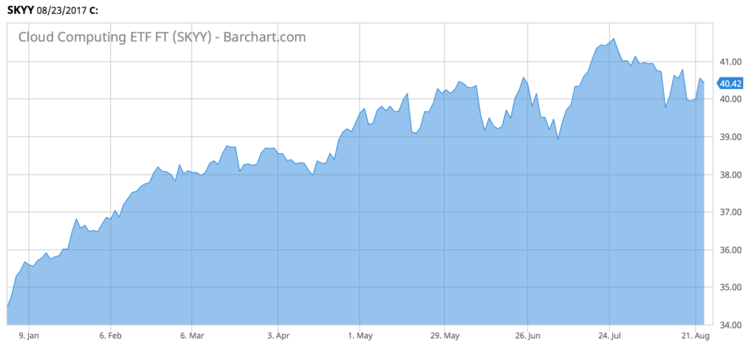 The Bottom Line
Infrastructure ETFs were in spotlight this week as President Donald Trump signed an executive order to cut red tape and quicken the approval process for infrastructure projects. Retail ETFs were present for the second consecutive week, as overall retail sales improved in July, but the threat from Amazon remains for both brick-and-mortar and online retailers. Japan's stock markets proved resilient in the face of a rising yen, while oil surged on declining U.S. stockpiles. Finally, cloud computing ETFs are attractive for investors due to their growth prospects.
By analyzing how you, our valued readers, search our property each week, we hope to uncover important trends that will help you understand how the market is behaving so you can fine-tune your investment strategy. At the end of the week, we'll share these trends, giving you better insight into the relevant market events that will allow you to make more valuable decisions for your portfolio.