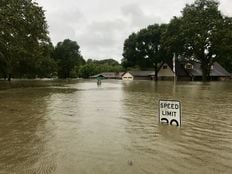 ETFdb.com analyzes the search patterns of our visitors each week. By sharing these trends with our readers, we hope to provide insights into what the financial world is concerned about and how to position your portfolio.
Two major events have influenced the trends' list this week – hurricane Harvey in the U.S. and the North Korean missile crisis. Likely to be hit by a rise in claims, insurance stocks are first on the list. Gold's popularity could be attributed to rising tensions surrounding North Korea, as the rogue state backed its threat with actions, launching a missile that landed near Japan. Crude oil is third on the list of fears that Harvey will damage U.S. production, while South Korea trended thanks to the North Korean crisis. Transportation stocks are last on the list. Check out our previous trends' edition at Trending: Airlines Volatile After Barcelona Terror Attacks and Hurricane Harvey.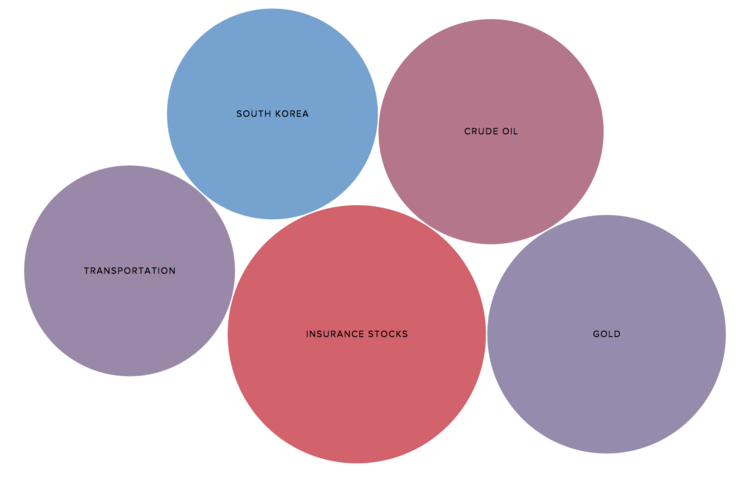 ---
Content continues below advertisement
Insurance Stocks Hit by Hurricane Harvey
Insurance stocks are having a bad streak lately and headwinds are not expected to end with the passing of hurricane Harvey, deemed the largest natural disaster in the history of the United States. Insurance ETFs trended this week, seeing their traffic surge 114%. SPDR S&P Insurance (KIE A-) has dropped 2.62% over the past five days, extending monthly losses to as much as 6.4%. Year-to-date, however, (KIE A-) remains up 3.5%.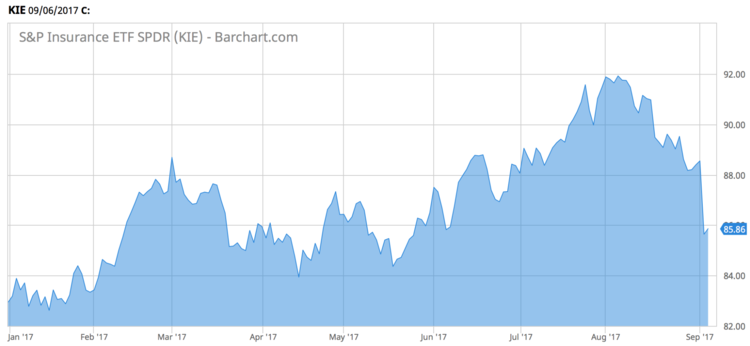 Insurers are still counting potential losses caused by Harvey in Texas, with severe flooding damaging many houses and potentially disrupting oil supplies and infrastructure. In addition to real estate, Harvey has had a negative impact on cars and trucks, with around 500,000 vehicles estimated to be inoperable. According to some estimates, total damage costs could be between $70 and $90 billion, but others point out this is a conservative guess and the real figure might run up to $190 billion, or 1% of U.S. GDP.
This is by far the biggest natural disaster in recent history, surpassing Katrina's devastation in 2005. Of course, insurers themselves would not have to pay for all the damages, as many houses were not insured, but it would undoubtedly take a toll on the U.S. budget. The House of Representatives are preparing a vote on releasing an $8 billion aid package for the flood victims, fulfilling President Trump's promise of helping the embattled region.
Perhaps insurers will not be sleeping well over the upcoming period, as another hurricane is expected to hit Florida. Hurricane Irma is anticipated to reach the state's shores in several days, and insurers tied to the region already feel the pinch. Irma's trajectory is not yet clear, but it is expected to produce more extensive damage than Katrina if it hits Florida.
Gold in Demand as Geopolitical Tensions Rise
Gold is again benefitting from its safe haven status, after North Korea launched a missile that landed in the sea near Japan. Gold saw its viewership rise as much as 108% for the week, as the shiny metal outperformed. SPDR Gold Trust (GLD A-) has jumped 2.2% in the past week, extending year-to-date and monthly gains to 16% and 6.4%, respectively.
Demand for gold has surged after North Korea launched a missile that passed over the Japanese island Hokkaido and landed in the sea. The North Korean attack was preceded by months of negative rhetoric between U.S. President Donald Trump and his counterpart Kim Jong-un, with the former threatening to unleash "fire and fury." The launch has sparked a series of international brinkmanship at the highest levels, with Russian President Vladimir Putin recently meeting with South Korean President Moon Jae-in. As in almost any international issue, Russia admits the danger but has a different view about how to tackle the issue. The U.S. is pushing for new economic sanctions against the regime to starve it, but Putin disagrees, suggesting that it could make the situation worse.
As international leaders mull their next steps against the rogue nation, gold is slated to further benefit from uncertainty.
Sign up for ETFdb.com Pro and get access to real-time ratings on over 1,900 U.S.-listed ETFs.
Crude Oil
Crude oil has received an unlikely respite from hurricane Harvey, leading to a surge in popularity. The black commodity saw its viewership advance 91% this week. The flood caused by the hurricane has disrupted oil refineries, sparking a rally in oil prices. United States Oil Fund (USO B) has jumped 6.4% over the past five days, but its monthly gains remain slightly in negative territory.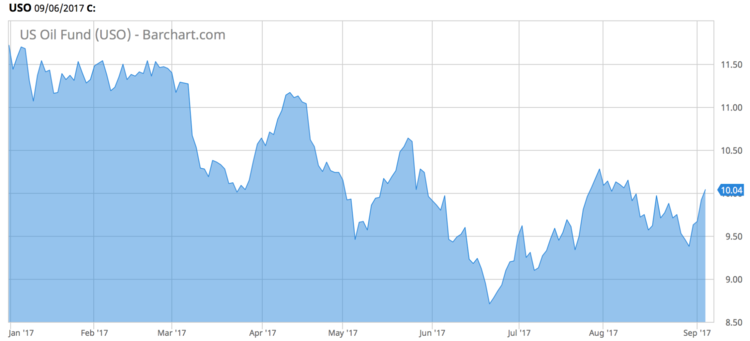 The Texas economy is heavily dependent on oil, producing 24% of the U.S. gasoline. An estimated 31% of refineries were forced to shrink supply or close altogether. Motiva Enterprises, the largest oil refinery in the U.S., produces as much as 600,000 barrels per day but had to halt its operations completely last Wednesday. The company did not provide an official timetable for resuming production.
Oil prices received another boost from suggestions that Russia and Saudi Arabia may agree to extend supply cuts. Moreover, the potential for hurricane Irma to prompt landfalls in the U.S. may provide further support for oil prices.
South Korea Drops, on Rising Tensions
South Korea is fourth on the list with a 53% rise in viewership. The nation's politicians are speedily trying to muster a collective response from the global community against North Korea's belligerent tactics. After North Korea launched a missile that landed near Japan, it said on Sunday it had successfully tested a hydrogen bomb that could be installed on a missile. South Korea's stock market suffered, with iShares MSCI South Korea Capped (EWY B) falling 2.7% over the past five days and 3.5% in the past month.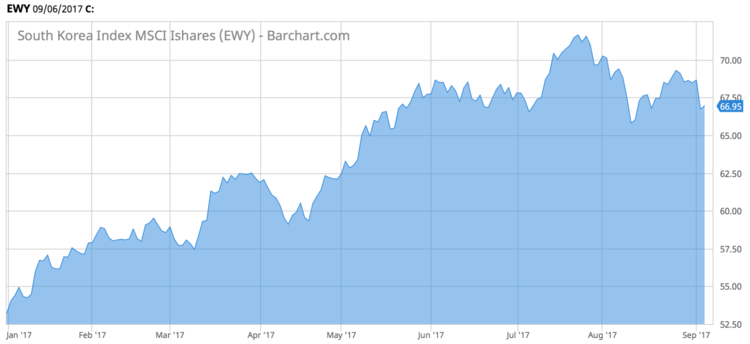 Washington has sent mixed signals about its plan to deal with the crisis. U.S. Defense Secretary James Mattis threatened to launch a "massive military response," while President Donald Trump suggested slapping economic sanctions on the countries that trade with North Korea, including China. Neither of these options pleases Russian leader Vladimir Putin, who said new sanctions will not be effective. He called for calmness and the avoidance of steps that could lead to an escalation of the conflict.
Transportation Resilient After Harvey
Transportation ETFs have proven resilient in the aftermath of hurricane Harvey, which had the potential to destroy important infrastructure routes. About 39% more viewers flocked to transportation ETFs this week compared to last. If anything, transportation ETFs had a good week, with SPDR S&P Transportation (XTN A) jumping within a whisker of 2%.
For a deeper analysis on individual ETF investments such as (XTN A) or (EWY B), use our ETF Analyzer tool. You can select ETFs by category or type as well as add individual ticker symbols to compare performance, expenses and dividend yield, among other metrics.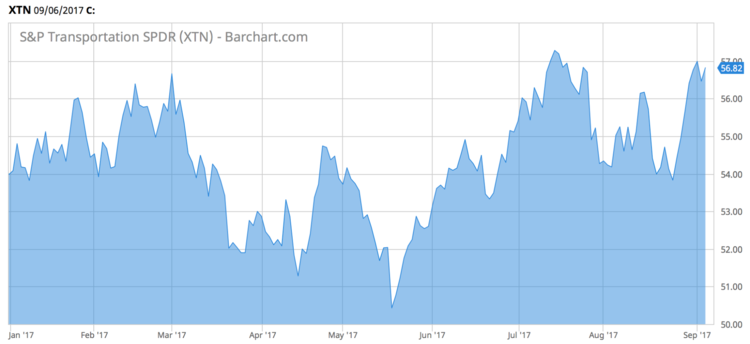 Transportation ETFs may feel pressure in the days ahead when hurricane Irma is expected to reach Florida's shores.
The Bottom Line
Hurricane Harvey has had a negative impact on insurance stocks, and investors are already prepared for the next leg down as another hurricane, Irma, is set to impact Florida. Surprisingly, transportation ETFs have proven resilient in the face of Harvey, but they may run out of luck when Irma strikes. Crude oil, meanwhile, benefited from the hurricane, as floods led to the closing of a host of refineries in Texas. Gold has rallied of late, as a conflict between North Korea and the world escalated, while South Korea suffered.
By analyzing how you, our valued readers, search our property each week, we hope to uncover important trends that will help you understand how the market is behaving so you can fine-tune your investment strategy. At the end of the week, we'll share these trends, giving you better insight into the relevant market events that will allow you to make more valuable decisions for your portfolio.