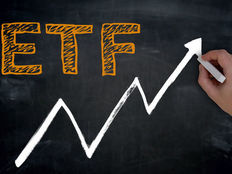 The pace of new ETF issues picked up this week with a mix of the familiar and the not so familiar.
A handful of new smart-beta offerings hit the market, while one new fund with a cleverly familiar ticker gives investors the opportunity to invest politically.
Here are this week's new fund launches:
---
Content continues below advertisement
Bond-Centric PIMCO Launches Its First Set of Equity ETFs
PIMCO, long known as a fixed-income operator since the halcyon days of bond king Bill Gross' tenure, enters the equity ETF marketplace this week with the launch of three new smart-beta strategies.
The PIMCO RAFI Dynamic Multi-Factor U.S. Equity ETF (MFUS B+), the PIMCO RAFI Dynamic Multi-Factor Emerging Markets Equity ETF (MFEM B) and the PIMCO RAFI Dynamic Multi-Factor International Equity ETF (MFDX B+) will all use a method that tilts factor exposures according to current market conditions, while using a fundamental weighting approach for individual components.
The methodology begins by looking at elements such as sales, dividends and cash flows to develop fundamental weights for individual companies with those ranked highest qualifying for the index. It then looks at five major factors – size, momentum, value, low volatility and quality – to create factor portfolios with each being emphasized or de-emphasized based on attractiveness and relative value according to historical norms. According to PIMCO's press release, the funds "marry multi-factor investing with a true smart beta strategy, thereby providing two alpha engines in a single package."
Franklin Templeton Adds Two Muni ETFs to Its Expanding Lineup
Investors looking to generate tax-free income from their portfolio might find the two new actively-managed municipal ETFs from Franklin Templeton intriguing.
The Franklin Liberty Municipal Bond ETF (FLMB C) and the Franklin Liberty Intermediate Municipal Opportunities ETF (FLMI B-) will both target muni bonds regardless of state, but will differentiate from each other based on term to maturity and credit quality. FLMI will look at bonds of any credit quality, including investment-grade and junk, with maturities between 3 and 10 years. FLMB will target slightly longer-term bonds, keeping the overall average maturity between 5 and 15 years, but will consider only investment-grade securities.
A Politically-Focused ETF to Make Your Portfolio Great
In this highly polarized political environment, Point Bridge Capital looks to capitalize by launching the Point Bridge GOP Stock Tracker ETF (MAGA C+). With an expense ratio of 0.72%, the fund is a relatively expensive entry into the ETF space, but one that will no doubt appeal to part of the nation's conservative voting base.
The fund looks at aggregate political campaign contributions made by a company's employees and/or political action committees. Using the S&P 500 as its starting point, the fund eliminates any companies that have made less than $25,000 in net contributions across the two most recent election cycles. The top 150 companies selected by a process, which considers both total contributions and percentage of total contributions, makes it to the portfolio.
For more ETF news and analysis, subscribe to our free newsletter.
Goldman Sachs Wades Into Junk Bonds
Goldman Sachs has been building up its ETF lineup over the past two years, and fills another gap in its roster with the launch of the Goldman Sachs Access High Yield Corporate Bond ETF (GHYB B). It's the second fund in the company's Access ETF series, a sub-category of funds designed to provide broad sector access at a low cost.
This fund is one of the relatively few smart-beta offerings in the fixed-income space. It uses a rules-based methodology that focuses on liquidity, debt service and leverage in order to alternatively weight the portfolio. The good thing is that notes issued by companies with high levels of debt or deteriorating fundamentals as measured by the index's selection process tend to get screened out.
Main Management Brings a Sector Rotation Strategy to Its Debut ETF
Main Management has been executing its active sector rotation strategy for its clients since 2002. This week, it puts that strategy into an ETF wrapper as it launches its first fund, the Main Sector Rotation ETF (SECT B). The new ETF will be a fund-of-funds that looks to outperform the S&P 500 during bull markets while limiting downside losses in declining markets.
Using broad sector ETFs as building blocks, the fund over-allocates to areas of the market the fund managers believe are undervalued and/or poised to react favorably to market catalysts. The strategy takes a 6-18 month forward view and unloads a sector position once a price target is achieved or is no longer undervalued.
The Bottom Line
ETF investors get a lot of interesting new options this week. Munis are garnering more interest as investors continue to search for higher after-tax yields. PIMCO, long known as a fixed-income specialist, utilizes a complicated strategy for its first set of equity offerings, but the focus on company financials and macro trends could make for an intriguing one-two punch. It seemed like a matter of time before someone launched a politically-motivated ETF, and we finally get the first of what could be several more to follow.
Sign up for ETFdb.com Pro and gain access to more than 50 all-ETF model portfolios, each of which is backed by an unique investment thesis.