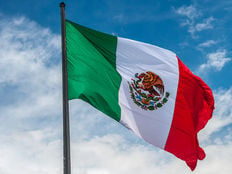 ETFdb.com analyzes the search patterns of our visitors each week. By sharing these trends with our readers, we hope to provide insights into what the financial world is concerned about and how to position your portfolio.
An earthquake in Mexico that brought about significant damage also took a toll on the country's stock markets, making its ETFs the most popular this week. The rally in the aerospace & defense stocks did not go unmissed, with the sector taking second place in the list. Russian stocks trended, thanks to a strong rally recently and their relative undervaluation. Semiconductors took fourth place, after coming in second last week. Lastly, financial equities were in demand after the Federal Reserve signaled it may raise interest rates sooner than expected. Check out our previous trends edition at Trending: Renewable Energy Rallies on China's Possible Ban of Fossil Fuel Car Sales.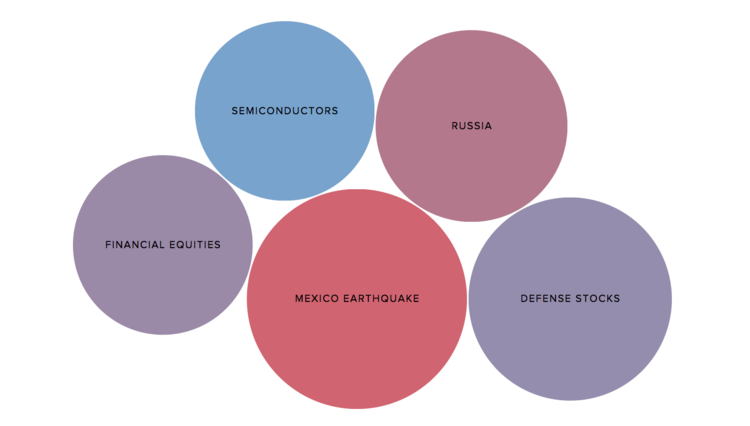 ---
Content continues below advertisement
Mexico Earthquake Whipsaws Nation's Stocks
Mexico was struck by a massive earthquake with a magnitude of 7.1, bringing chaos, as well as human and economic damage. Mexico saw its viewership increase as much as 155% this week, as the stock market fell abruptly in the aftermath of the quake. iShares MSCI Mexico Capped ETF (EWW A) has fallen around 3% since the quake struck on September 19, arresting a rally and trimming gains since the beginning of the year to 25%.
The September 19 quake came a week after a stronger one hit Southern Mexico, including the capital. The death toll rose to at least 331 and around 44 buildings collapsed. In addition, the earthquake left around 4.6 million homes without electricity. On the day of the quake, the stock market swiftly dropped before trading was halted.
Fortunately, the current earthquake was less devastating than the one that hit in 1985 on the same day. Back then, more buildings collapsed taking the lives of around 10,000 people. Improvements in building standards since then have spared Mexico another massive tragedy.
Earthquakes of over 7 in magnitude are widely believed to have the potential to cause significant damage. Following the September 19 earthquake, another 11 aftershocks were noted, including one measuring 4.9. A notable part of the damage occurred in the Roma and Condesa districts.
Mexico's economy has advanced at a decent pace over the past year, rising 0.6% in the quarter ending June 31. In each of the two previous quarters, the GDP grew by 0.7%.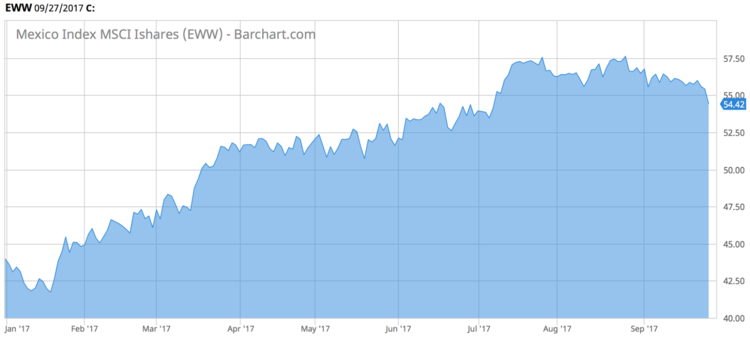 Defense Stocks in Fashion as Geopolitical Tensions Surge
Aerospace & defense is among the most-loved sectors in the current bull market, as it chiefly benefits from an escalation of rhetoric between North Korea and the U.S., as well as increasing Russia tensions. The defense ETFs saw around 81% more traffic this week compared to last, as some major names hit record highs. iShares U.S. Aerospace & Defense ETF (ITA B+) reached its zenith on September 22, but lost ground since then. (ITA B+) remains up around 1% for the past five days and 27% since the beginning of the year.
Geopolitical tensions coupled with Donald Trump's intention to increase the defense budget had a positive impact on the sector. Tensions about North Korea, as well as military exercises by Russia in Belarus raised global jitters and boosted the defense sector. It's clear now that Europe is also expected to increase its defense budget over time, indicating that the industry's long-term prospects are bright. Over the near term, however, defense stocks may be in overbought territory, and a correction would not come as a surprise. Defense stocks have bigger valuation multiples compared to the S&P 500, although their earnings are expected to grow at a higher pace going forward.
Sign up for ETFdb.com Pro and get access to real-time ratings on over 1,900 U.S.-listed ETFs.
Russia Investors Fear Contagion After Large Bank Requests Bailout
The mood among investors in the Russian stock market has been surprisingly good, despite the fact that two large banks requested bailout funds from the country's central bank. The drama stirred up interest in the nation's stock market, with the viewership surging 77% this week. VanEck Vectors Russia ETF (RSX B) has been resilient, jumping more than 1% in the past five days. Since the beginning of the year, (RSX B) is up 4%.
For a deeper analysis on individual ETF investments such as (RSX B) or (EWW A), use our ETF Analyzer tool. You can select ETFs by category or type as well as add individual ticker symbols to compare performance, expenses and dividend yield, among other metrics.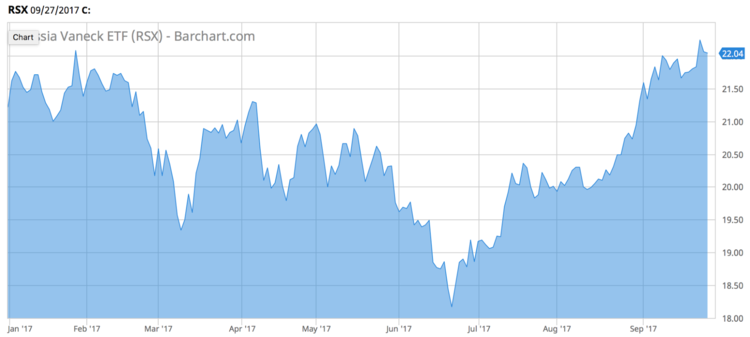 B&N Bank, the 12th largest lender in the country, recently asked the central bank for rescue funds three weeks after another financial institution, Otkritie, had to be bailed out as well. Despite the ominous signs, investors did not panic as many analysts and officials reassured that there was no risk of widespread contagion. They cited the banking sector's overall strong capital position, with half of the assets held by state-owned institutions.
Russia's stocks are extremely undervalued, at least according to Robert Shiller, renowned economics professor and Nobel laureate. Shiller's preferred cyclically adjusted price-to-earnings (CAPE) ratio points out that Russia is the most undervalued market from 26 countries analyzed, while the U.S. is the most overvalued. The CAPE ratio compares the average earnings of companies over the past ten years to the current levels of the index.
Semiconductors
Semiconductors are trending for the second week in a row – last week they came in second. The rally in the sector continued this week, with iShares PHLX Semiconductor ETF (SOXX A-) advancing 0.70%. Year-to-date, (SOXX A-) is up more than 27%.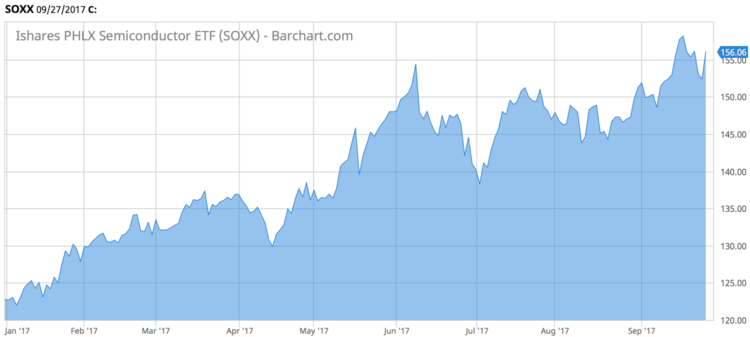 Semiconductors are a hot sector, benefiting from strong demand for computing power. Small wonder why shareholders in NXP Semiconductors (NXPI) are refusing to tender their shares to Qualcomm (QCOM), putting the merger at risk of not completing. Qualcomm has extended a few times the deadline for the tender offer, but an insignificant amount of shareholders agreed to sell their stock. The fact that activist hedge fund Elliott Management is campaigning for NXP to get a higher price gives investors confidence Qualcomm will raise its proposal. Indeed, shares in NXP are currently trading $2.7 above Qualcomm's bid of $110 per share.
Fed Boosts Financial Equities
Financial equities saw their viewership rise 57% this week, as Federal Reserve Chair Janet Yellen surprised markets by signaling that interest rates will continue to increase despite low inflation. As a result, Financial Select Sector SPDR Fund (XLF A) rallied more than 1% since her remarks were made on September 26.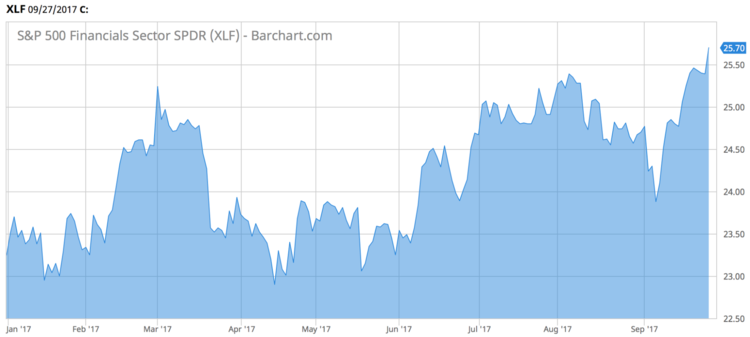 The financial sector benefits from a rising interest rate environment as the banks are able to charge their customers higher rates on loans. Yellen made clear that the Fed will continue to raise interest rates because the low inflation will prove transitory; although, she admitted the bank could act more slowly.
The Bottom Line
A devastating earthquake in Mexico took a hit on the nation's equity markets, arresting an impressive rally since the beginning of the year. Defense stocks hit record highs this week on geopolitical tensions. The Russian stock market proved resilient in the face of potential contagion in the banking sector, after two large banks requested bailout funds from the central bank. Semiconductors continued their rally this week on bright long-term prospects, while financial equities investors cheered the Federal Reserve's indication that it would continue to raise interest rates despite low inflation.
By analyzing how you, our valued readers, search our property each week, we hope to uncover important trends that will help you understand how the market is behaving so you can fine-tune your investment strategy. At the end of the week, we'll share these trends, giving you better insight into the relevant market events that will allow you to make more valuable decisions for your portfolio.