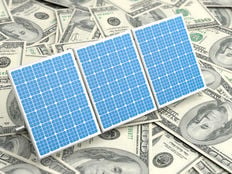 ETFdb.com analyzes the search patterns of our visitors each week. By sharing these trends with our readers, we hope to provide insights into what the financial world is concerned about and how to position your portfolio.
Renewable energy stocks were in demand this week after China said it is considering banning sales of fossil fuel cars. As a result, lithium ETFs took first position on the list, while clean energy ETFs were third. Semiconductor ETFs were second this week thanks to optimism about the industry's prospects. Lowest P/E ratio ETFs also trended, in a sign investors are on the hunt for undervalued stocks. Asia Pacific equities close the list. Check out our previous trends edition at Trending: Insurance ETFs in Luck as Irma Shows Mercy.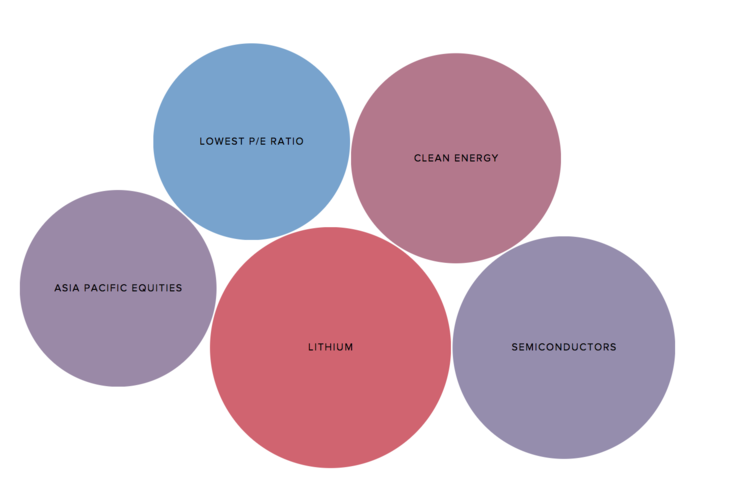 ---
Content continues below advertisement
Lithium Boosted by China's Fossil Fuel Policy
Lithium saw its traffic jump 165% this week as news emerged that the Chinese government is mulling the implementation of a ban on sales of fossil fuel vehicles in a bid to encourage the electric car industry. Global X Lithium (LIT C+) has risen more than 4% over the past five days, extending year-to-date gains to as much as 60%. Lithium is a key component of the battery used in electric cars.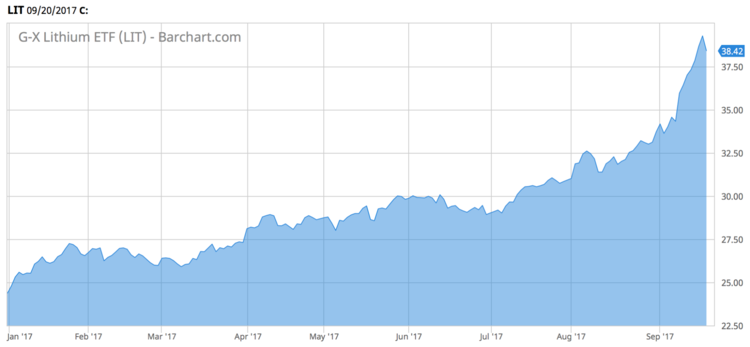 China is the latest country to signal a plan to ban fossil fuel cars, after similar moves by the U.K. and France, both of which committed to prohibiting fossil automobiles by 2040. A Chinese senior government official noted that some countries already announced a timeline for implementing the ban and suggested China may soon follow in their footsteps. He warned that the move will cause a great shift and "turbulence" in the industry. China's potential ban is hardly surprising, given that it imports most of its oil and faces unprecedented pollution levels. The prohibition could also boost the domestic car industry, which has struggled to gain international traction in the production of combustion engines.
China is the largest auto market, having surpassed the U.S. in 2009. The nation aims to sell as many as seven million electric vehicles by 2025.
Semiconductors Rally on Industry Optimism
Semiconductors are second in the trends list this week, with a strong 128% increase in viewership. The rally in the sector continued this week, with VanEck Vectors Semiconductor (SMH A-) jumping 2.7%. Year-to-date, (SMH A-) has jumped nearly 28%, easily beating technology-heavy Nasdaq 100 by over 10%.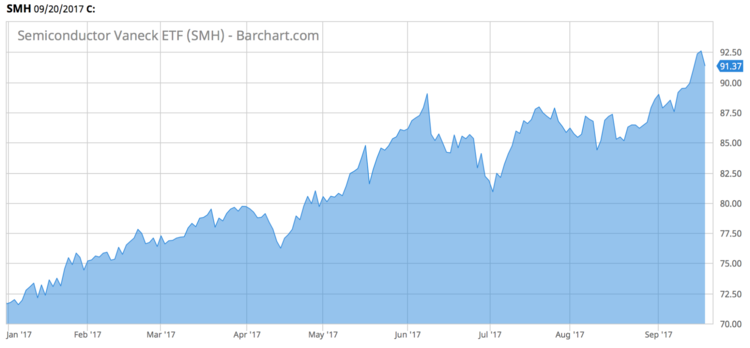 The reason for the strong rally is increasing demand for computing capacity. Among the hottest stocks in the index are Nvidia (NVDA), with an impressive rise of 70% since the start of the year, and Micron Technology (MU), which advanced over 60% in the same period. Meanwhile, Intel (INTC) has largely missed the recent rally, advancing a meager 2% since the beginning of the year.
The future seems bright for the semiconductor industry despite heavy competition among sector players. However, buying an entire semiconductor index should limit the downward risk. Demand for semiconductors is expected to rise at an exponential pace, as the world becomes more connected and needs more computing power. Self-driving cars, 5G internet, smart homes and cities, and the increasing automation of various tasks are just a few of the industries potentially driving future demand.
Sign up for ETFdb.com Pro and get access to real-time ratings on over 1,900 U.S.-listed ETFs.
Clean Energy
Clean energy ETFs were in high demand (i.e. 88% rise in traffic this week) for the same reason lithium ETFs trended – China provided a big boost by signaling its intention to ban fossil fuel vehicle sales. iShares Global Clean Energy (ICLN A+) has advanced slightly over the past five days, but its year-to-date performance is impressive – up more than 17%.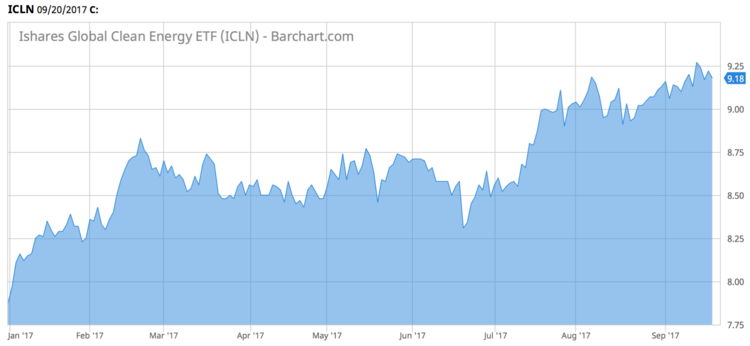 Although indirectly, solar and wind energy companies are expected to benefit from a potential Chinese ban on sales of fossil fuel vehicles. China's move is a clear signal that the country is seeking to incentivize the green energy industry, as it faces high levels of pollution. Also, electric vehicles are not much better than their fossil fuel alternatives if the electricity is produced via polluting means such as coal and, to a lesser extent, natural gas.
Lowest P/E Ratio
Lowest P/E ratio ETFs trended this week as investors started the hunt for undervalued opportunities. Lowest P/E ratio ETFS saw their viewership advance 65% this week. With the S&P 500 hovering near all-time highs, investors are looking for cheaper opportunities.
According to ETFdb.com, emerging markets such as Russia, Latin America and China represent the most undervalued equity ETFs. Closer to the developed world, U.S. Global Jets (JETS C+), an ETF containing the largest airlines, and Guggenheim S&P High Income Infrastructure (GHII A) are in the top 100 undervalued ETFs. At the bottom of the list, Norway (ENOR C+), Australia (FAUS C+) and Japan (FJP C) can be found among the most undervalued equity ETFs.
For a deeper analysis on individual ETF investments such as (JETS C+) or (ENOR C+), use our ETF Analyzer tool. You can select ETFs by category or type as well as add individual ticker symbols to compare performance, expenses and dividend yield, among other metrics.
Asia Pacific Equities
Asia Pacific equities are last in the list, with 61% increase in traffic. The region's equities generated interest primarily due to geopolitical tensions surrounding North Korea. The rogue nation recently launched a second missile directed at Japan, prompting a strong reaction from U.S. President Donald Trump, who promised to "totally destroy" North Korea if it strikes first. A North Korean foreign minister struck back, describing Trump's comments as "dog barking."
Asia Pacific ETFs were little changed following the heated rhetoric. The Vanguard FTSE Pacific (VPL A) jumped 0.7% in the past five days and is up more than 17% since the beginning of the year, as the region's equities benefited from a global improvement in economic fundamentals.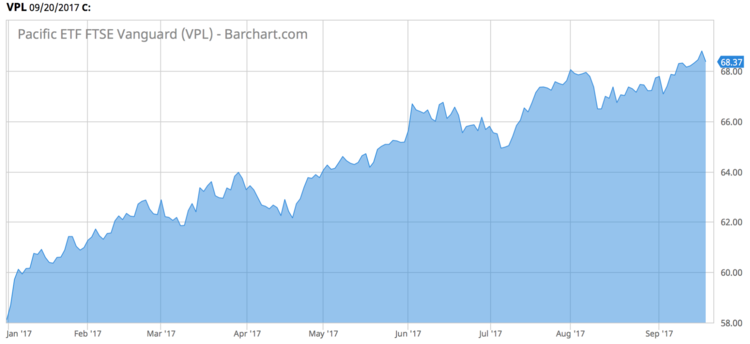 The Bottom Line
China signaled its intention to ban sales of fossil fuel cars, driving traffic to lithium ETFs and clean energy. Semiconductors have been rallying this year on strong optimism about the industry's prospects, with demand for computing power expected to increase exponentially going forward. As the U.S. market is hovering near record highs, investors are looking for cheaper investments elsewhere, increasing traffic to lowest P/E ratio ETFs. Finally, Asia Pacific equities have been feeling the stress of the heated rhetoric between U.S. and North Korea.
By analyzing how you, our valued readers, search our property each week, we hope to uncover important trends that will help you understand how the market is behaving so you can fine-tune your investment strategy. At the end of the week, we'll share these trends, giving you better insight into the relevant market events that will allow you to make more valuable decisions for your portfolio.