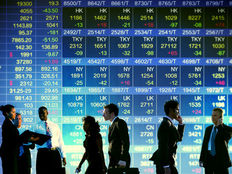 ETFdb.com analyzes the search patterns of our visitors each week. By sharing these trends with our readers, we hope to provide insights into what the financial world is concerned about and how to position your portfolio.
It's mid-October and U.S. stocks are still soaring. This week, upbeat corporate earnings have been the major catalyst. Together, they've helped the Dow Jones Industrial Average rise above 23,000 for the first time ever.
The Dow settled above that milestone on Wednesday thanks to financial shares. The sector, which is normally the first to report every quarter, rolled over after a week of mostly solid returns.
Within finance, insurance was the biggest focal point for ETF investors this week. Retail was also front and center, but perhaps not for the right reasons. Housing and permit data shined the spotlight on the construction industry, while mortgage-backed securities were also top of mind.
To compare the previous week's article to this week's edition, check out Trending: Oil Rises as Supply Glut Fears Abate.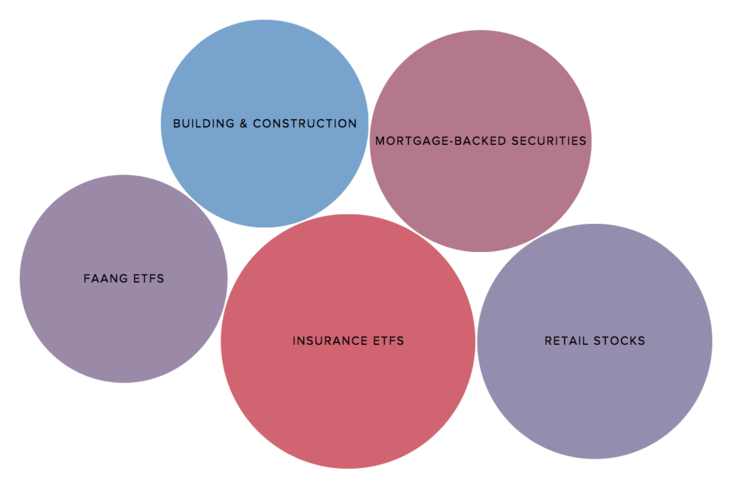 ---
Content continues below advertisement
Insurers Continue Higher as Worst of Hurricane Season Passes
Insurance ETFs take the No. 1 spot on our weekly Trends report with a 91% surge in viewership. The industry, which trades under Financials, has gained 5% over the past month. That's more than double the return of the S&P 500 Index.
Insurers sold off sharply as Hurricanes Harvey and Irma wreaked havoc on the southern states of Texas and Florida. The combined impact of both storms is said to be in the ballpark of $150-200 billion.
Earlier this week America's largest health insurer reported stronger than expected quarterly earnings and raised its full-year profit forecast. UnitedHealth Group Inc. (UNH) earned $2.66 per share (beating estimates of $2.56) on revenues of $50.32 billion that marginally missed the estimates. Share prices spiked above $200 this week en route to a new record high.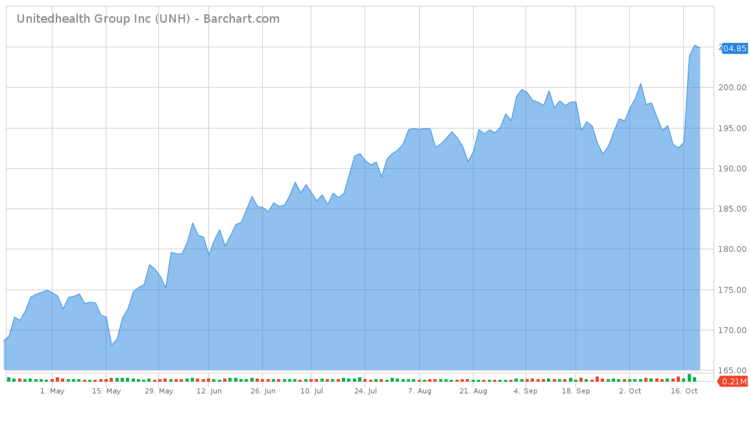 Discover insurance ETFs by clicking the following link.
Retail Stocks Command Attention
September was a buoyant month for retail sales, making the case that now is the time to buy beaten-down retail shares. The retail component of the consumer discretionary sector is second on our weekly list with a 55% increase in traffic.
Multiline retail is up half a percent this week, but it's one of a few industries to report year-to-date losses. The same is true for leisure products. The SPDR S&P Retail ETF (XRT B+) is not only down by 1.5% for the rolling month, but also down by more than 9% on a year-to-date basis.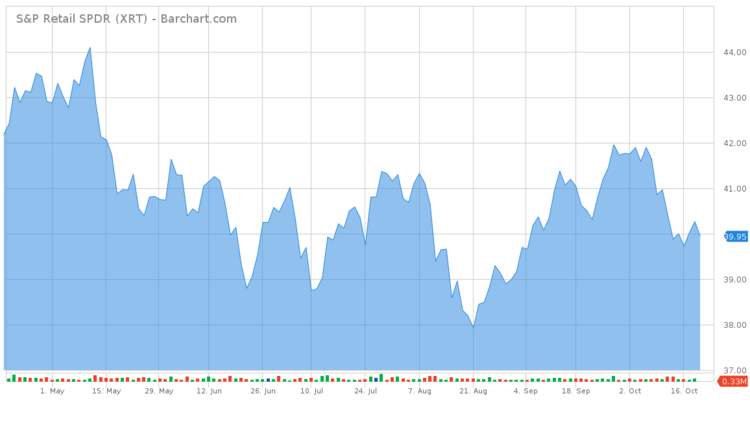 Make no mistake about it: retail as we know it is getting crushed. And it's not all Amazon's fault. The U.S. economic recovery, now in its eighth year, has seen uneven growth across consumer segments. Although a small handful of economists are placing hope in wage acceleration, it'll be tough for retailers to reverse the trend. Case in point: Sears Canada will begin liquidation today.
Morgan Stanley Bets Against MBS
Mortgage-backed securities (MBS) made a roaring comeback this week, taking third spot on our list with a 46% increase in viewership. It just so happens that, during the same week, analysts at Morgan Stanley indicated that spreads between Treasuries and agency MBS are set to widen. This makes it all the more viable to sell Fannie Mae-backed mortgages with a 3% coupon. In this scenario, taking a long position of half the size on 10-year Treasuries is a good investment strategy.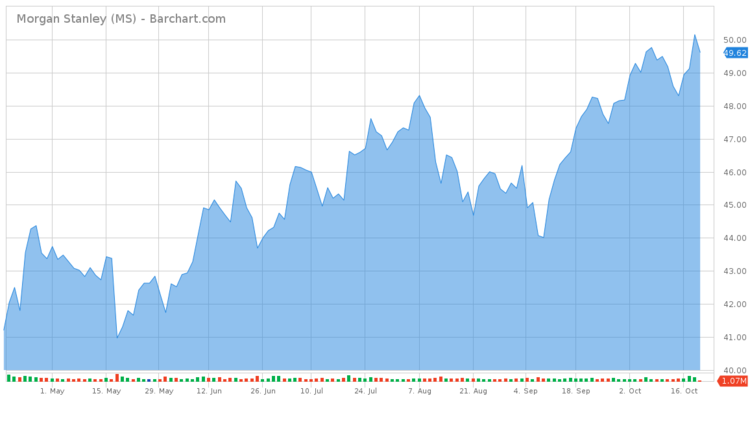 Several factors will underpin this trade, says Morgan. Chief among them is the Federal Reserve's "great unwind" of its balance sheet, which began this month. Global reflation and rising interest rates will also keep the short sale on MBS a good bet. Morgan Stanley (MS) stock is already up by almost 50% on a rolling-year basis.
We have a list of the top mortgage-backed ETFs here.
Housing and Permit Data Drive Investors to Construction ETFs
Building and construction ETFs make a rare appearance on our Trends report. This week, they take fourth place with a 43% boost in clicks.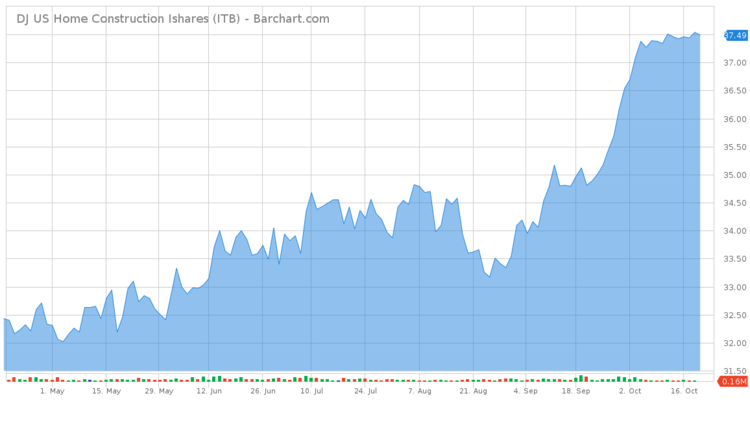 On Wednesday, the U.S. Commerce Department said housing starts fell unexpectedly last month, raising fresh worries about the health of the real estate sector. Building permits – a proxy for future construction plans – also dropped more than expected.
There's a severe shortage of homes for sale in the United States, especially low-priced starters. This is making the property search frustrating and more expensive. With the median home value rising above $200,000 this summer, more potential homebuyers have been forced to rent.
From the perspective of construction stocks, the future remains bright. With demand for homes high and major infrastructure spending expected, the sector appears poised for growth in the future. The iShares Dow Jones US Home Construction ETF (ITB A) is up 6.75% over the rolling month, whereas it is up more than 36% on a year-to-date basis.
Tech Shares in Full Flight
No other sector has outperformed technology this year. Over the past five trading days, FAANG ETFs cracked the top five with a 41% rise in exposure. Although FAANG stands for Facebook, Apple, Amazon, Netflix and Google (now Alphabet Inc.), it was Netflix that stole the show. The global streaming giant added 5.3 million subscribers during the third quarter, far outpacing the 4.5 million increase analysts had expected. Revenues of $2.98 billion and EPS growth of 37 cents also topped forecasts.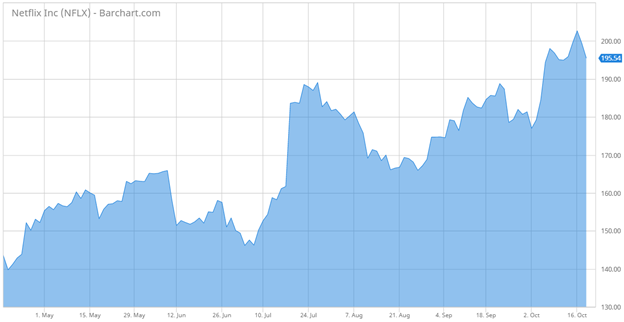 Sign up for ETFdb.com Pro and get access to real-time ratings on over 1,900 U.S.-listed ETFs.
For a deeper analysis on individual ETF investments such as (QQQ B+) and (IGM A-), use our ETF Analyzer tool. You can select ETFs by category or type as well as add individual ticker symbols to compare performance, expenses and dividend yield, among other metrics.
The Bottom Line
Wall Street's bull rally shows no signs of abating anytime soon. Stocks are high, volatility is low and earnings are expected to continue their recent streak of strong year-over-year growth. Against this backdrop, investors can expect solid prospects in the final quarter even as political discord continues to hamper the Trump administration's pursuit of tax reform.
By analyzing how you, our valued readers, search our property each week, we hope to uncover important trends that will help you understand how the market is behaving so you can fine-tune your investment strategy. At the end of the week, we'll share these trends, giving you better insight into the relevant market events that will allow you to make more valuable decisions for your portfolio.