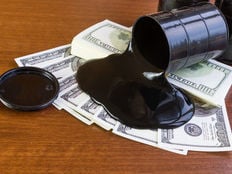 ETFdb.com analyzes the search patterns of our visitors each week. By sharing these trends with our readers, we hope to provide insights into what the financial world is concerned about and how to position your portfolio.
Crude oil was in the spotlight this week as the market started to show signs of rebalancing. Gold traded sideways as the risk around Catalonia's secession from Spain abated, at least temporarily. Socially responsible ETFs took third place in the list, while Emerging Asia Pacific ETFs were fourth. Last in the list was the healthcare sector. Check out our previous trends edition at Trending: Spanish ETFs Plunge as Catalonia Pushes for Secession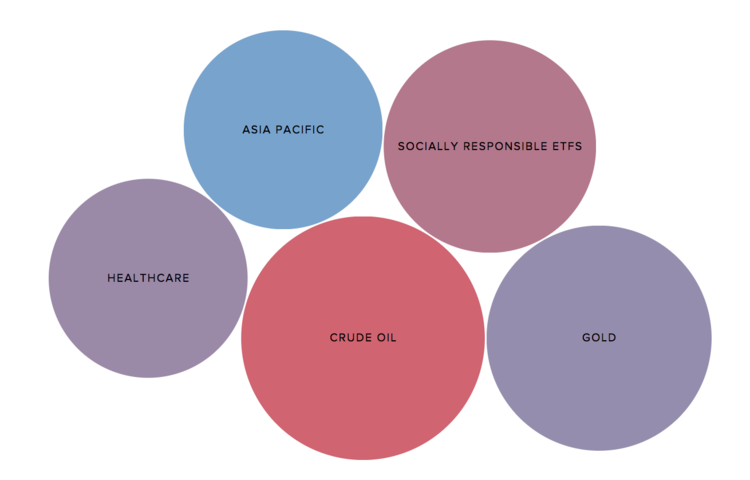 ---
Content continues below advertisement
Crude Oil Jumps on Rebalancing Hopes
Crude oil saw its viewership surge by 121%, comfortably securing the first spot in the list. Investors have been radiating optimism about crude's prospects, as a host of key players suggested the market was finally rebalancing. Crude oil (USO B) is up more than 1% this week, with most of the gains lodged after positive comments from Saudi Arabia that demand was getting in line with supply. Year-to-date, (USO B) remains down by almost 13%.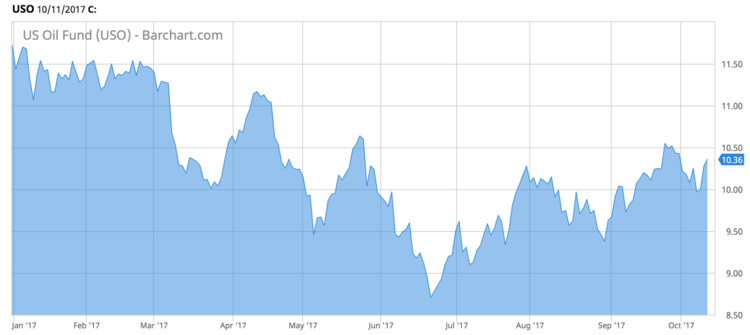 Saudi Arabia clinched a deal with Russia and other non-OPEC members, agreeing to cut 560,000 barrels per day in November. OPEC representatives are also on track to hold a second round of talks with U.S. independent producers and hedge funds. It is unclear what OPEC hopes to realistically achieve from the meeting, but the organization's Secretary General said that no oil producer can isolate itself.
Russia along with OPEC and other oil exporters agreed to cut oil supply by 1.8 million barrels per day until March 2018, and chances are the deal will be extended at least through the end of 2018. Russian President Vladimir Putin recently suggested that an extension of the deal is a live possibility, while Prime Minister Dmitry Medvedev said the agreement is succeeding at keeping prices within a range.
Crude oil stocks are still at high levels. However, U.S. stockpiles have been shrinking fast of late, helped by the fact that around 85% of U.S. output in the Gulf of Mexico remained offline. Hurricane Nate wreaked havoc on a U.S. offshore production hub, with 92% of the facilities shut down initially.
Gold Moves Sideways as Catalonia Tensions Diffused
Gold took second place in the list, with viewership jumping 114%. The precious metal enjoyed some demand after Catalonia's attempt to gain independence from Spain caused renewed fears about a breakup of the European Union, although Spanish stocks were affected the most. Gold (GLD A-) has advanced nearly 2% over the past five days, extending year-to-date gains to as much as 11%.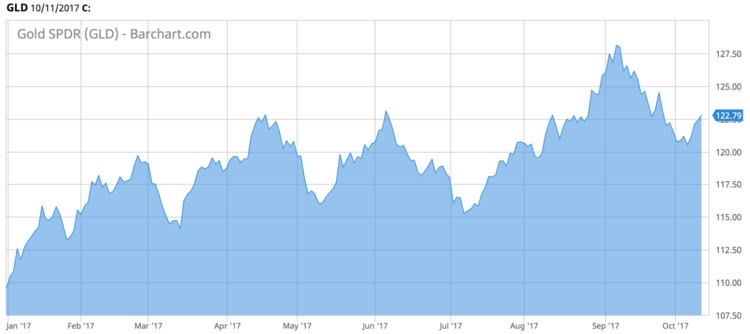 The conflict between Catalonia and Spain has been temporarily diffused, but there is still a great degree of confusion about what lies next. Catalonia's President Carles Puigdemont fell short of declaring independence in a big speech watched by investors all over the world, after Spain's government threatened to arrest him. To be clear, Puigdemont did not give up on independence altogether, but said he deferred it for a few weeks to see if Spain wants to start negotiations. The response did not please Spain, which is now pushing Puigdemont to make clear what is Catalonia's next step. If the region declares independence, the Spanish government will likely suspend Catalonia's autonomy and take control of the government. In the meantime, the Basque Nationalist Party is trying to act as a mediator, but only in an unofficial role because Spain's government does not want to be viewed as making compromises.
For a deeper analysis on individual ETF investments such as (GLD A-) or (USO B), use our ETF Analyzer tool. You can select ETFs by category or type as well as add individual ticker symbols to compare performance, expenses and dividend yield, among other metrics.
Socially Responsible ETFs
Socially Responsible ETFs took third place in the list for no obvious reasons. There was a 69% jump in viewership for this specific ETF category. There are many socially responsible ETFs on the market and many more are launching constantly. By gearing an ETF toward companies that are making a positive social and environmental impact, providers are tapping into an underdeveloped market – Millennials, who are known for putting value on such businesses.
Whether it's climate change, equal rights and opportunities, or corporate responsibility, ETF providers seek to assemble products that fit all tastes. The latest socially responsible ETF was launched several days ago by Change Finance, an ETF newcomer. Change Finance Diversified Impact U.S. Large Cap Fossil Fuel Free (CHGX B) was launched on October 10 and is up slightly since then. Chief among its holdings are Micron Technology (MU), AbbVie (ABBV) and Applied Materials (AMAT).
Sign up for ETFdb.com Pro and get access to real-time ratings on over 1,900 U.S.-listed ETFs.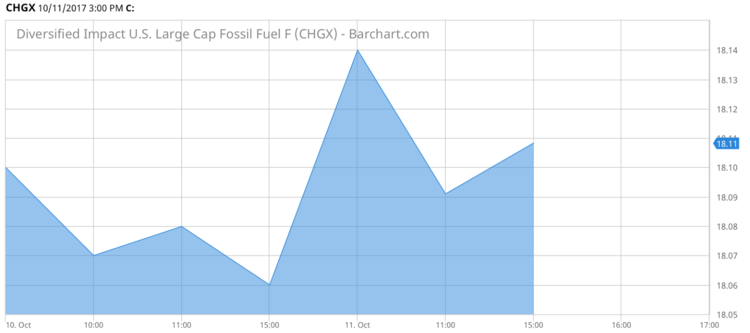 Emerging Asia Pacific
Emerging Asia Pacific this week, garnering 49% more viewers compared to last week, largely because of a recent rally experienced by the Chinese stocks. As the nation's leading Communist Party is preparing for a once-in-five-years gathering, equities have edged higher on positive global sentiment. iShares China Large-Cap (FXI A) has risen 3% over the past month.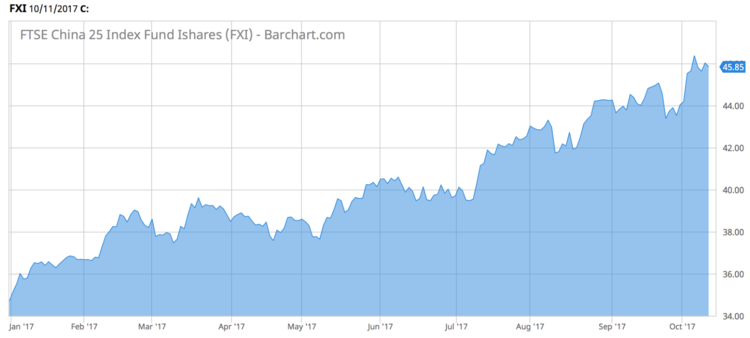 Equities were propped by China's central bank's move to ease lending conditions starting in 2018. People's Bank of China announced a cut to the reserve lending institutions have to set aside, freeing more money for loans. The bank boosted investor sentiment shortly ahead of the Communist Party's meeting, where it is largely expected that President Xi Jinping will be confirmed for a second term.
Healthcare
Healthcare ETFs took last place in the list with a 44% increase in viewership. Healthcare stocks had a bad start to the week, dropping 1% in the first few days. On Wednesday, Health Care Select Sector SPDR Fund (XLV A) started to recover, and is now down just 0.30%. Johnson & Johnson (JNJ) led the gains in the sector after it demanded that regulators approve its drug Apalutamide, which aims to treat a rare form of prostate cancer. (JNJ) is up more than 5% this week.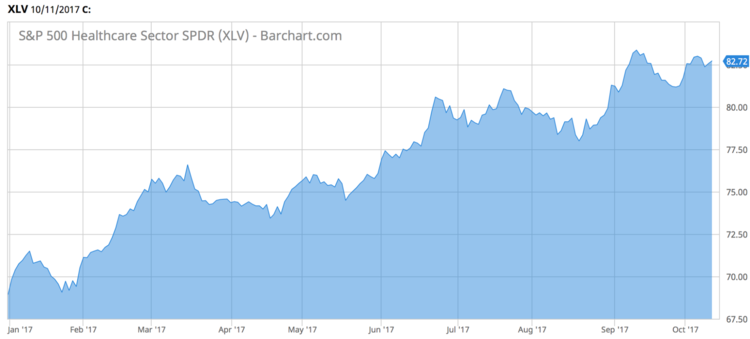 The Bottom Line
Crude oil grabbed the headlines this week as the market appears to be rebalancing. Gold prices stayed firm, as breakaway Catalonia region deferred declaring independence. Socially Responsible ETFs are becoming increasingly popular, appealing to Millennials. Asia Pacific equities trended thanks to a rally in the Chinese stocks stemmed from an announced monetary easing by the nation's central bank. Finally, healthcare ETFs recouped some losses later in the week thanks to gains lodged by Johnson & Johnson.
By analyzing how you, our valued readers, search our property each week, we hope to uncover important trends that will help you understand how the market is behaving so you can fine-tune your investment strategy. At the end of the week, we'll share these trends, giving you better insight into the relevant market events that will allow you to make more valuable decisions for your portfolio.