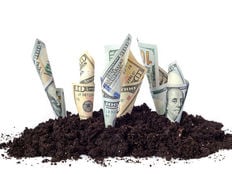 Momentum factor investing has been the undisputed winner of 2017, more than doubling the returns of the value, size and quality factors.
Attempting to strike while the iron's hot, several new momentum-based funds hit the market this week including the first set of ETFs from financial services giant USAA.
Here are this week's new fund launches:
---
Content continues below advertisement
USAA Decides to Launch Its Own ETF Business
Several financial services companies have jumped into the ETF marketplace recently trying to get their own piece of the pie. USAA offers a broad range of financial services to its more than 11 million members, but never before had it offered ETFs until this week. It debuts two broad-based fixed income funds and four equity funds designed to jump on the multi-factor investing trend.
The equity offerings – USAA MSCI USA Value Momentum Blend Index ETF (ULVM C+), USAA MSCI USA Small Cap Value Momentum Blend Index ETF (USVM B+), USAA MSCI International Value Momentum Blend Index ETF (UIVM A-) and USAA MSCI Emerging Markets Value Momentum Blend Index ETF (UEVM B) – all follow a similar management style. Each fund scours its specific universe for stocks that earn the highest value-momentum Z-scores, including between 200 and 500 names in the portfolio, depending on the fund. From there, the funds look at each security's historical realized volatility and gives heavier weightings to those stocks with the lowest volatility.
The focus on momentum is not surprising given that it has performed far better lately than any of the other factors. The value factor, however, has been unloved and represents something of a contrarian play. Combining attractive valuations with price momentum and low volatility provides investors with a true multi-factor product suite that covers all areas of the globe.
USAA Core Short-Term Bond ETF (USTB B+) and USAA Core Intermediate-Term Bond ETF (UITB B-) represent a more traditional approach to fixed income investing. The two funds are actively managed and invest in a broad range of corporate and government bonds. While the funds primarily target investment-grade bonds, they can dedicate around 20%-25% of the portfolio to junk bonds. The short-term bond ETF looks to maintain an average portfolio maturity of less than three years, while the intermediate-term bond ETF goes for bonds in the 3-10 year range.
For more ETF news and analysis, subscribe to our free newsletter.
Principal Expands Its Factor-Based Product Lineup
Principal Funds debuted its first ETF a little over two years ago, and since that time has slowly broadened and diversified its roster. Like USAA, Principal focuses on the value and momentum factors in its new funds.
Principal Contrarian Value Index ETF (PVAL B+) starts with the Nasdaq U.S. Large Mid Cap Index and uses a quantitative model designed to identify stocks that appear to be undervalued based on fundamentals in both normal and bear market environments. The fund characterizes itself as "deep value oriented," but uses financial and fundamental data to avoid value trap situations.
Principal Sustainable Momentum Index ETF (PMOM C+) uses a substantially similar methodology. It also starts with the Nasdaq U.S. Large Mid Cap Index, but uses a quantitative model that attempts to identify stocks that exhibit high sustainable momentum scores. Interestingly, the fund's underlying index is only rebalanced annually, although stocks that no longer maintain momentum characteristics throughout the year can be dropped from the index.
For a list of all Principal Funds ETFs, click here.
The Bottom Line
Momentum investing continues to be a popular strategy in 2017, although the interest in the value factor acknowledges that fund managers still realize there are opportunities in unloved stocks too. USAA invests a lot of its own members' money in outside ETF providers, so it'll be interesting to see if it brings some or all of that money "back home," For all the argument of whether or not smart beta strategies are effective, many ETF providers are still banking on them as the future of the industry.
ETFdb has ETF Investing Guides and other e-books to help you navigate the investing landscape using ETFs. Sign up to ETF Database Pro to get access to all the PDFs located on our ETF Guides page.