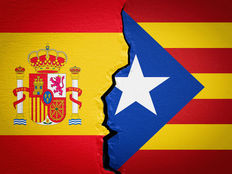 ETFdb.com analyzes the search patterns of our visitors each week. By sharing these trends with our readers, we hope to provide insights into what the financial world is concerned about and how to position your portfolio.
It has been a week of political upheaval for Spain's Catalonia region. The regional government's declaration of independence was immediately dismissed by the Spanish Constitutional Court, leading to the removal of Catalan President Carles Puigdemont.
Outside of Spain, market participants kept an eye on corporate earnings, U.S. factories data and the Bank of Japan.
The global financial markets enter November on firm footing, with North America, Europe and Asia posting solid gains during the previous month. Investors often associate November with the 'Halloween Indicator,' which is a trading strategy that instructs market participants to enter stocks between Nov. 1 and April 30.
To compare the previous week's article to this week's edition, check out Trending: Palladium Soars on Global Growth; Dow Hits Record High on Earnings.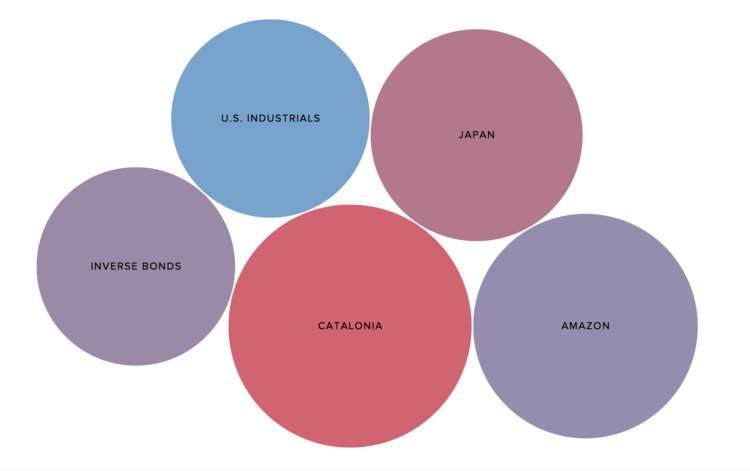 ---
Content continues below advertisement
Catalonia's Struggle for Independence
Catalonia's referendum on Oct. 1 has triggered a series of dramatic events for Spain, culminating in the removal of the autonomous region's leadership. It's therefore no surprise that our Spanish ETFs' page took the top spot on our weekly list with a 389% surge in traffic.
Investors awoke earlier this week to news that Catalan President Carles Puigdemont had flown to Belgium in pursuit of political asylum after his government illegally declared independence from Madrid. We later learned that Puigdemont isn't seeking asylum in Belgium, but is instead avoiding threats from the Spanish government.
"I am not here to apply for political asylum," Puigdemont said, according to several news agencies. "I am here in Brussels as the capital of Europe. It's not a question of Belgian politics. I am here in order to act with freedom and security."
Yet, the former Catalan leader faces criminal charges in Spain that could put him behind bars for decades. It is unclear if and when Puigdemont will return to Spain for questioning by the Supreme Court.
Despite the political turmoil engulfing Catalonia, Spanish stocks are trading near two-and-a-half-month highs. The IBEX 35 Index is up 3% since last Friday amid a broad uptrend in European equities.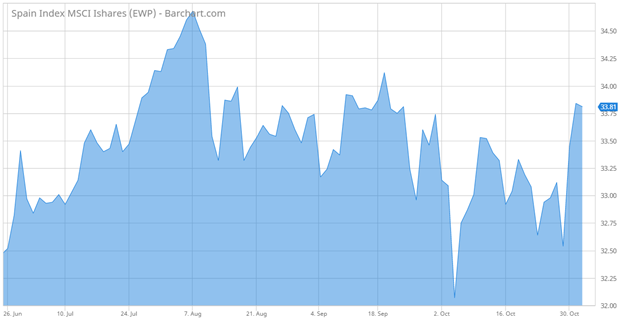 For more on the latest developments in Catalonia, visit our News section.
Amazon Earnings Beat
Amazon was one of a handful of tech giants to post stellar third-quarter earnings. It makes no. 2 on our weekly list with a 291% surge in traffic.
The e-commerce giant earned 52 cents per share on revenues of $43.7 billion, crushing forecasts calling for an EPS of 3 cents on $42.14 billion in sales. Amazon Web Services, the company's flagship cloud infrastructure, saw its revenue grow to $4.58 billion.
Amazon's share price has been on an absolute tear since last Thursday. The earnings beat sent shares to a new record high, with prices crossing $1,100 for the first time.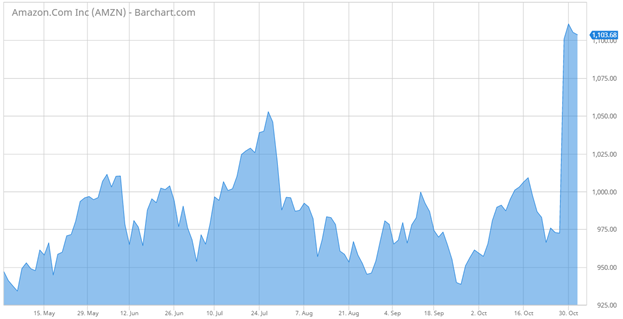 ETFdb.com has a list of the top technology sector funds. To discover which of these ETFs has exposure to Amazon, refer to the following page.
Japanese Equities Cap Off Stellar Month
October was a month of milestones for Japanese stocks. The country's equity universe saw a 119% increase in foot traffic last week, enough for third spot on our list.
Tokyo's 225-issue Nikkei rose nearly 10% in October en route to 21-year highs. The rally has intensified in the wake of Prime Minister Shinzo Abe's sweeping electoral victory, thus ensuring a continued stimulus push for the world's third-largest economy.
Meanwhile, the Bank of Japan kept monetary policy steady this week even as counterparts in North America and Europe have pushed for tighter rates. Developments on the political and monetary policy fronts signal it is business as usual for Japan – at least for the foreseeable future.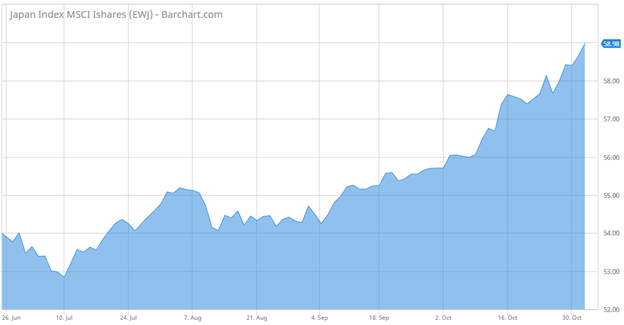 U.S. Industrials Group Riding 52-Week Highs
It has been a solid month for U.S. industrials, so much so that they took the fourth spot on our latest Trends report with an 87% increase in exposure.
The Dow Jones U.S. Industrial Shares ETF (IYJ A-) reached fresh yearly highs in the final week of October. Prices have since moderated, but are still up 7% over the past six months. Most notably, the ETF has gained more than 8% since hitting a trough in mid-August.
The U.S. factory sector is improving, as evidenced by the 13-year high in manufacturing PMI for September. Manufacturing conditions have since moderated, according to the October report, but remain robust overall.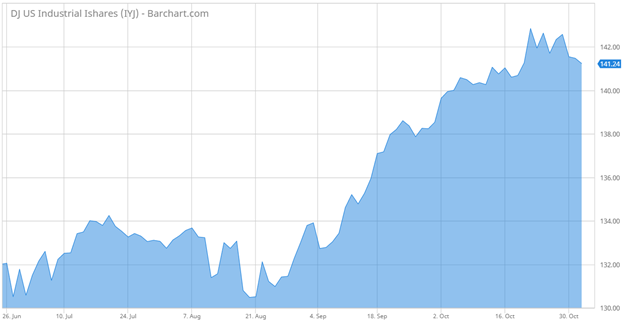 Are you looking to perform in-depth ETF research? Check out our Education section for timely resources.
Inverse Bonds Crack the Top Five
Greater attention was paid to inverse bonds this week as U.S. Treasury yields rose ahead of the Federal Reserve policy meetings. Inverse bonds witnessed a 59% increase in weekly traffic.
The 20+ Year Short Treasury Proshares ETF (TBF A+), which offers inverse leveraged exposure to the Barclays Capital U.S. 20+ Year Treasury Index, has declined sharply since last Thursday, when it reached its highest level in three months.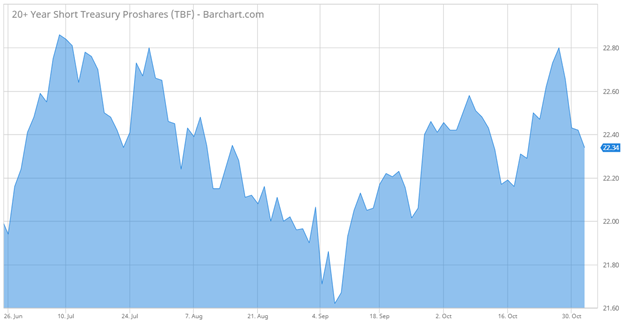 Looking for more plays on inverse bonds? Check out our dedicated page on Inverse Bonds ETFs.
The Bottom Line
We haven't heard the last of Catalonia's push for independence. The key question remains just how hard Catalans are willing to fight to achieve it amid growing pressure from Madrid. The financial markets, and the rest of Europe, will look on with great interest over the coming months.
By analyzing how you, our valued readers, search our property each week, we hope to uncover important trends that will help you understand how the market is behaving so you can fine-tune your investment strategy. At the end of the week, we'll share these trends, giving you better insight into the relevant market events that will allow you to make more valuable decisions for your portfolio.