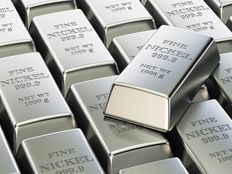 ETFdb.com analyzes the search patterns of our visitors each week. By sharing these trends with our readers, we hope to provide insights into what the financial world is concerned about and how to position your portfolio.
Nickel has made headlines over the past week, as a rare rally sparked by hopes of higher demand from electric vehicles put the metal into the spotlight. Homebuilders are second in our list, gaining attention after U.S. Republicans presented an unfavorable tax plan. South Korea made it to the top, as U.S. President Donald Trump gave a speech on the region's military security. Oil was again popular, with investors trying to make sense of Saudi Arabia's unexpected purge of high level officials. Tesla closed the list.
Check our previous trends edition at Trending: Catalonia's Push for Independence Continues.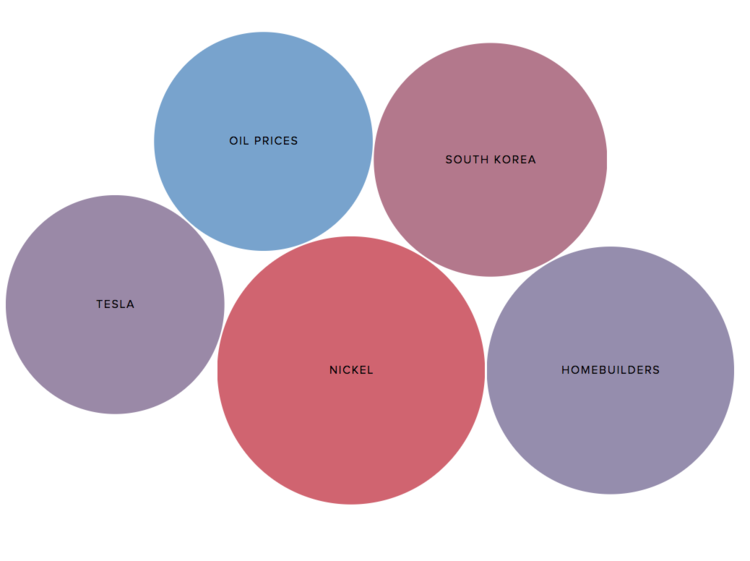 ---
Content continues below advertisement
Nickel Extends Rally on Expected Boom in Demand
Nickel has seen its viewership rise as much as 553% in the past week, as the metal extended a rally on the back of forecasts for higher demand from the electric vehicle industry. The 553% advance is by far the highest from the bunch, with homebuilders a distant second. iPath Dow Jones-UBS Nickel (JJN C+) has jumped 17.8% over the past month, extending year-to-date gains to as much as 28%. The performance is one of the best among metals this year.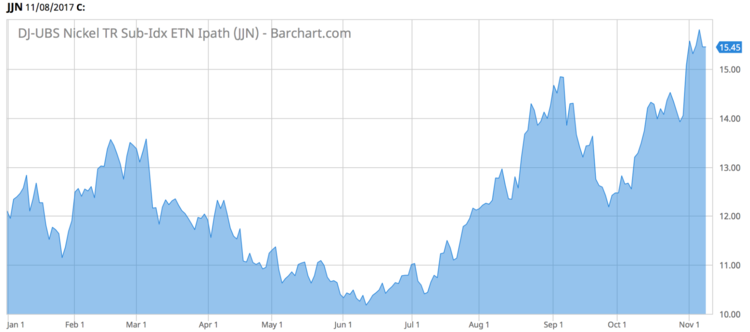 Nickel's rally was sparked by optimistic demand forecasts published by commodity trading houses Trafigura Group and Glencore. Trafigura recently said that demand for nickel-sulphate may increase to as much as 3 million tons by 2030 from 2 million now, as batteries will likely use more nickel and less cobalt in the future. Demand for batteries is expected to rise exponentially over the next decade with the advent of electric vehicles, which use large batteries. Glencore, meanwhile, has long argued that nickel shortage will lead to ever-higher prices. The metal is up around 34% over the past two years.
Russian-based MMC Norilsk Nickel, which is among the top producers along with Brazilian corporation Vale SA, has a more grim view on the recent rally. It has warned that prices may have risen too quickly and could face downward volatility. The company noted that nickel demand from batteries will amount to just 65,000 tons in 2017, representing just over 3% of total global demand.
The metal is now heavily used to produce stainless steel. The Chinese economy has been improving of late and steel production has been rising incessantly, sparking worries that nickel deficits could grow.
Homebuilders Trade Sideways on Republicans' Tax Plan
Homebuilders have seen their viewership surge 140% in the past week, as investors tried to digest a plan by U.S. Republicans to limit the mortgage-interest deduction. On November 2, the day the plan was announced, iShares U.S. Home Construction (ITB A) tanked nearly 3%, with luxury homebuilders Toll Brothers (TOL) among the worst hit. However, since that drop (ITB A) has recovered most of the losses and is now down just 0.20% in a sign investors believe the plan will not hit the industry much.
Sign up for ETFdb.com Pro and get access to real-time ratings on over 1,900 U.S.-listed ETFs.
Indeed, Republicans have proposed to cap the mortgage-interest deduction to $500,000 from $1 million previously. The cap will particularly impact the higher end of the market and will largely leave untouched first-time buyers, who usually buy homes for less than $500,000. Investors initially feared that the plan will lead to a drop in demand for houses, with the National Association of Realtors saying the plan "appears to confirm many of our biggest concerns." However, homebuilders have been focusing on first-time buyers of late, while the trend of upgrading houses has slowed. Investors believe the impact from the tax plan will be limited to only expensive coastal markets.
South Korea
South Korea has been a popular topic with investors over the past weeks. This week, the nation took the third spot in the list with a 104% rise in viewership. The attention was sparked by President Donald Trump's two-day visit to Asia and his speech before South Korea's National Assembly.
Investors have been looking for hints in his remarks on whether the U.S. is ready to withdraw its influence in the region and let China play a greater role. Trump focused mainly on the nuclear threat from North Korea and said the U.S. is determined to act to limit the nation's nuclear program. Trump also called on Russia and China to help out by cutting trade and diplomatic ties with the rogue nation. He praised China for taking steps to take down the regime, but made clear the nation can do more.
South Korean shares have been undeterred by the North Korean crisis, with iShares MSCI South Korea Capped (EWY B) surging more than 40% since the beginning of the year. Over the past month alone, (EWY B) has advanced nearly 7%. The country's GDP is on track to grow by around 3% this year, after posting similar results last year.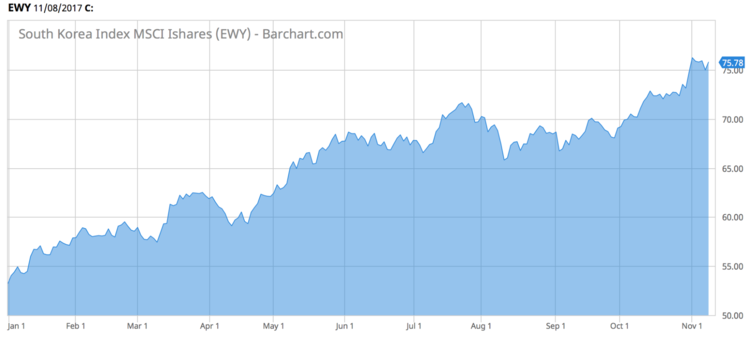 Oil Surges on Saudi Corruption Crackdown
The Saudi Arabia corruption purge has sparked a rally in the price of oil as uncertainty surrounding the Crown Prince Mohammad bin Salman's actions has been growing. Leveraged oil saw its viewership rise 89% this week. ProShares Ultra Bloomberg Crude Oil (UCO A), an ETF leveraged two times, is up 30% over the past month. Leveraged ETFs allow investors to increase their gains at the expense of higher risk.
For a deeper analysis on individual ETF investments such as (UCO A) or (EWY B), use our ETF Analyzer tool. You can select ETFs by category or type as well as add individual ticker symbols to compare performance, expenses and dividend yield, among other metrics.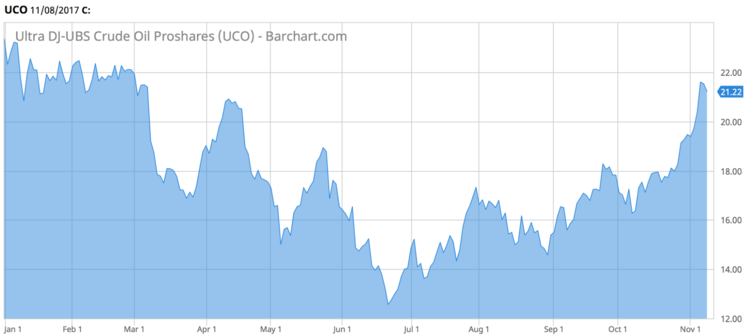 Crown Prince Mohammad bin Salman has formed an anti-corruption committee that unexpectedly arrested some top figures in the Kingdom, including billionaire Prince and investor Alwaleed bin Talal plus a dozen of former ministers. The reason for the arrests largely remains unclear. Amid the corruption crackdown, Saudi Arabia indicated its willingness to extend a deal with OPEC and Russia to cut oil supplies in order to boost prices. A meeting between Saudi Arabia, Russia, Kazakhstan and Uzbekistan took place over the weekend, with all parties concluding a new deal was likely.
Tesla Slides on Bad Financial Results
Electric-vehicle maker Tesla (88% increase in traffic) took a dive after the company announced thoroughly bad financial results for the last quarter. Tesla's (TSLA) woes have been worsened by signs it is very much behind schedule with the production of its Model 3 affordable electric car, the signature automobile founder Elon Musk hopes will revolutionize the car industry and contribute decisively to a greener future. Tesla is down nearly 12% over the past month, trimming year-to-date gains to 40%.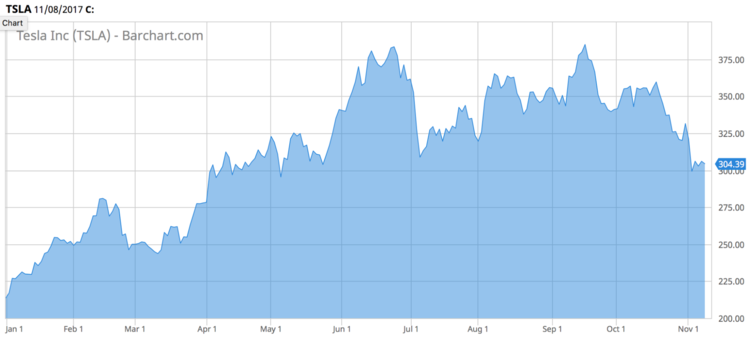 On Wednesday, news emerged that Tesla bought factory automation company Perbix in a bid to consolidate its operations and move most of its production of components in-house. Unlike other automakers, Tesla is producing by itself most of its equipment for cars.
The Bottom Line
Nickel stood out this week with a blockbuster increase in viewership thanks to positive demand forecasts and rising prices. Homebuilders suddenly dropped after U.S. Republicans unveiled a tax plan unfavorable for the industry, but recovered most of the losses in the following days. South Korea trended thanks to a speech by President Donald Trump in which he called on China and Russia to cooperate on the North Korean threat. Oil benefited from uncertainty coming from Saudi Arabia's purge, while Tesla dropped on bad financial results and signs it will not be able to deliver on time its affordable car Model 3.
By analyzing how you, our valued readers, search our property each week, we hope to uncover important trends that will help you understand how the market is behaving so you can fine-tune your investment strategy. At the end of the week, we'll share these trends, giving you better insight into the relevant market events that will allow you to make more valuable decisions for your portfolio.