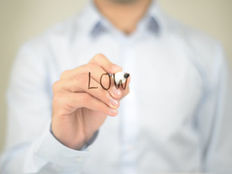 BlackRock, Vanguard and State Street are the three dominant players in the ETF space. Together, they manage 70% of all ETF assets globally. They also offer many of the cheapest funds available in the marketplace.
More providers are starting to realize that low fees tend to lead to bigger inflows, but no one has made a bigger entry into the low-fee space than the one Franklin Templeton makes this week.
Here are this week's new fund launches:
---
Content continues below advertisement
Franklin Templeton Goes Way Cheap on Country ETFs
Franklin Templeton isn't typically one of the first names that comes to mind when you think of ultra-low fees, but it's about to. The company launched a suite of 16 different country ETFs that are going to significantly undercut the industry's biggest players on fees. Most of the funds will charge just 0.09% annually, more than five times cheaper than the 0.48% expense ratio you'll find on many of iShares country funds.
The iShares country ETFs alone account for around $70 billion in AUM, so there's a big opportunity here for Franklin. If low fees translate into inflows, Franklin could become a major player in the international equity space.
First Trust Debuts a Pair of Dividend Payers
First Trust brings two new income ETFs to the market this week that live on opposite ends of the risk spectrum. The First Trust Municipal High Income ETF (FMHI B-) is an actively-managed fund that focuses primarily on below investment grade muni debt. There is little limitation as to where the fund can invest, but its managers anticipate it will be an intermediate-term muni fund on average.
The First Trust SMID Cap Rising Dividend Achievers ETF (SDVY B) will target 100 small- and mid-cap companies with a history of raising their dividends and exhibiting the characteristics to continue doing so in the future. The fund's managers will look at factors such as dividend yield, earnings-per-share growth, cash-to-debt and a stock's payout ratio.
For a list of all First Trust ETFs, click here.
Vanguard Launches First New ETF in Almost Two Years
The Vanguard Total Corporate Bond ETF (VTC B+) is the company's first new ETF since early 2016. It's structured as an ETF-of-ETFs that uses three other existing Vanguard corporate bond funds and is designed to provide exposure to the entire corporate bond market in one place. Perhaps the most interesting part of this ETF is that Vanguard will not be adding an additional layer of fees. The fund will charge 0.07%, the same expense ratio as each of the three underlying ETFs.
For more ETF news and analysis, subscribe to our free newsletter.
Entrepreneurship in an ETF
ETF newcomer EntrepreneurShares brings its very first fund to market with the Entrepreneur 30 ETF (ENTR B+). The fund selects companies using six factors: management, compensation, revenue, ownership, profitability and company statistics. Each constituent that meets all six of the entrepreneurial standards is ranked by its market capitalization, with the 30 largest companies by market capitalization being selected to be in the index.
The Bottom Line
Franklin Templeton's move into country ETFs will catch the attention of the big players. ETF providers often cut fees in response to similar moves from competitors, so Franklin may not have a competitive advantage for too long. The Vanguard Total Corporate Bond ETF launch underscores the "race to zero" with regard to fees. Its decision to charge no extra fee for the fund-of-funds set up could be the first of many such moves among competitors.
Sign up for ETFdb Pro and get access to real-time ratings on over 1,900 U.S.-listed ETFs.