ETFdb.com analyzes the search patterns of our visitors each week. By sharing these trends with our readers, we hope to provide insights into what the financial world is concerned about and how to position your portfolio.
This week's trends are very similar to the previous week, with Africa again taking the first position in the list. A recently launched ETF focused on technology and media stocks was second, followed by a surprise presence – a comparison between two automation ETFs. The last two positions are taken by technology and the internet, in a clear testament of investors' interest in hot tech stocks. Read our previous trends edition at Trending: Zimbabwe's Leadership Debacle Puts Africa in Spotlight.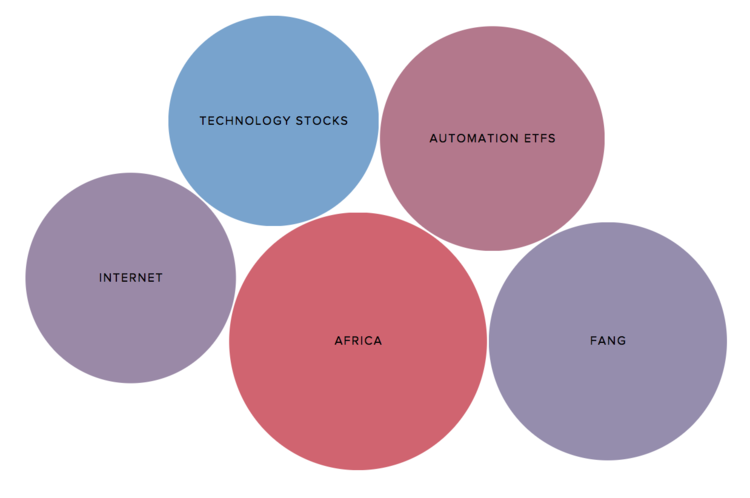 ---
Content continues below advertisement
Africa Radiates Optimism as Macron Visits the Continent
Africa continued to be a hot topic this week, amassing 51% more interest compared to the previous week. The popularity was thanks to Zimbabwe's leadership coup and a visit to the continent paid by French President Emmanuel Macron. Zimbabwe's leadership coup was covered in-depth in last week's edition of trends.
Macron, the young French president, is currently on a three-country trip in Africa. In Burkina Faso, his first visit, Macron suggested that France wanted to leave the colonial past behind and start relations from scratch. Departing from his predecessors, Macron put education and culture on the same level of importance as security and immigration. He also promised to increase development aid to the country and strengthen economic and educational ties. Macron's next visits are to the Ivory Coast and Ghana.
VanEck Vectors Africa Index (AFK C+) continued its rally this week, as investors cheered the changes in Zimbabwe. (AFK C+) has increased more than 4% since last Thursday, extending year-to-date gains to as much as 23%.
Sign up for ETFdb.com Pro and get access to real-time ratings on over 1,900 U.S.-listed ETFs.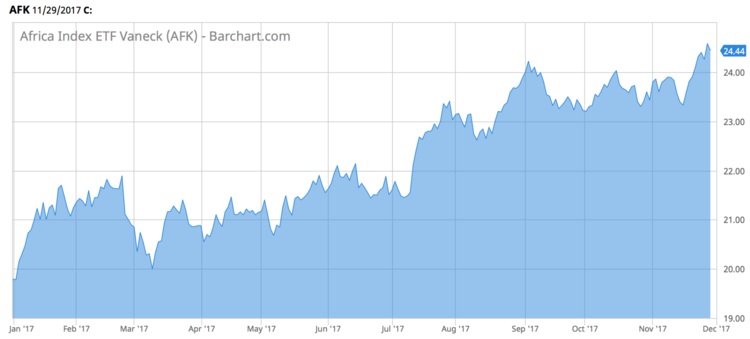 Despite Robert Mugabe's downfall, questions loom about whether his successor, Emmerson Mnangagwa, is any better at implementing reforms and digging Zimbabwe out of a hole. After all, he was Mugabe's right hand and approved many of the previous regime's political and economic mistakes.
FANG Fever
A few months ago, AdvisorShares launched an actively managed ETF designed to track the performance of hot technology and media stocks, including the acronym FANG – Facebook (FB), Amazon (AMZN), Netflix (NFLX) and Google (GOOGL). AdvisorShares New Tech and Media (FNG C) is so hot that it is present for the second time in the trends list since its launch in July. (FNG C) saw its viewership advance 47%.
(FNG C) has had a phenomenal start since its inception, soaring more than 65%. The S&P 500 has just risen around 9% over the same period. (FNG C) has attracted around $52 million since it started floating despite having a net expense ratio of 0.85%. Traditional and more popular passive strategies cost much less, around 0.20%.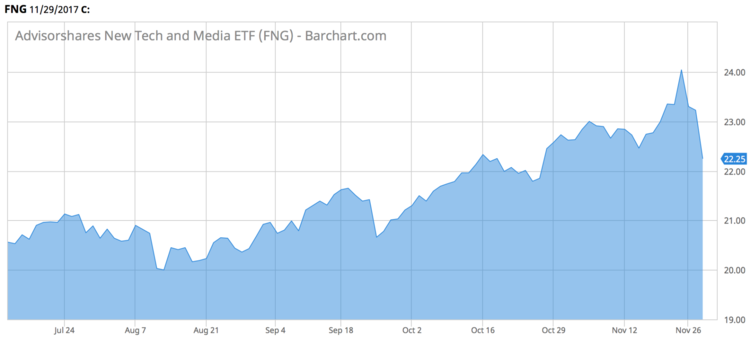 Contrary to what its ticker suggests, (FNG C) will not invest strictly in the four technology champions. According to AdvisorShares, the ETF will also seek exposure to international and U.S. hot tech stocks, including Chinese internet companies and Apple (AAPL). (FNG C)'s current top holdings are Amazon and Google. For a deeper analysis on individual ETF investments such as (FNG C) or (AFK C+), use our ETF Analyzer Tool. You can select ETFs by category or type as well as add individual ticker symbols to compare performance, expenses and dividend yield, among other metrics.
Further showing the interest in FANG, on November 9 a futures contract was launched to track the performance of hot tech stocks. The trading volume was low initially but it gained steam as awareness increased.
Automation ETFs in Vogue
A head-to-head comparison between Global Robotics and Automation Index (ROBO B-) and Global X Robotics & Artificial Intelligence Thematic (BOTZ B) took the third place this week, with a rise in viewership of 46%. Robotic ETFs have been in vogue of late, as investors are watching for the dawn of the automation industry.
(ROBO B-), launched in 2013, is the first global ETF focused on the robotic industry. It has nearly $2 billion in assets under management. The ETF crossed to $1 billion AUM mark in August 2017 and experienced heavy inflows since then. In the past five days, (ROBO B-) has dropped around 1.3%, but year-to-date it remains up more than 45%, comfortably beating the S&P 500 by around 30 percentage points.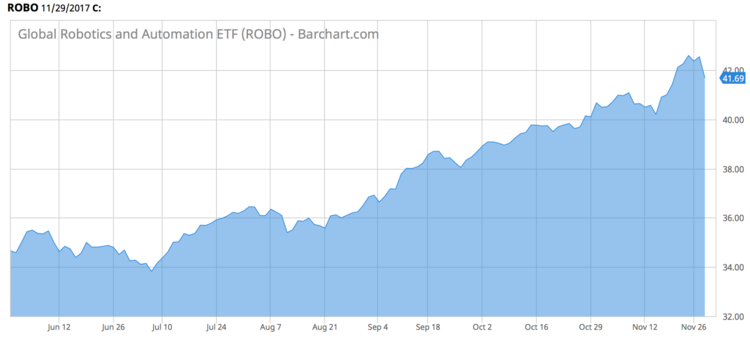 (BOTZ B) was launched in 2016 and already has around $1.5 billion in assets under management. (BOTZ B) is less expensive than its sister fund (ROBO B-), with a net expense ratio of 0.68% against 0.95%. Another key difference between the two funds is that (ROBO B-) is heavily exposed to U.S. companies – 40% of the holdings, while half of (BOTZ B) stocks are based in Japan.
Technology Stocks Drop on Tax Bill
Technology stocks have had a rough ride this week, dropping abruptly despite the overall market standing still. The sector saw its viewership rise 42% this week, slightly behind automation ETFs. Investors have reassessed a long rally in technology stocks and decided to take some profits off the table. Furthermore, technology companies may not benefit as much from an impending tax cut promised by Republicans because their effective tax bill is already low, at around 18%.
As a result, investors may have decided to shift funds to industries that are better positioned to benefit from lower taxes such as financials – an effective tax rate of 29%, and telecoms – 33.8%. Technology Select Sector SPDR (XLK A) has tumbled 1.6% over the past five days, while the S&P 500 gained 0.9%. Year-to-date, however, (XLK A) is up 29% and the S&P 500 just 16.5%.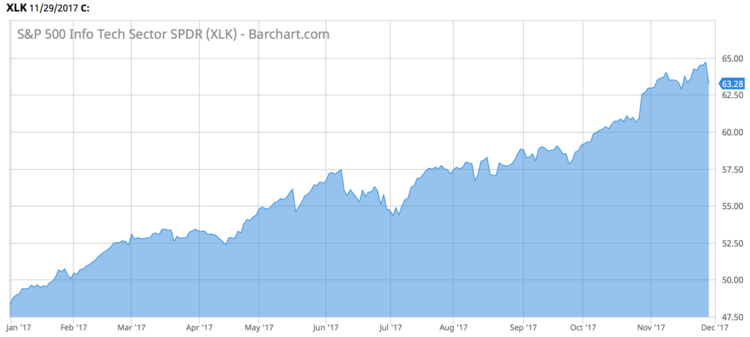 Internet
Internet ETFs saw their traffic increase by 41% this week, taking the last place in the list. Just as technology stocks, internet ETFs have taken a hit, as investors moved funds away from them and into other less-bubbly sectors.
First Trust Dow Jones Internet ETF (FDN C+) is down 1.6% this week, with most of the losses taking place on Wednesday. (FDN C+), which has Amazon, Paypal (PYPL) and Facebook among its top holdings, has risen 32% this year.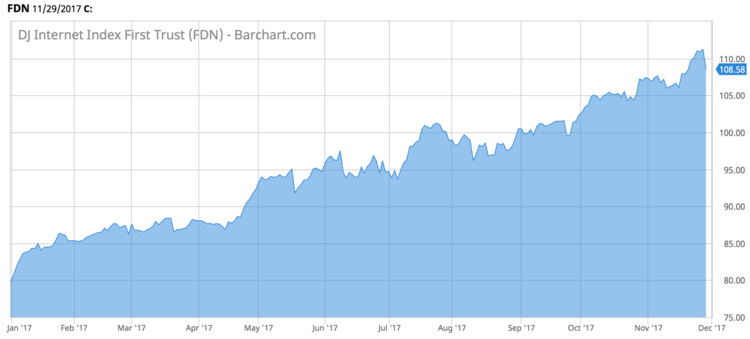 The Bottom Line
This week was all about two major trends – Africa and technology. Africa was in the spotlight, thanks to a visit by France's newly elected President Emmanuel Macron, who signaled a break from the nation's colonial past. A newly launched ETF focused on tech and media stocks (FNG C) is gaining popularity. Automation ETFs are also in vogue, with readers interested in the difference between two major ETF offerings – (ROBO B-) and (BOTZ B). Technology ETFs and internet ETFs have posted a steep drop this week due to profit-taking.
By analyzing how you, our valued readers, search our property each week, we hope to uncover important trends that will help you understand how the market is behaving so you can fine-tune your investment strategy. At the end of the week, we'll share these trends, giving you better insight into the relevant market events that will allow you to make more valuable decisions for your portfolio.