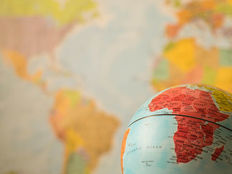 ETFdb.com analyzes the search patterns of our visitors each week. By sharing these trends with our readers, we hope to provide insights into what the financial world is concerned about and how to position your portfolio.
Africa has generated headlines this week, as Zimbabwe finally toppled its long-time leader Robert Mugabe. Tesla was second in the list, gaining popularity after it launched its electric truck and a new electric sedan. Dividend yield ETFs were third in the list, as General Electric's recent dividend cut put a spotlight on dividend-paying companies. India was fourth in the list, as investors assessed the economic impact of New Delhi's pollution. Insurance stocks took the last place in the list. Read our previous trends edition at Trending: General Electric's Historic Dividend Cut Makes Waves.
---
Content continues below advertisement
Mugabe out as Zimbabwe Steps Into New Era
Africa has seen its viewership rise 141% in the past week, largely because investors speculated a long overdue leadership overturn in Zimbabwe may spill over into other African countries. Investors radiated optimism – VanEck Vectors Africa Index (AFK C+) has advanced around 3.5% over the past week, extending year-to-date gains to as much as 22%.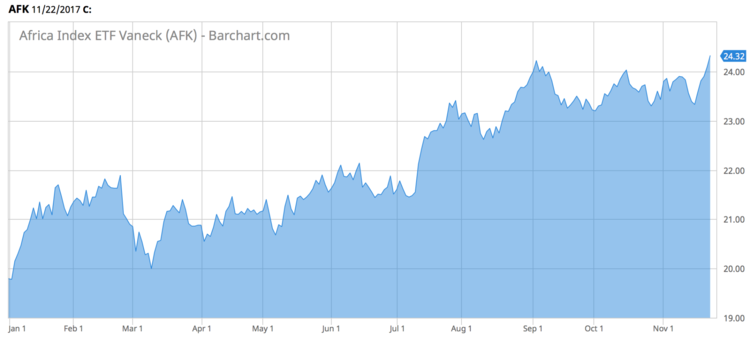 Mugabe, a 93-year-old autocrat, who has been in power for 37 years, agreed to step down as president after his own party, the military and the people rose up against his plan to hand the reins to his wife Grace. The ruling family is now under house arrest and their fate remains unclear. Mugabe will be succeeded by his former Vice-President Emmerson Mnangagwa, a 75-year-old official whose sacking led to the revolt within Mugabe's party that ultimately caused his downfall. Zimbabwe's economy has suffered under the recent ruling of Mugabe, with the country making headlines in the world with its runaway inflation and trillion dollar banknotes. The hope now is that the new leader will introduce long-awaited reforms that would lead to economic growth and stability.
The coup in Zimbabwe has prompted hope that other regional leaders will follow suit and step down. Among the countries with strong, long-serving autocrats are Uganda, Cameroon, Sudan and Algeria. Who's next?
Tesla's Semi-Truck Soothes Investors
Tesla (TSLA) has seen its traffic advance 82% this week, as investors weighed on the company's presentation of a long-awaited semi-truck and a surprise new $200,000 electric sedan.
Tesla's stock has jumped nearly 3% in the past five days, erasing some of the monthly losses stemmed from an announcement that it was behind schedule on producing its make-or-break product – affordable car Tesla Model 3. For the rolling month, the company is down 8%, but it is still up more than 40% since the beginning of the year.
The semi-truck unveiled by Tesla has an impressive design and is semi-autonomous. It has the feature of platooning, a tactic consisting of a truck following a lead vehicle and thus decreasing operating costs. Tesla did not say how much the semi-truck, which is expected to hit the market in 2019, will cost, indicating that it may be very expensive. However, on the other hand, Tesla noted that the operating costs will be very low – $0.85 per mile by using the platooning tactic and $1.26 per mile while driving alone. The company already received pre-orders from Wal-Mart (WMT) and JB Hunt, but it may not gain much traction with smaller truckers because of the price tag. Still, if Tesla delivers on the operating savings, it may be able to convince buyers with smaller margins, as operating a diesel truck currently costs $1.51 per mile.
Dividend Yield
Dividend yield companies have been trending this week as a result of General Electric's historic move to halve its payout. GE's action triggered speculation that the company might be removed from the Dow Jones index, meaning that it will not be part of several ETFs. Dividend yield ETFs have seen their viewership rise 62% during the past week.
Sign up for ETFdb.com Pro and get access to real-time ratings on over 1,900 U.S.-listed ETFs.
Aside from the GE story, the three ETFs yielding the highest dividends at the moment are the Japanese real estate sector (DXJR B-), gold explorers (GOEX C) and Italy (HEWI B). The high dividend yield of these ETFs is largely due to the fact that stock prices have dropped on worries the dividend is unsustainable.
For a deeper analysis on individual ETF investments such as (FNG C) or (USO B), use our ETF Analyzer tool. You can select ETFs by category or type as well as add individual ticker symbols to compare performance, expenses and dividend yield, among other metrics.
India Smog Crisis Continues
India has taken the fourth spot in the list with a 47% increase in viewership, as the country's smog crisis continues unabated. The nation's capital city, New Delhi, has been covered in smog in recent weeks, damaging key economic activities such as construction and posing a long-term threat on the health of locals.
Investors have largely shunned the bad news, sending Indian stocks higher this week. iShares MSCI India ETF (INDA C+) has jumped nearly 1.7% over the past five days, extending year-to-date gains to as much as 31%.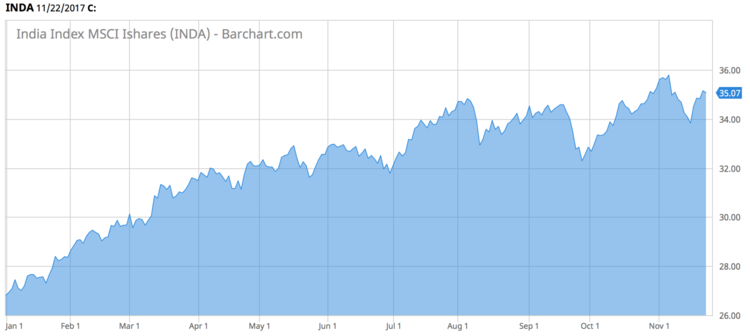 The Indian government has been blaming the excessive number of polluting cars and nearby factories for the emergence of smog, although critics have questioned the official line of thinking. Much of the pollution comes from vicinity states of Punjab and Haryana, the farmers of which have been burning the rice remnants to prepare the fields to plant wheat.
Insurance
The insurance sector saw its viewership advance 45% this week, a little behind India. Insurance stocks have been trading sideways in recent weeks, as investors are still trying to digest the damage from the twin hurricanes in the U.S. SPDR S&P Insurance (KIE A-), for instance, has dropped around 1.6% in the past 30 days, but remains up 10% since the beginning of the year.
(KIE A-) has underperformed the S&P 500, which is up 15% this year, largely due to the negative effects of the hurricanes in Florida and Texas.
The Bottom Line
The downfall of one of Africa's strongmen made headlines this week, putting a spotlight on Africa's investment opportunities. Mugabe, Zimbabwe's autocrat for 37 years, is out, but it remains to be seen whether his ouster will lead to a brighter future for the African country. Tesla unveiled its semi-truck and a new electric sedan, but investors were not wooed. All eyes are now on the make-or-break Model 3, the delivery of which is already behind schedule. Dividend yield ETFs were popular because of the historic dividend cut by General Electric, while insurance ETFs underperformed due to the negative effects of the twin hurricanes. Finally, India's smog crisis continued unabated, although the air quality has improved a little.
By analyzing how you, our valued readers, search our property each week, we hope to uncover important trends that will help you understand how the market is behaving so you can fine-tune your investment strategy. At the end of the week, we'll share these trends, giving you better insight into the relevant market events that will allow you to make more valuable decisions for your portfolio.