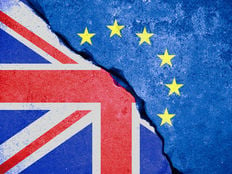 ETFdb.com analyzes the search patterns of our visitors each week. By sharing these trends with our readers, we hope to provide insights into what the financial world is concerned about and how to position your portfolio.
The drama surrounding Brexit is getting different twists almost on a daily basis, making United Kingdom the most popular topic this week. Industrials ETFs benefited from investor attention as Donald Trump's tax bill may return the glow to the shunned sector. Uranium ETFs took third place, while financial equities dropped to the fourth spot this week. A spike in telecom stocks drew attention to the embattled sector. Check out our previous trends edition at Trending: Financials Surge as Senate Passes Republicans' Tax Plan.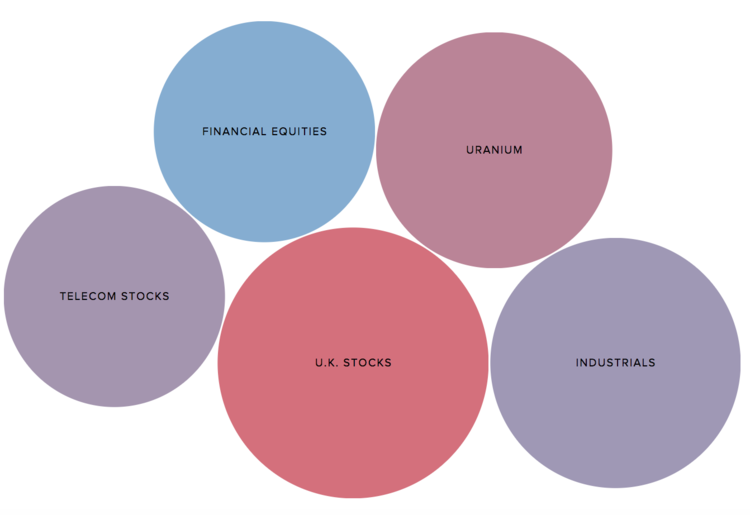 ---
Content continues below advertisement
U.K. Stocks Rise Despite Drama Over Brexit
Britain has seen its fair share of drama in recent months over the Brexit issue, but the political uncertainty failed to stop the market rally. United Kingdom saw its viewership rise as much as 181% this week, as Prime Minister Theresa May continues her fight with fellow Conservatives over Brexit negotiations. Although the internal discord is threatening an orderly exit of Britain from the European Union, iShares MSCI United Kingdom ETF (EWU A-) has risen 2.3% over the past week, extending year-to-date gains to more than 15%.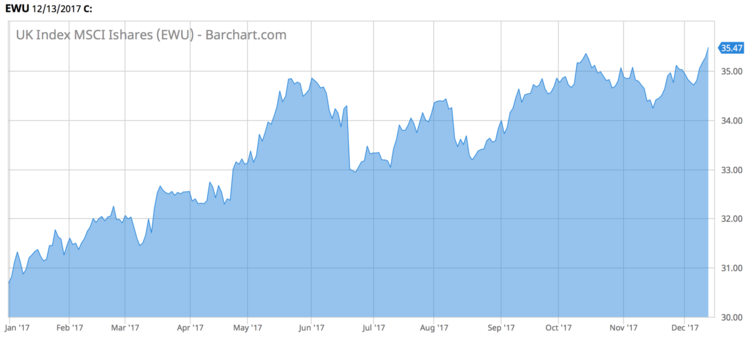 May has been adept at resolving the flurry of issues coming her way, recently finding common ground with the EU on the Irish border. However, in the latest twist, May's own Tory lawmakers made clear they wanted an amendment to the Brexit bill to include the possibility of a "meaningful vote" on any divorce agreement. Because May does not have a majority in the House of Commons, she lost against lawmakers just as she is expected to meet her European negotiators on Thursday for the EU summit. Europeans are already skeptical of Britain's ability to keep its word, and a change in the agreement would be seen as backtracking on the original commitment.
The chief disruptor is Brexit Secretary David Davis, who questioned whether many provisions in the deal should be binding, including citizens' rights and how to eliminate the Irish border. The European Parliament has a veto over the final deal and suggested it would not accept any backtracking. It also named Davis as a potential risk to the achieved progress in negotiations. The British Parliament now will also have a final word on the Brexit deal that May will clinch in Brussels.
Sign up for ETFdb.com Pro and get access to real-time ratings on over 1,900 U.S.-listed ETFs.
Industrials
Industrials ETFs have seen their viewership advance 101% this week, well behind United Kingdom. The sector has had a good run this year, and received a further boost after the Senate passed the tax plan to cut corporate tax rates. Industrial Select Sector SPDR Fund (XLI A) – an ETF containing such stocks as Boeing (BA), 3M (MMM) and Honeywell International (HON) – has advanced 1.75% since last Thursday, extending year-to-date gains to more than 20%. For comparison, the S&P 500 has risen 18.2% over the same period.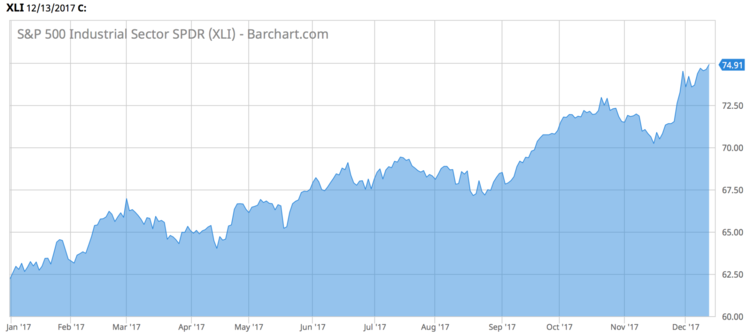 The Trump tax plan is expected to, overall, be positive for industrial companies, as the bill will allow the sector's larger players to repatriate profits stashed overseas at lower tax rates. The newly available cash could be used for investments and lead to job creation or returned to shareholders in the form of buybacks and dividends. By returning cash to investors, the stock prices are expected to benefit instantly, while capital expenditures may bring about positive results over the long term.
Some industrial companies have suffered in recent years, despite a growing economy and rising stock markets. For instance, General Electric (GE), which makes up 4.5% of (XLI A), has tumbled 44% since the beginning of the year due to legacy issues.
Uranium Surges on Output Cut
Uranium saw a traffic increase of 85% compared to the previous week, as the embattled commodity finally received respite after a large exporter announced production cuts.
Global X Uranium (URA B) has risen 4.5% this week, extending year-to-date gains to around 16%. The ETF received a boost after the world's second-largest miner, a Kazakhstan state-owned company, committed to cut its output by 20%. Uranium prices tanked after the disaster in Fukushima, Japan, as many other countries decided to close their nuclear plants in order to avoid a similar catastrophe. Since their 2011 peak, (URA B) has declined more than 86% as demand failed to catch up with supply.
For a deeper analysis on individual ETF investments such as (URA B) or (XLI A), use our ETF Analyzer tool. You can select ETFs by category or type as well as add individual ticker symbols to compare performance, expenses and dividend yield, among other metrics.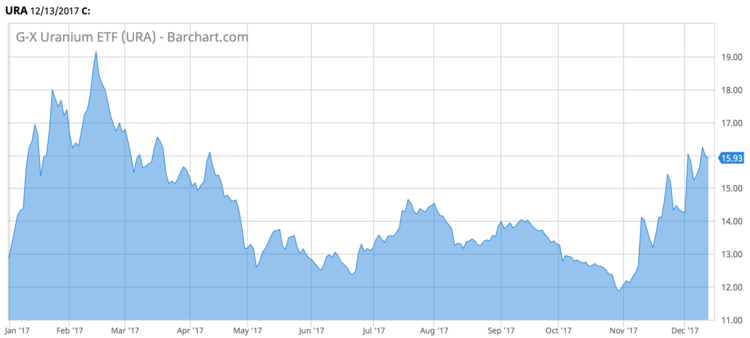 By cutting supply by 20%, Kazakhstan's Kazatomprom propped uranium prices, giving an instant boost to Canada's Cameco (CCJ), which produces 17% of global uranium supplies, and other North American uranium companies.
Financial Equities Drop on Trump Blow
Financial equities saw their viewership rise 70% this week, taking first place in the list after being the most popular topic last Thursday. Financial Select Sector SPDR Fund (XLF A) continued its rally until Wednesday when it fell abruptly after U.S. Democrats scored a stunning win in Alabama by gaining a Senate seat in what is traditionally a Republican foothold.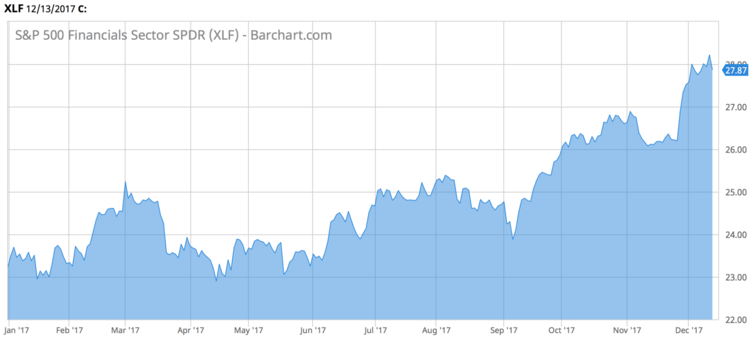 The Democrats' victory was interpreted as a serious blow to President Donald Trump's policies and, as a result his tax plan, may be endangered. Financial stocks, which are expected to benefit the most from a corporate tax cut, will suffer if Trump's tax plan fails to become law. Despite the 1.3% drop on Wednesday, (XLF A) remains slightly up this week. Year-to-date, (XLF A) has advanced 19%.
Embattled Telecom Stocks Get Respite
Telecom stocks have seen their viewership rise 47%, as the embattled sector was finally embraced by investors. Vanguard Telecommunications Services (VOX B) has advanced 4.7% this week, comfortably beating the S&P 500 by four percentage points. To be sure, telecom stocks' performance since the start of the year remains subdued, with (VOX B) down more than 10%.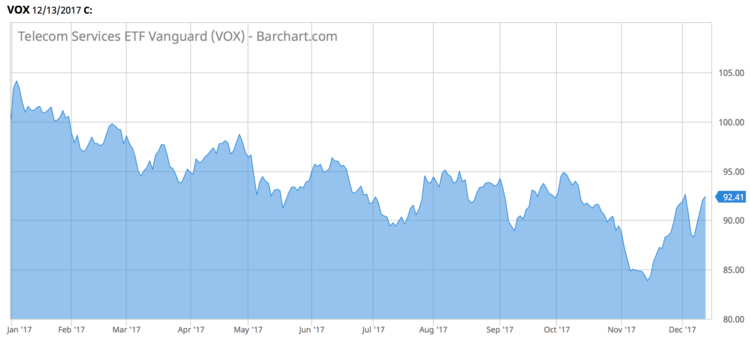 Investors apparently saw opportunity in the sector, shifting funds away from financials into telecom firms.
The Bottom Line
This week was all about Brexit drama. Just when it appeared Theresa May squashed internal discord, rebels in her own Conservative party dealt her a last-minute blow. Industrials may benefit from a Trump tax plan, although the U.S. president's candidate lost in the Senate race in Alabama. Uranium rallied after Kazakhstan's state-owned company announced plans to reduce output by 20%, while financial equities dropped on Wednesday following Republicans' stunning loss in the Alabama election. Finally, telecom stocks rallied this week, erasing some of the year-to-date losses.
By analyzing how you, our valued readers, search our property each week, we hope to uncover important trends that will help you understand how the market is behaving so you can fine-tune your investment strategy. At the end of the week, we'll share these trends, giving you better insight into the relevant market events that will allow you to make more valuable decisions for your portfolio.