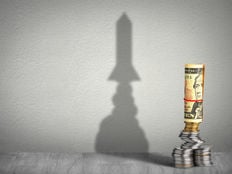 Triple-leveraged ETFs – funds that mainly use futures to ratchet up the exposure to a specific asset – have long been considered one of Wall Street's riskiest products. This week, those funds take a back seat to the newly launched quadruple-leveraged exchange-traded notes brought to the market by Citigroup.
Here are this week's new fund launches:
---
Content continues below advertisement
The Debut of Quadruple Leverage
It was just earlier this year that the SEC delayed the approval process of a pair of 4x ETFs on the grounds that the risk level of such a product might be too much. This week, however, the quadruple-leveraged products officially arrive through a suite of ETNs from the VelocityShares family.
ETNs are different from ETFs in that they are actually debt instruments issued by a financial institution. Like similar debt products, they are backed only by the health and financial condition of the issuer. If the bank goes bad, the ETNs could also go bad.
The 10 new ETNs issued by Citigroup are based on the interactions between the U.S. dollar and five different foreign currencies. Like other leveraged products, these products are designed to deliver four times the daily performance of each ETN's underlying index.
Profiting From Bad Habits
Consumer staples companies are popular during tough economic times, because, in theory, there will always be demand for items such as food and household products. The AdvisorShares Vice ETF (ACT) takes that idea one step further by betting there are two more products consumer can't live without – alcohol and tobacco.
The fund plans on investing in companies that derive at least 50% of their net revenue from the alcohol, tobacco, marijuana, hemp or cannabis industries. It may also invest in companies that the fund's managers believe will derive future revenue from the cannabis industry. The fund has roughly 30 holdings currently, and has 48% of the portfolio in alcohol, 32% in tobacco and 20% in cannabis.
For more ETF news and analysis, subscribe to our free newsletter.
Pacer Develops Multi-Asset Momentum-Based Strategy
Pacer is a smaller fund provider that has had a great year in 2017, seeing its total AUM double. Known for its Trendpilot and Cash Cows series of ETFs, it debuts a brand new strategy this week with the launch of the Pacer Wealthshield ETF (PWS).
The fund's strategy uses a rules-based methodology to determine whether assets should be invested in equities or fixed income. It compares the risk ratio of two bond indexes – the S&P U.S. High Yield Corporate Bond Index and the S&P U.S. Treasury Bond 7-10 Year Index – to their 5-month exponential moving averages to determine what allocations should be made to equities and bonds. Currently, the fund is 100% in stocks.
Investing in American Energy Independence
The American energy independence theme has been playing out for some time as the U.S. becomes less reliant on foreign oil and gas. Over the next several years, it's estimated that the U.S. will become a net exporter of crude oil and the world's biggest exporter of natural gas. The American Energy Independence ETF (USAI) looks to invest in companies that will bring these energy supplies to market.
The fund aims to invest in U.S. and Canadian energy infrastructure companies and MLPs, although it plans on keeping its exposure to MLPs under 25%. It will focus on companies engaged in "midstream" activities, such as processing, pipeline transportation and storage. It looks to avoid companies that are primarily involved in refining, exploration or distribution.
The Bottom Line
The suite of quadruple-leveraged products will garner most of the attention, although there's some intrigue involved in this week's other offerings. The Vice ETF isn't necessarily a new concept, but the addition of marijuana and cannabis industry exposure gives it the opportunity for extra pop. The Energy Independence ETF could benefit from significant investments in future infrastructure development.
Sign up for ETFdb.com Pro and gain access to more than 50 all-ETF model portfolios, each of which is backed by a unique investment thesis.