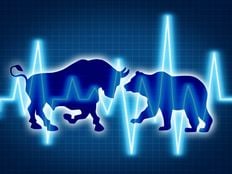 To help investors keep up with the markets, we present our ETF Scorecard. The Scorecard takes a step back and looks at how various asset classes across the globe are performing. The weekly performance is from last Friday's open to this week's Thursday close.
The first week of 2018 was slow in developments, but there was plenty of economic data to watch.
The U.S. Federal Reserve released its Federal Open Market Committee minutes for its last meeting during which the central bank decided to raise interest rates. As it happens, the tax cuts delivered by U.S. Republicans prompted the Federal Reserve to raise its economic forecast, which, in turn, may lead to an accelerated pace of interest rate hikes, particularly as more hawkish voices are expected to join the Fed.
Across the Atlantic, U.K. manufacturing

PMI

dropped from 58.2 to 56.3 in December, although it was still in expansion territory. Brexit fears were largely overshadowed by strong global economic growth.
U.K. construction

PMI

of 52.2 disappointed analysts, who had expected a figure of 52.8.
U.K. services

PMI

was largely unchanged compared to the previous month and broadly in line with estimates at 54.2. Overall, the sentiment in the U.K. economy is positive, thanks to tailwinds from a robust global economy, although Brexit has had a negative impact.
U.S. manufacturing

PMI

, meanwhile, surged to 59.7 from 58.1 in the previous month, hovering near record highs.
U.S.

ADP

nonfarm employment change pointed to a strong labor market again, with the U.S. economy adding 250,000 jobs in December, compared to 185,000 in the previous month. Analysts had expected 191,000 jobs.
U.S. unemployment claims rose by 3,000 to 250,000 in the week ended December 30, above consensus estimates of 240,000.
Risk Appetite Review
The markets started the new year on an optimistic note.
Low Volatility (

SPLV

) was the worst performer and the single faller, down 0.38%
---
Content continues below advertisement
Sign up for ETFdb.com Pro and get access to real-time ratings on over 1,900 U.S.-listed ETFs.
Major Index Review
Global markets were all up.
Sectors Review
The picture in the sectors is contrasting.
Foreign Equity Review
Foreign equities all posted impressive performances.
Helped by consistent gains in oil,Russia (

RSX

) surged 6.5% this week, taking first spot in terms of performance.
The U.K. stock market (

EWU

), meanwhile, was the worst performer with a rise of just 0.67%, as investors closely watched Brexit developments.
To find out more about ETFs exposed to particular countries, check out our "ETF Country Exposure tool". Select a particular country from a world map and get a list of all ETFs tracking your pick.
Commodities Review
Commodities posted rather mixed performance.
Oil (

USO

) surged nearly 3% this week, extending monthly gains to as much as 7.85%. Although U.S. shale production increased as a result of higher prices, oil found support in political tension in Iran, which has the potential to disrupt supplies.
For the rolling month, however, copper (

JJC

) is the best performer, up 10.58%, largely thanks to rising demand in China and an improving global economy.
Despite record-low temperatures across a swath of U.S. states, natural gas (

UNG

) continued its decline this week, falling 3.90%. Natural gas' monthly performance is a little better – down 1.90%, thanks to a rally the previous week, although it is still the worst performer from the pack.
Currency Review
Emerging market currencies (

CEW

) are the best performers for the week, helped by rising commodity prices and good economic data across the board.
The Australian dollar (

FXA

) is the best monthly performer, gaining 3.32%.
The U.S. dollar (

UUP

) was pummeled this week, dropping 0.42%. The greenback is also the worst performer for the rolling month with a decline of 1.50%.
For more ETF analysis, make sure to sign up for our free "ETF newsletter".