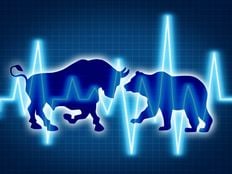 To help investors keep up with the markets, we present our ETF Scorecard. The Scorecard takes a step back and looks at how various asset classes across the globe are performing. The weekly performance is from last Friday's open to this week's Thursday close.
This week was rather dull in market-moving events.
The U.S. consumer price index rose by 0.1% in December month-over-month, in line with expectations. Compared to the same period last year, inflation is up 2.1%, while core inflation rose 1.8%, surprising analysts, who had expected an advance of 1.7%.
Retail sales leaped 0.4% in December beating analyst expectations of 0.3%. Core retail sales, less volatile autos and gas, rose by a similar amount.
Britain's inflation stood at elevated levels in December, although it dropped slightly from 3.1% to 3%, in line with forecasts.
Bank of Canada increased interest rates from 1% to 1.25%, in a widely expected move. Economic performance and the job market is strong north of the border, unsurprising given robust global economic growth.
Eurozone's inflation continues to disappoint, with the final consumer price index dropping to 1.4% from 1.5% previously. Core inflation, meanwhile, held steady at 0.9%.
U.S. housing starts disappointed analysts, with 1.19 million starts in December compared to consensus estimates of 1.28 million. However, the downbeat figure may be a one-time drop given that building permits surged to 1.30 million from 1.29 million last month.
Unemployment claims delivered a pleasant surprise, consistently dropping to 220,000 for the week ended January 13 from 261,000 in the week prior. Analysts had expected a fall to 250,000.
Crude oil inventories fell for the ninth straight week in the five days through January 12, down by 6.9 million barrels. Gasoline stockpiles, meanwhile, advanced by 3.6 million barrels.
Risk Appetite Review
The market rally largely continued this week, although investors were a little more cautious.
The S&P 500 (

SPY

) rose nearly 1% in the five days through Thursday.
---
Content continues below advertisement
Sign up for ETFdb.com Pro and get access to real-time ratings on over 1,900 U.S.-listed ETFs.
Major Index Review
Global markets were mixed.
Emerging markets (

EEM

) spiked 1.81% in the past week, representing the best performance. A weak dollar and rising commodity prices combined with strong Chinese economic data and a robust global economy boosted the appetite for emerging markets equities. (

EEM

) is also the best performer for the rolling month with a gain of 8.6%.
Russell 2000 (

IWM

) was the weakling this week, dropping 0.72%. Small-cap stocks likely suffered from outflows, as investors shifted funds to their larger peers in the expectation of an immediate boost to the bottom lines as a result of the tax reform. Up just 1.16%, Russell 2000 (

IWM

) is also the worst performer for the rolling month.
Sectors Review
Sectors have posted mixed performance.
Equities in the healthcare sector (

XLV

) posted the best performance this week, surging by 2.07%.
Materials (

XLB

) fell by 1% in the five days through Thursday – the worst performance.
For the rolling month, the energy sector (

XLE

) was the best performer, rising within a whisker of 10%, helped by oil and natural gas advances.
Utilities (

XLU

) fell 0.52% in the past week but the sector is down nearly 8% for the rolling month, as investors flocked to riskier assets.
Foreign Equity Review
Foreign equities were all up with the exception of India.
The Chinese stock market (

FXI

) is on a tear, rising 3.65% in the past week, as a string of good economic data boosted optimism.
India (

EPI

) is the single faller this week with a drop of 0.80%, posting a correction after hovering near record highs.
For the rolling month, Germany (

EWG

) is the worst performer with a rise of just 3.97%.
To find out more about ETFs exposed to particular countries, use our ETF Country Exposure tool. Select a particular country from a world map and get a list of all ETFs tracking your pick.
Commodities Review
Commodities were rather mixed.
Currency Review
The British pound (

FXB

) advanced 1.57% in the past five days, beating the pack.
For the rolling month, however, the Australian dollar (

FXA

) is the best performer with a rise of 4.45%.
The U.S. dollar (

UUP

) is the only faller both for the week and the rolling month, down 0.80% and 3.08%, respectively.
For more ETF analysis, make sure to sign up for our free ETF newsletter.