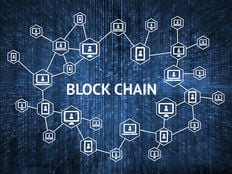 The SEC has essentially shut down all bitcoin ETFs, but that doesn't mean that the technology underlying much of the cryptocurrency world is off limits.
The first set of ETFs that focus on companies engaged in blockchain, the technology on which cryptocurrency transactions are built, launched this week amid some concern from the SEC. However, they have received great interest from investors.
Here are this week's new fund launches:
---
Content continues below advertisement
A Tale of Two Blockchain ETFs
Investors may assume that the two new blockchain-focused funds debuting this week are substantially similar but, in reality, they're quite different. The Amplify Transformational Data Sharing ETF (BLOK B-) is actively managed and tends to weight more heavily towards small-caps and domestic companies. The Reality Shares Nasdaq NexGen Economy ETF (BLCN C) sticks to bigger companies and devotes a larger share of assets overseas. Both funds, however, are far from pure blockchain plays. With names such as IBM (IBM), Intel (INTC), Cisco Systems (CSCO) and Nvidia (NVDA) among the biggest holdings, investors will largely be buying broader tech portfolios.
Barclays Improves Its ETN Lineup
Barclays, the issuer behind the iPath ETN family, is making a major change to its composition by announcing the launch of 17 new ETNs, while, at the same time, the effective closure of 50 others. The 17 new "Series B" products are essentially replacing existing and, for the most part, identical notes that are in need of a refresh. The original products are, in many cases, several years old and don't have the features of current-day ETNs, such as call provisions. The new ETNs also come with a 0.45% expense ratio, much lower than the originals.
For more ETF news and analysis, subscribe to our free newsletter.
Fidelity Debuts Its First International ETFs
Fidelity has long been known as a mutual fund giant, but its ETF lineup is starting to grow formidable as well. The family of nearly two dozen ETF products adds some international flavor to its roster for the first time with the additions of the Fidelity International High Dividend ETF (FIDI B-) and the Fidelity International Value Factor ETF (FIVA B). The strategies of the funds aren't really unique, but the timing of their debuts could be advantageous, since some investors become concerned with the frothiness of the domestic equity markets.
American Century Moves Into ETFs
American Century is another heavy hitter in the mutual fund space that's looking to establish a presence in the ETF world. The American Century STOXX U.S. Quality Value ETF (VALQ B) looks to be on the more conservative end of the risk spectrum by focusing on companies with both attractive valuations and sustainable dividends. The American Century Diversified Corporate Bond ETF (KORP C+) starts with a fairly generic portfolio of investment-grade corporate bonds of all maturities, and selectively sprinkles in junk bonds for a yield boost.
Strategy Shares Targets 7% Distributions
Strategy Shares also makes its first entry into the ETF marketplace with a more unique product. The NASDAQ 7HANDL Index ETF (HNDL B+) is a mixed portfolio of equities, bonds and alternative investments, plus an additional layer of leverage, that aims to produce an annualized distribution yield of 7%. The fund may generate most or all of that target distribution yield through income generation, but part of its distributions may include a return of capital in order to hit the 7% mark.
The Bottom Line
All other new ETFs take a back seat to the blockchain ETFs this week. The fact that the SEC asked both providers to remove the word "blockchain" from the funds' names is indicative of how it's concerned with any potential investor mania surrounding the word. The broad trend of new issuers jumping into the ETF space to get their own piece of the rapidly growing pie continues. American Century should have some success thanks to its built-in investor base. The new Strategy Shares fund could be just unique enough that it attracts some attention.
Sign up for ETFdb Pro and get access to real-time ratings on over 1,900 U.S. listed ETFs.