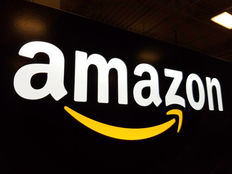 Amazon's stock has plummeted after President Donald Trump took to Twitter to call for action against the company's practices.
Amazon took first place on the list followed by master limited partnerships (MLPs), which are finding themselves in a tough spot. Facebook was the third most popular topic as the company tries to contain a data breach scandal. Gold took fourth spot as investors bid up the precious metal in light of falling stock prices, while government bonds are last on the list.
Check out our previous trends edition at Trending: Pressure Mounts on Facebook as Data Breach Conundrum Deepens.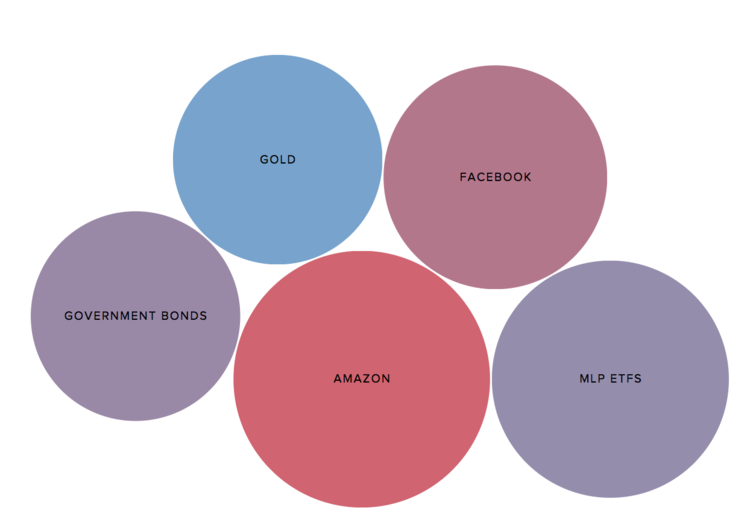 Amazon Faces Heat From Trump
Technology giant and online retailer Amazon wound up as the latest target of U.S. President Donald Trump who lambasted the company's practices on Twitter. As such, traffic to Amazon (AMZN) has increased by as much as 818% during the past week as frightened investors sold off the stock. Amazon's shares have dropped more than 8% in the past five days, trimming year-to-date gains to 17%.
The fall was chiefly due to repeated attacks by Trump who said on Twitter that the company is taking advantage of the U.S. Postal Service and not paying taxes to state and local governments. The President said Amazon is using the U.S. Postal Service as its "delivery boy" to keep costs down.
Despite the heated rhetoric, the White House is not mulling immediate action against the firm, according to several media outlets citing people familiar with the matter. Still, last summer Trump said to some of his aides that he wanted to increase the rates the Postal Service charges Amazon, although there was no follow-up on the discussion.
Analysts disagree with Trump's assessment of the situation, contending that the Postal Service is benefiting from its relationship with Amazon and that the company pays its fair share of taxes to state and local governments. The U.S. Postal Service itself said it makes money from the relationship with Amazon and that e-commerce revenue is essential to support the network infrastructure. The Postal Service is also prohibited by law to charge its customers less than delivery costs.
Nevertheless, it is believed Amazon pays the Postal Service around $2 per delivered package, which is about half of what it would pay United Parcel Service or FedEx.
Trump's next logical move may be to increase the Postal Service's fees, which would, at least in the short term, have a negative effect on the company's performance, but Amazon could always increase its Prime membership rates and pass the costs onto consumers. In the long term, the firm could build its own delivery services, which would likely negatively impact the U.S. Postal Service.
---
Content continues below advertisement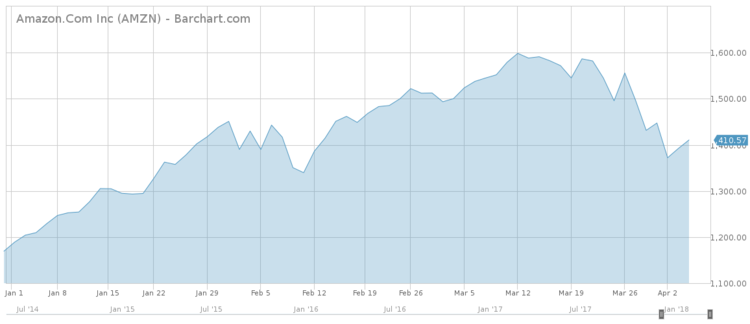 MLPs Hit by Tax Ruling
Master limited partnerships have seen their traffic surge 677% in the past week, as many stocks took a plunge after the U.S. government closed a tax loophole. Alerian MLP (AMLP A-), for instance, has dropped more than 8% in the past 30 days, extending year-to-date losses to nearly 14%.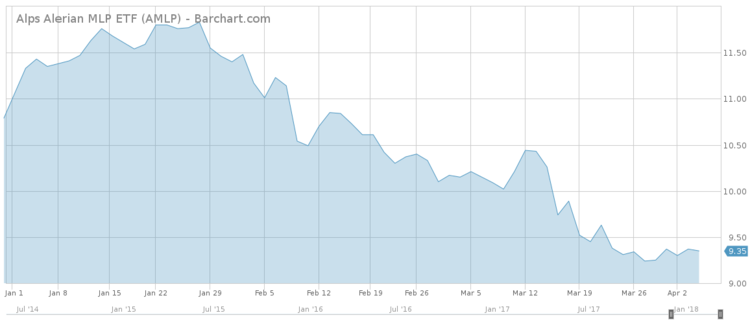 Alerian and most MLP ETFs had a good start to the year, owing to higher oil and gas prices. However, in mid-March, the Federal Energy Regulatory Commission (FERC) prevented master limited partnership interstate natural gas and oil pipelines to recover an income tax allowance, causing an instant drop in the MLP stock prices across the board.
Some analysts pointed out that the negative impact on the sector may be overblown given that there are only a few companies with exposure to interstate and gas pipelines. Moreover, the decision may be appealed by the pipeline industry. Until there is more clarity on the issue, investors may continue to dump master limited partnerships.
Facebook Continues to Drop
Social media giant Facebook has seen its viewership increase 220% in the past week, as the company is still taking heat from a scandal relating to the unauthorized use of user data. In the latest twist, Facebook (FB) CEO Mark Zuckerberg will testify before the U.S. Congress on April 11. The hearing is expected to focus chiefly on the data scandal involving Cambridge Analytica, which improperly obtained data of more than 50 million Facebook users to help elect Donald Trump.
The company's stock continued to fall this week, shedding more than 1% of its value in the past five days. For the past month, the stock is down nearly 15%. Combined with Amazon's swoon, Facebook's scandal had a negative impact on the entire technology landscape. Technology PowerShares (QQQ B+), in which Facebook and Amazon collectively have a weighting of over 14%, has declined more than 6% in the past month and nearly 2% in the last five days.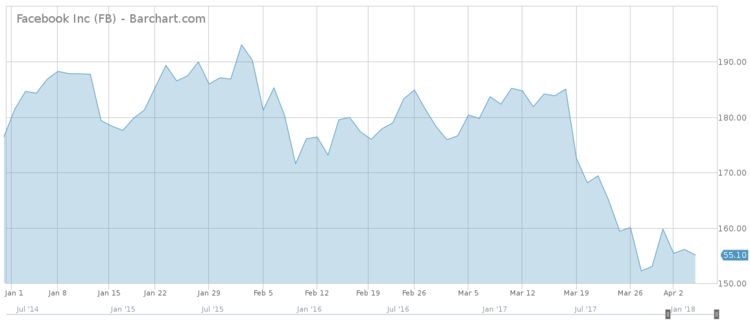 Zuckerberg himself has offered public apologies to consumers, as part of a public relations gambit aimed at reducing the damage to the company. Judged by Facebook's performance, Zuckerberg has had mixed success so far, although the broad market also disappointed lately due to fears of a trade war between the U.S. and China.
Sign up for ETFdb.com Pro and get access to real-time ratings on over 1,900 U.S.-listed ETFs.
Gold
Gold has taken fourth place on the list this week with a rise in viewership of 103%. Amid weak stock markets across the board, gold is viewed as a safe haven. Investor fears have been growing that the U.S. will engage in a trade war with China, with Trump promising to slap tariffs on $50 billion worth of goods. Unsurprisingly, China threatened retaliatory actions, advancing a list of agricultural products aimed at hitting Trump's voter base in the U.S.
As such, SPDR Gold Trust (GLD A-) has risen 0.5% this week, extending monthly gains to 1%. Year-to-date, gold remains up more than 2%. Gold prices may continue their march upward as inflation in the U.S. is on the rise and a potential trade war is likely to cause further acceleration in overall price levels.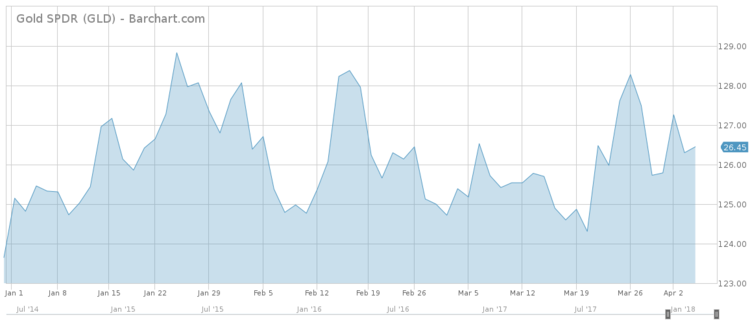 Government Bonds
U.S. government bonds have seen their traffic advance 81% this week, as the asset class has been hit of late by high inflation and rising interest rates. Since the beginning of the year, iShares 7-10 Year Treasury Bond (IEF B) has declined 2.7%. In no small part, government bonds were helped by dropping inflation. Over the past month, (IEF B) has advanced 0.65%.
Treasuries received a further boost after China said its purchases of government bonds would not be affected by the ongoing trade spat with the U.S. China currently holds more than one trillion dollars in U.S. government bonds and is the largest single owner of U.S. debt after the U.S. Federal Reserve.
The Bottom Line
Donald Trump's threats to rein in the dominance of Amazon in online retail by hiking delivery costs have taken a toll on the company's stock. Master limited partnerships started the year in full force but resumed their downward slide after the government eliminated a tax advantage. Meanwhile, Facebook is continuing its charm offensive to try to contain the damage from a data breach scandal, with CEO Mark Zuckerberg on track to testify before U.S. Congress in mid-April. Gold is shining again as investors seek refuge from a potential trade war between the U.S. and China. Finally, government bonds have been hit by rising interest rates, although pressure diminished lately due to lower inflation figures.
By analyzing how you, our valued readers, search our property each week, we hope to uncover important trends that will help you understand how the market is behaving so you can fine-tune your investment strategy. At the end of the week, we'll share these trends, giving you better insight into the relevant market events that will allow you to make more valuable decisions for your portfolio.