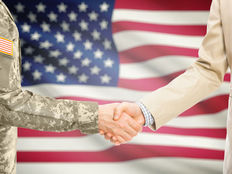 ETF providers have been paying increasing attention to the socially conscious investing space.
While assets haven't exploded in the way many fund managers may have hoped, it hasn't stopped providers from trying to fill this need for interested investors. This week, a pair of ESG funds debut, including the new military-themed ETF from Pacer.
Here are this week's new fund launches:
---
Content continues below advertisement
Pacer Targets Military-Friendly Companies
The Military Times Best for Vets Employers Survey is conducted annually and looks to identify companies that make the greatest efforts in military recruiting, company culture, reservist policy, and military and veteran family policy.
This survey is the basis for the Pacer Military Times Best Employers ETF (VETS B-). Companies that meet certain market-cap and liquidity thresholds and have been named a "Best for Vets" company for three consecutive years qualify for inclusion in the fund's index. Components within the index are equal-weighted and reconstituted once a year in September. As a bonus, 10% of the fund's management fee will be donated to veteran-related charities.
Prudential Enters ETF Arena Making A Splash
In recent months, we've seen insurance providers, such as TransAmerica and Nationwide, enter the ETF marketplace.
Prudential joins the party this week with a fund that is certain to gain some attention thanks to its low cost. The PGIM Ultra Short Bond ETF (PULS A) is a fairly straightforward fixed-income product that scours the investment-grade universe for bonds with a maturity of one year or less. The fact that the fund is actively managed and still charges just 0.15%, however, makes it very unique. ETF providers are seeing new money flow into the cheapest products and offering an actively managed ETF at index fund prices, making it competitive right out of the gate.
For more ETF news and analysis, subscribe to our free newsletter.
An ETF of ETFs for the Commodities Space
VanEck already offers more than a dozen ETFs focused on natural resources and commodities. The new VanEck Vectors Real Asset Allocation ETF (RAAX A-) uses these funds along with a few others to maximize real returns while minimizing downside risk during prolonged market declines.
VanEck uses a proprietary asset allocation model to not only determine what percentage of assets should be invested at any given time, but also what combination of ETFs should be used to maximize returns. The model can consider factors, such as price trends, volatility and investor sentiment, and can allocate as much as 100% of portfolio assets to cash.
New iShares ETF Avoids Gun Makers
Given the recent acts of gun violence in the U.S, investors have been calling on ETF providers to offer products that avoid investing in gun manufacturers.
Gun-maker stocks don't appear in most ETFs to any significant degree, but the launch of the iShares MSCI USA Small-Cap ESG Optimized ETF (ESML A) marks BlackRock's intent to avoid them altogether. While the screen for gun makers is perhaps the most notable, the fund also avoids companies that get eliminated by many ESG funds, such as those engaged in tobacco and weapons manufacturing.
Deutsche Bank Doubles Up on Quality and Value
Multi-factor ETFs are nothing new, but the Xtrackers Russell 1000 US QARP ETF (QARP B+) puts a twist on the familiar concept.
The fund identifies companies that score highest on screens for both quality and value, but gives twice the weight to the quality factor as it does to the value factor. Quality is measured by each company's profitability, efficiency, earnings quality and leverage, while value is assessed looking at cash-flow yield, earnings yield and sales-to-price of each company. QARP is the fifth factor-focused ETF in Deutsche Bank's lineup.
Barclays Retires 50 ETNs
Barclays delisted or redeemed more than $1 billion worth of ETNs on April 12, mostly in commodities and natural resources. ETNs are different than ETFs in that they are debt obligations made by an issuer – in this case, Barclays – and act much like a bond. They are subject to the credit risk of the issuer and come with a maturity date. Many of the ETNs that are being retired are being replaced with similar ETNs with similar structures and, in several cases, new lower expense ratios and maturity dates.
The Bottom Line
There are several intriguing new ETFs this week. PULS could make the biggest splash since an actively managed bond fund with an expense ratio of just 0.15% doesn't come along often. ESML will likely get a lot of attention for its anti-gun-maker stance, although ESG funds staying away from these types of companies is nothing new. The fact that the majority of new launches this week come with expense ratios of less than 0.20% is an acknowledgement that investors are flocking in droves to ultra-cheap products.
ETFdb.com has ETF investing guides and other ebooks to help you navigate the investing landscape using ETFs. Sign up to ETF Database Pro to get access to all the PDFs located on our ETF Guides page.