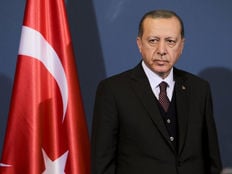 ETFdb.com analyzes the search patterns of our visitors each week. By sharing these trends with our readers, we hope to provide insights into what the financial world is concerned about and how to position your portfolio.
A diplomatic row between Turkey and the United States has ignited a full-blown currency crisis for the lira. Faced with fresh sanctions, a volatile bond market and collapsing investor confidence, the lira fell by as much as 25% against the dollar over the span of five days, setting a new record low.
The U.S. dollar asserted its dominance over not just the lira, but a batch of major rivals that includes the euro, pound and yen. The dollar index, which tracks the performance of the greenback against six major rivals, hit a new 14-month high as a result.
China was also in the headlines this week after a batch of economic data revealed sluggish growth for the world's second-largest economy. Beijing is currently locked in a tit-for-tat trade war with the United States, though it has little chance of winning given its massive surplus with Washington.
To compare this week's article to the previous edition, check out Trending: Automakers Breathe Sigh of Relief over U.S.-EU Trade Ceasefire.
---
Content continues below advertisement
Turkey's Currency Crisis
Amid the recent headlines, it comes as no surprise that Turkey has topped our weekly list with a 140% surge in traffic. The Turkish lira crashed to record lows last week after U.S. President Donald Trump announced a doubling of steel and aluminum tariffs on Ankara. This was followed by the imposition of financial sanctions on two Turkish ministers.
The two countries are quarrelling over the continued detention of Andrew Brunson, an American pastor on trial in Turkey for espionage and terror-related charges.
In response to Trump's measures, Turkish President Recep Tayyip Erdogan announced a boycott of American-made electronics, including Apple's iPhone.
By Tuesday, the freefalling lira had stemmed its decline, though downward pressure continued to strangle the emerging market's currency. The lira extended its recovery on Wednesday after Qatar offered Ankara $15 billion in loans to shore up its beleaguered banking sector.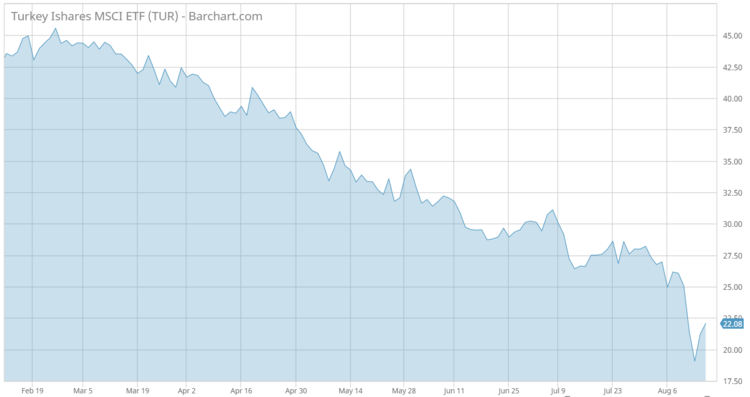 For the latest developments concerning Turkey, visit our News section.
Trade War Rattles Chinese Economy
China also captured investors' attention over the past five days, with foot traffic rising by 50% week-over-week.
The Chinese economy experienced a sharp slowdown at the start of the third quarter, with key measures of consumption, industrial production and fixed-asset investment coming in less than expected. Retail sales – a key proxy for consumer spending grew 8.8% annually in July. Fixed asset investment grew just 5.5% annually in the first seven months of the year, the lowest on record. Meanwhile, industrial production increased 6% annually, unchanged compared with June.
The slowdown in investment comes as Beijing grapples with expanding trade tariffs and cooling global growth. Last month, U.S. President Donald Trump announced plans to tax an additional $200 billion in Chinese imports to bring Beijing in line with international trade standards.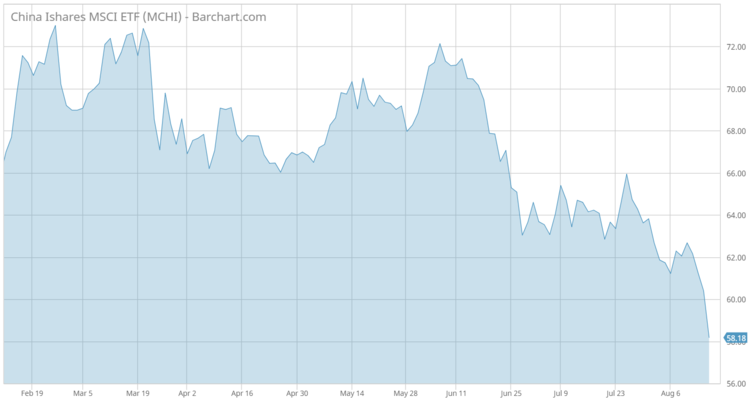 Inflation-Protected Bonds
The return of inflation has put investors on high alert. As such, inflation-protected bonds ETFs saw the third-highest growth rate on ETF Database in the latest week.
Earlier this month, the Department of Commerce reported an unexpected pickup in core inflation – a category that excludes volatile goods such as food and energy. The core consumer price index (CPI) strengthened 2.4% annually in July, up from 2.3% the month before.
Turkey's currency crisis has also shed light on its struggle with inflation. According to Steve Hanke, who previously served as a senior economist for President Ronald Reagan, Ankara's annual inflation rate has skyrocketed to 101% – the first triple-digit increase on record.
Euro Hits 2018 Low Amid Turkey Crisis
Turkey's currency crisis has had a direct impact on the neighboring eurozone. As a result, the euro witnessed a 33% rise in weekly traffic.
With the U.S. dollar at more than one-year highs, Europe's common currency has fallen to the lowest level of 2018. At its lowest point this week, one euro was valued at $1.1308.
The euro's struggles came despite an upward revision in German and eurozone gross domestic product (GDP). The German economy expanded 0.5% in the second quarter, higher than an initial estimate of 0.4%. Eurozone second-quarter GDP was revised up to show 0.4% growth compared with 0.3% initially.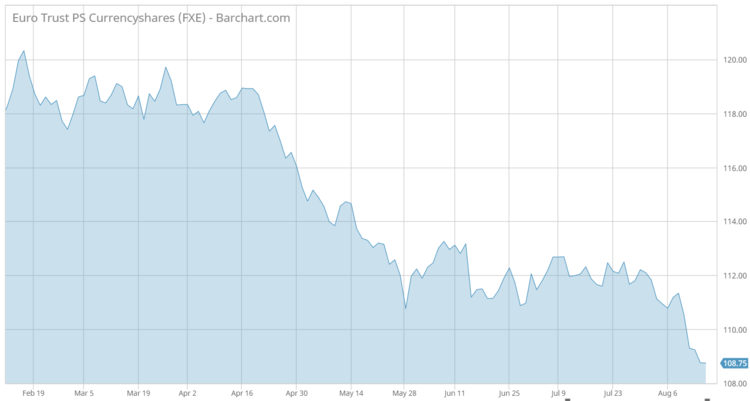 Are you looking to perform in-depth ETF research? Check out our Education section for timely resources.
Healthcare in Focus
Healthcare stocks have been a bright spot in a weakening market. This component witnessed a 24% bump in traffic to round out this week's top five.
The healthcare sector is coming off a stellar quarter of earnings growth, with 95% of companies reporting better-than-expected profits, according to financial research firm FactSet. Additionally, 83% of healthcare companies listed on the S&P 500 reported higher-than-expected revenues for the most recent quarter.
A strong earnings season has catapulted health stocks to large gains in recent weeks. Compared with last month, the S&P 500's healthcare index has gained more than 3% compared with 1.5% for the broader average.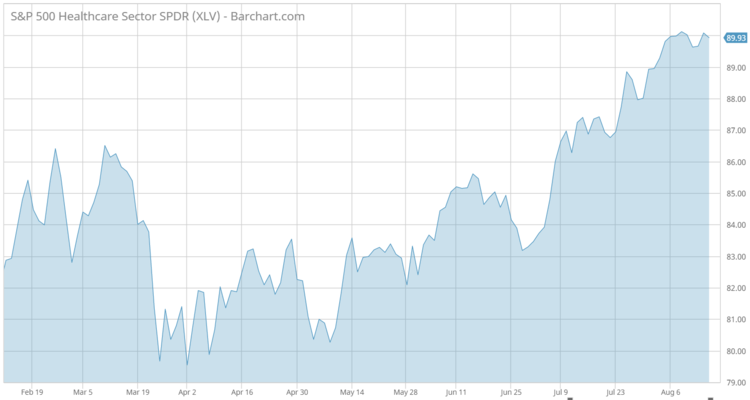 ETFdb.com has a list of the top healthcare sector funds. To explore, visit here.
The Bottom Line
With corporate earnings in the rearview mirror, trade and geopolitics will dominate the headlines heading into a more active month of September. Given recent developments, it's safe to assume that Turkey and China will remain on the front burner for the foreseeable future.
By analyzing how you, our valued readers, search our property each week, we hope to uncover important trends that will help you understand how the market is behaving so you can fine-tune your investment strategy. At the end of the week, we'll share these trends, giving you better insight into the relevant market events that will allow you to make more valuable decisions for your portfolio.