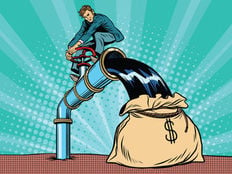 ETFdb.com is recommending a new long position for the month ahead. This long recommendation is based around recurring geopolitical tensions which are driving up prices for an essential commodity. Below, we outline our investment thesis and outlook for the new recommendation.
This position is motivated by tightened supply conditions and unwavering demand, which is a classic recipe for an upward price shock in the commodities market.
The new long recommendation is based on three factors:
This is a Domestic Multi-Cap Equity

ETF

that is up over 17% year-to-date and more than 4% in just the past month.
This

ETF

is equal-weighted, holding just under 80 U.S. securities, with slightly less than 20% of its total assets in the top 10 holdings making a very well-balanced vehicle.
Despite its upward momentum, this

ETF

has seen mixed inflows over the past quarter, shedding $94M in the past four weeks, but raking in more than $131M in the past 13 weeks.
Be sure to check out our previous sell pick here.