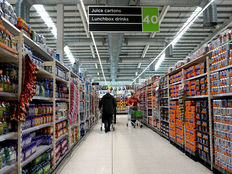 ETFdb.com is recommending a new short position for the month ahead. This short recommendation is based around increasing selling pressure stemming from the Fed raising rates coupled with an uncertain geopolitical outlook with regards to looming U.S.-China trade wars. Below, we outline our investment thesis and outlook for the new recommendation.
This position is motivated by rampant profit-taking pressures across global equity markets, which has many worried that the ongoing pullback could transpire to an even deeper correction in light of the aging bull market.
The new short recommendation is based around:
Domestic Sector Equity

ETF

that is down over 6% year-to-date and more than 4% in just the past month.
This

ETF

is market-cap-weighted, holding just over 30 large-cap U.S. securities with more than 70% of its total assets in the top 10 holdings making it a very top-heavy investing vehicle.
Despite its downward momentum, this

ETF

still has inflows of $44M year-to-date, however, this is eclipsed by the outflows of $463M seen over the past four weeks alone.