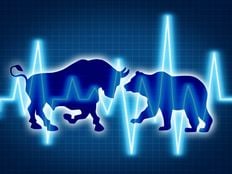 To help investors keep up with the markets, we present our ETF Scorecard. The Scorecard takes a step back and looks at how various asset classes across the globe are performing. The weekly performance is from last Friday's open to this week's Thursday close.
Following an impressive rout in stocks, financial markets took a breather over the last five days as investors partially regained their appetite for risk. Banking mammoth J.P.Morgan (

JPM

) kicked off the third-quarter earnings season with solid results, beating analysts' estimates. Two other peers joined the show with even better numbers – Goldman Sachs reported a jump in earnings per share of 25% when compared and Morgan Stanley came out with a nearly 17% beat of earnings per share of $1.01.
Tech high-flyer Netflix (

NFLX

) smashed subscriber estimates once again, adding 6.96 million clients around the globe, comfortably beating guidance of 5 million adds while reporting a 34% year-over-year jump in revenue to nearly $4 billion.
U.S. retail sales edged up 0.1% in September, month-over-month while rising 4.7% from a year ago. However, the 0.8% rebound in motor vehicle purchases and 0.5% in sales at clothing stores were offset by the disappointing 1.8% drop in spending at restaurants and bars, the largest in nearly two years.
The U.S. Federal Reserve took a hawkish stance at its September meeting, as shown in its minutes released this Wednesday. As such, markets grew anxious about the fourth hike in interest rates this year, trumping the U.S. president's push for a slower rise in borrowing costs. Trump's comments sent the benchmark 10-year Treasury yields back to yearly highs, if only for a brief moment, and contributed to a return in selling pressures in various asset classes.
Both the UK and EU have acknowledged that they need more time to strike a deal that is acceptable to either side. UK's Prime Minister signaled a willingness to extend the transition period. The thorny issue of a hard border with Northern Ireland or its inclusion in the EU's customs union and single market after Brexit remains.
Inflation in the UK has cooled to 2.4% year-over-year, down from 2.7% in August. The downward trend in inflation seems to form as the summer peak proves only transitory. Wages continue to outstrip inflation, with average pay in the UK increasing at the fastest pace in a decade, up by 3.1% in the 12 months ending September.
Unemployment in the UK remains at 4% – a 43-year low, pointing to a tight labor market. The three reports should deliver a boost to retailers as real take-home paychecks encourage spending and could emerge as a buffer in case of a shock.
U.S. crude oil inventories surged to 6.5 million barrels last week, the fourth consecutive increase, sending prices in the commodity down to $68.74 a barrel. Hitting one-month lows, U.S. crude futures dropped by 1.45% this Thursday alone.
Risk Appetite Review
Markets traded sideways this week.
Risky assets (

SPHB

) fell by 1.65%, the worst performer in the group.
On the other side, low volatility (

SPLV

) was again the only one to rise for the week, posting a shallow 0.92% performance.
The broad market (

SPY

) managed to end the week on the back foot, losing 0.13% after a strong recovery at the start of the week.
Sign up for ETFdb.com Pro and get access to real-time ratings on over 1,900 U.S.-listed ETFs.
---
Content continues below advertisement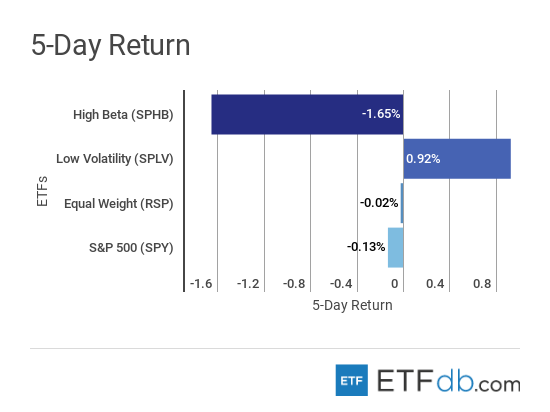 Major Index Review
Major indexes were mostly down.
State Street's

SPDR

S&P 500

ETF

(

SPY

) declined the least this week, only 0.13%. The

ETF

was brought down especially on Thursday as investors continued to worry about political strains and trade spats.
Emerging markets (

EEM

) were again favored by sellers and shed another 2.38%, as a strong dollar coupled with endless Sino-U.S. trade tensions are weighing on investor sentiment.
Small-cap stocks (

IWM

) were sold like no other over the last month, shedding 8.72%. Small caps are usually the ones to suffer first during market sell-offs.
Dow Jones (

DIA

) was the best performer for the rolling month, falling just 2.9%.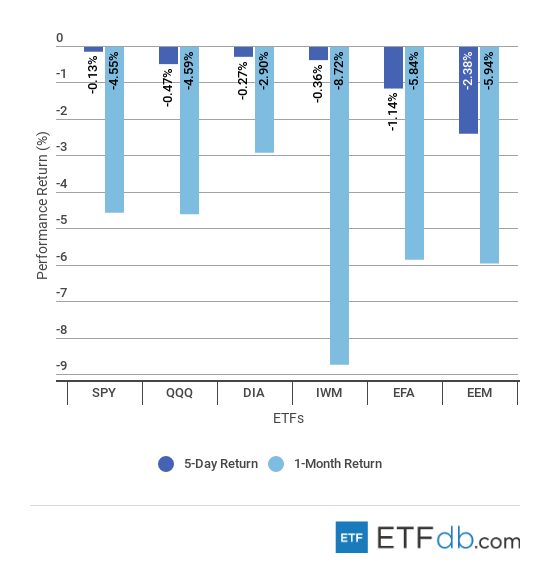 Sectors Review
Energy shares (

XLE

) dived 1.84% over the last five trading sessions, representing the worst performance from the pack.
The materials sector (

XLB

) is the worst performer for the rolling month, tumbling more than 10%.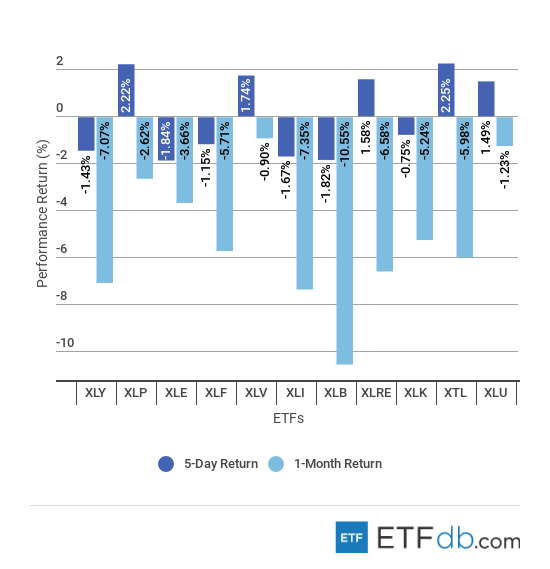 Foreign Equity Review
Brazil (

EWZ

) tops the list yet again and managed to break the 20% threshold for the rolling month. (

EWZ

) is the only one trading above last week's Thursday's close, if only for a tepid 0.47%. Brazil's far-right presidential candidate extended the lead over his leftist rival by 18% in the latest poll published on Thursday night.
China (

FXI

) continued to bleed this week, falling 3.38% as investors sold energy shares in droves. At the same time, worries about the high level of borrowing in the stock market increased.
For the rolling month, India (

EPI

) is the worst performer with a drop of 13%, as a nasty correction continued this week.
To find out more about ETFs exposed to particular countries, use our

ETF

Country Exposure tool. Select a particular country from a world map and get a list of all ETFs tracking your pick.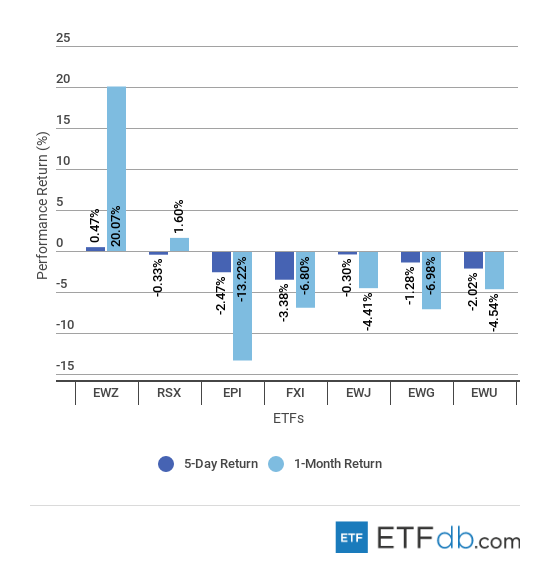 Commodities Review
Oil (

USO

) plunged by 3.83%, brought down by surging stockpiles and rising production. Crude is the only commodity that lost ground over the month, falling by 0.88%.
Gold (

GLD

) inched up as financial markets were in distress, benefiting from its safe-haven status. However, it did not swell as expected, advancing only 1.87% for the month.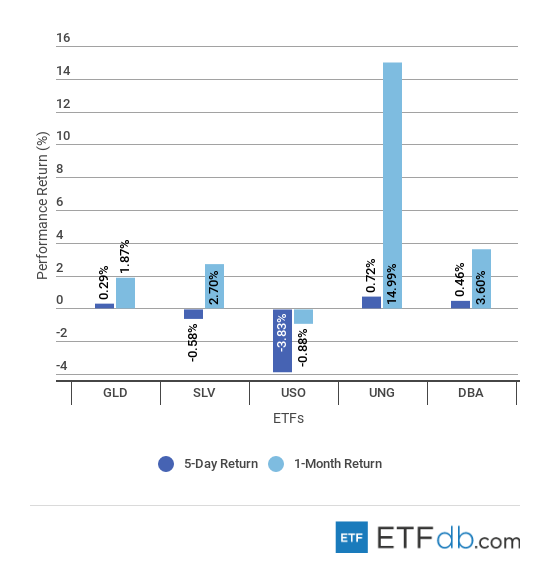 Currency Review
The U.S. dollar (

UUP

) topped the list yet again as rising interest rates and a hawkish monetary policy guidance pushed up the greenback by 0.83% for the week and 1.88% for the rolling month.
The euro (

FXE

), meanwhile, is the worst performer for the rolling month, down 2.20%.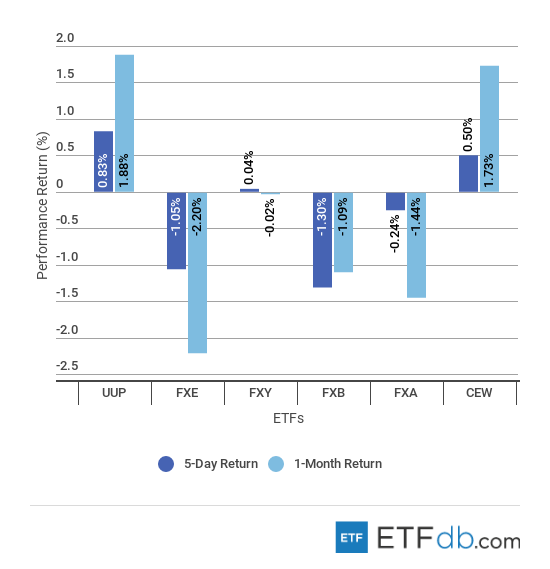 Disclosure: No positions at time of writing.