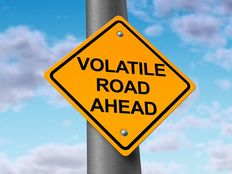 ETFdb.com is recommending a new short position for the month ahead. This short recommendation is based around lingering selling pressures and elevated volatility levels, which suggest that the recent correction on Wall Street may not be over just yet. Below, we outline our investment thesis and outlook for the new recommendation.
This position is motivated by persistent profit-taking pressures following every recent rebound attempt by the major equity indexes. The bulls don't think the party is over just yet, but the bears seem to be in control still, for now.
The new short recommendation is based around:
Large Cap Growth Equities

ETF

, which is down over 6% year-to-date and nearly 7% in just the past month.
This

ETF

is equal-weighted, holding 100 Large-Cap U.S. securities with no more than 13% of its total assets going to the top 10 holdings, making a very well-balanced vehicle.
Complementing its downward momentum, this

ETF

witnessed outflows of almost $290M year to date, with approximately $17M coming out in just over the past four weeks alone.
Be sure to check out our previous buy pick here.