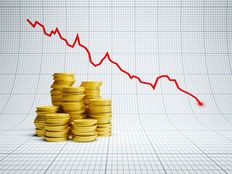 ETFdb.com is recommending a new short position for the month ahead. This short recommendation is based around rising risks surrounding defensive asset classes in the event of a Santa Rally sweeping over Wall Street in the final stretch of the year. Below, we outline our investment thesis and outlook for the new recommendation.
This position is motivated by approaching formidable resistance levels coupled with growing pressures stemming from risk-on securities showing signs of bottoming out after a prolonged rout. If the bears manage to give way to a year-end rally, this short recommendation should prosper alongside a return of risk appetites.
The new short recommendation is based around:
Materials Equity

ETF

that is down almost 14% for the year, but up nearly 9% in the trailing month
This

ETF

is comprised of 50 holdings with the top ten accounting for over 60% of total assets; in terms of market cap, this portfolio is dominated by mid-cap sized securities
Despite its mixed performance throughout the year, this

ETF

has attracted inflows of $263M in the past month, and just over $3,000M year-to-date
Be sure to click here to review our previous buy pick.