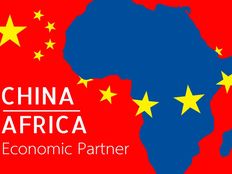 The South African economy received a boon last week from its largest trade partner, China, as authorities in Beijing promised to implement monetary and fiscal stimulus.
In the U.S., despite the three-week funding deal announced last Friday, airlines were brought to the very edge by the longest government shutdown in history. FAANGs caught this week's podium with earning releases while worries regarding the slowdown in global economic activity and uncertainties over Sino-U.S. relations took a toll on the U.S. dollar. Finally, investors took interest in leveraged bets on commodities as oil surged after U.S. slapped fresh sanctions on Venezuela.
Check out our previous trends edition at Trending: Investors Turn to Dividend Aristocrats Amid Market Volatility.
South Africa Advances on Chinese Stimulus Hopes
The freshly emerged from technical recession South African economy was buoyed last week as investor sentiment improved after the Chinese government pledged more stimulus in support of its own slowing economy. Investors turned their attention to the African region due to its reliance on exports to the Asian economy, prompting an impressive 605% surge in viewership.
Chinese policymakers announced a host of measures aimed at spurring growth, including tax cuts for businesses and a large infrastructure spending plan. Markets anticipate these to help the African economy ward off another economic slump. The rand reacted firmly and rose against the U.S. dollar by 4.7% over the last seven trading days.
The Asian country accounted for 10% of South Africa's total exports in 2017 and 15% of its imports, making it the top trading partner. Earlier in 2018, the Chinese president pledged $14.7 billion in investments while saying that it intends to take "active measures" to expand imports from the African nation.
The most significant ETF in the region, iShares MSCI South Africa ETF (EZA B-), already surged 13.5% since 2019 started. The South African media and e-commerce group Naspers, the ETF's top holding, said last week that it received a green light to spin-off its pay-TV business Multichoice. Africa's biggest pay-TV is expected to begin trading as a separate listing starting February 27 and said that it plans to pay a $181 million dividend in 2020.
---
Content continues below advertisement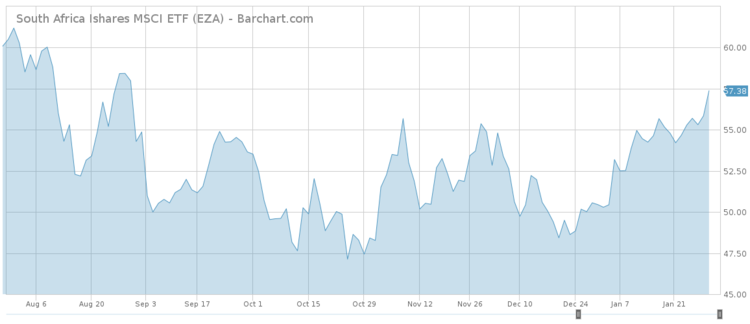 Airlines Hurt by Government Shutdown
Airlines were badly hit by the 35-day government shutdown as the air traffic controller shortage delayed numerous flights and wreaked havoc on the industry. Traffic on the topic more than tripled over the last week as investors were wary of the shutdown's enduring effects on the airlines' business and perspectives.
The funding gap affected more than 14,000 air traffic controllers and thousands of other federal aviation workers that were forced to work without pay. It was estimated that 1,800 Transportation Security Administration workers have quit their jobs during the 35-day partial shutdown, while aircraft safety inspections, new jets and routes were shelved over the past month.
The three-week funding deal announced last Friday was deemed insufficient by the industry as it expected to further negatively impact the airlines' plan for expansion.
U.S. Global Jets ETF (JETS C+) managed to rise above these worries in January and gained 11%. The ETF's top holding Southwest Airlines (LUV) said last Thursday that it estimated losses of $10 to $15 million related to shutdown shortages, while Delta Airlines (DAL) estimated $25 million in losses. On top of these issues, the severe weather forecast for this week has already caused 2,000 cancellations in the Midwest.
Use our Head-to-Head Comparison tool to compare two ETFs such as (JETS C+) and (EZA B-) on a variety of criteria such as performance, AUM, trading volume and expenses.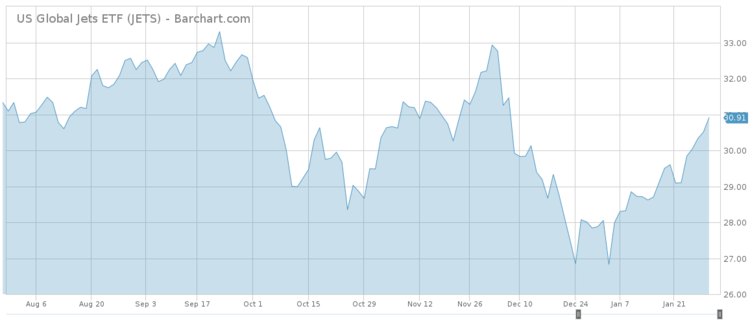 Technology Giants Report Earnings
Investors brace for the earnings season and put their hopes on a few companies that have managed to drive markets up with their staggering performance. FAANGs have been the main attraction for any investor seeking exposure to growth companies over the last years. The previous week saw a doubling in traffic for the tech group as investor expectations are high.
Netflix (NFLX) beat expectations for subscriber additions by more than 17%, while net income came in 24% higher than what the company had previously expected. Apple (AAPL) posted its first holiday-quarter decline in revenue and profit in over a decade. Quarterly revenues fell 4.5% but the most troubling aspect for investors was the plummeting iPhone revenues that came in 15% lower on a year-over-year basis.
The day was saved for FAANGs by Facebook (FB) as it crushed earnings while posing a record profit. Average revenue per user soared 21% when compared to the last quarter and revenue spiked 30.4% for the December quarter on a year-over-year basis. This helped Vanguard Growth ETF (VUG A-) stage a comeback for the year, the ETF rose by 2.2% on Wednesday alone and close to 9% since 2019 started.
For more ETF news and analysis, subscribe to our free newsletter.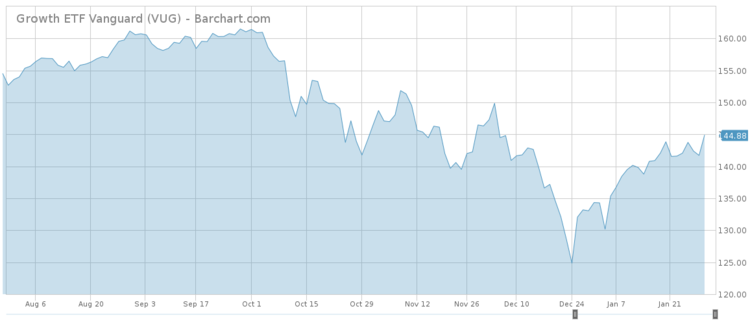 Fed Policy Weighs on the U.S. Dollar
The greenback dived as the U.S. Federal Reserve hinted toward an end of the hiking cycle. Viewership rose 81% as investors sought more information regarding the U.S. central bank's rate path.
Interest rates were maintained at a range between 2.25% to 2.50%, while Fed Chair Jerome Powell did not signal a rush in adjusting its gigantic $3.6 trillion balance sheet, stating that "the ultimate size of our balance sheet will be driven by financial institution demand for reserve."
The dovish shift on rates and the balance sheet took a toll on the U.S. currency, the U.S. Dollar Spot Index fell by 1.3% over the last five trading days. The index tracks the performance of a basket of 10 leading global currencies versus the U.S. dollar
The main ETF that allows investors to gain exposure to the dollar, Invesco DB US Dollar Index Bullish Fund (UUP B), dived following the FED's decision and now sits 0.63% lower that the January 2 quote. However, the ETF is still 8.85% higher since a year ago and could benefit from trade tensions and risk aversion.
Sign up for ETFdb.com Pro and get access to real-time ratings on over 1,900 U.S.-listed ETFs.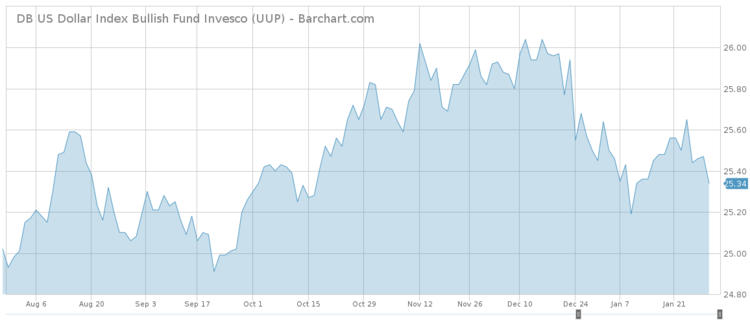 Leveraged Commodities
Investors noticed the January swell in crude prices and rushed into leveraged bets in order to squeeze as much as possible from the rise. Leveraged Commodities are fashionable again after West Texas Intermediate climbed 20% in January and made products like the Invesco DB US Dollar Index Bullish Fund (UWT ) investment heroes with an impressive 66% performance for 2019.
The U.S. administration imposed sanctions on Venezuelan state-owned oil firm PDVSA in a move that puts further pressure on President Maduro to step down. The country's crude exports are expected to fall by 500,000 barrels a day under these sanctions, from 1 million barrels a day in 2018. Elsewhere in the news, Libya's biggest oilfield, El Sharara, is projected to remain closed until armed occupiers leave, subtracting another 300,000 barrels of oil from the global supply.
For a deeper analysis on individual ETF investments such as (UWT ) or (UUP B), use our ETF Analyzer tool. You can select ETFs by Category or Type as well as add individual ticker symbols to compare performance, expenses and dividend yield, among other metrics.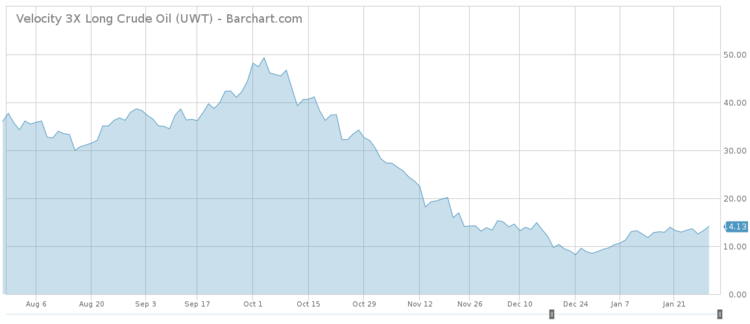 The Bottom Line
Africa's most industrialized country stands to gain from the recently announced Chinese stimulus plan while it also prepares for massive investments from the world's second-largest economy. Airlines got stung by the long government shutdown as critical personnel took leaves of absence which caused delays and inflicted losses on the nation's carriers. Technology mammoths began reporting holiday earnings with Apple disappointing, while Netflix and Facebook raised investor confidence. The U.S. dollar fell after the Fed took a dovish stance on rates and called for patience. Lastly, oil's January spike led investors toward leveraged bets on commodities, especially as the Venezuelan saga continues to unravel.
By analyzing how you, our valued readers, search our property each two weeks, we hope to uncover important trends that will help you understand how the market is behaving so you can fine-tune your investment strategy. At the end of every alternate week, we'll share these trends, giving you better insight into the relevant market events that will allow you to make more valuable decisions for your portfolio.