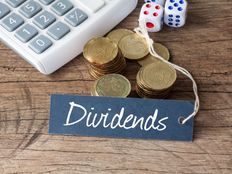 Dividend investing is back in fashion as wild price swings in the stock market and prolonged uncertainties weigh on investor sentiment.
Retail companies enjoyed a strong holiday season but online sales continue to eat into brick-and-mortar shops' margins. Brazil came third as the nation's stock market soared to all-time highs on positive momentum. Biotechnology shares marked a major reversal on mergers and encouraging trial data. Small caps closed the list as some investors are adding them back to their portfolios.
Check out our previous Trends edition at Trending: Brazil Welcomes New President in Hope of Economic Resurgence.
Investors Pour Into High-Dividend Yielding Stocks
Dividend Aristocrats, a select group of S&P 500 companies that have continually increased their dividend payouts over the last 25 years, are back in the spotlight. Viewership in the sector witnessed a resurgence and jumped 128% in the last five days as investors looked into ETFs that offer exposure to companies like telecom giant AT&T (T), research-driven pharmaceutical company AbbVie (ABBV) or energy behemoth Chevron (CVX).
Once the stock market began to tremble last October, investors faced a dilemma. Plunging assets forced them out of risky ventures but cash was not appealing in a bull market, even though analysts described it as a late-stage development. Overvalued picks were an important part of any portfolio because these were growth companies that performed astoundingly for the better part of the year.
However, once the S&P 500 dove more than 10% and companies like Apple and Amazon entered bear territory, more market participants considered switching to dividend investing. Hence, the shift of fund flows for ETFs in the category. The ETF linked to the S&P High Yield Dividend Aristocrats Index, SPDR S&P Dividend ETF (SDY A) moved from outflows of $96 million during the summer of 2018 to inflows of $1.6 billion over the last four months. The index comprising 53 companies was first introduced in 2005 and is equally weighted.
These stocks entice investors with solid payouts even during tough times and have surpassed the benchmark performance over the last decade, while experiencing lower volatility. The dividend-yield premium for S&P High Yield Dividend Aristocrats Index managed to enhance the total return when compared to the broader market as it ended the year with a 2.5%, far better than the 1.85% for the S&P 500.
SPDR S&P Dividend ETF (SDY A) is up 4.17% for the year. Its top holding is AT&T, a company that offers a dividend yield of 6.6% and has a solid track record of 35 consecutive years of rising payouts.
Sign up for ETFdb.com Pro and get access to real-time ratings on over 1,900 U.S.-listed ETFs.
---
Content continues below advertisement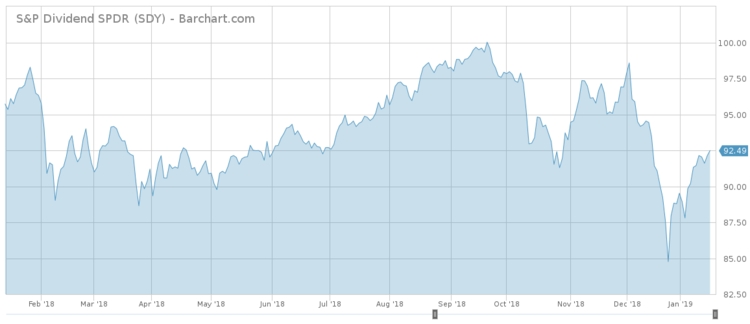 Retail Corporations Lower the Bar
Investors had high expectations for the end of 2018 as tax cuts and climbing wages pointed to a record holiday season. However, a strong U.S. consumer sentiment proved insufficient for a large wave of retail spending. Brick-and-mortar shops have seen their margins shrink, while technology behemoths Apple and Samsung lowered their revenue guidance amid economic deceleration and a fierce competitive environment. Such news made investors turn their attention to retail ETFs, a sector which in turn saw its traffic spike 61% over the last week.
The biggest department store in the U.S. by market cap, Macy's (M), announced disappointing holiday sales and lowered projection for fiscal 2018, to flat net sales, from a modest gain. This sparked the worst trading day in the retailer's stock, which was battered and closed down more than 17%. Kohl's (KSS) reported holiday sales up 1.2%, far worse than the expected 7% a year before.
On the other hand, online has delivered on market expectations. Overall solid retail spending stemmed mostly from online shopping, which saw a gain of 19.1% compared to the 2017 holiday season, according to the Mastercard SpendingPulse report.
The Amplify Online Retail ETF (IBUY C+) offers exposure to the promising online retail segment and has, as one of its top holdings, the streaming mammoth Netflix (NFLX). Netflix announced that it will hike prices for its U.S. subscribers by anywhere from 13% to 18%, a move that may add an excess of $1 billion to its annual revenue.
Use our Head-to-Head Comparison tool to compare two ETFs such as (USLV C) and (EWZ A-) on a variety of criteria such as performance, AUM, trading volume and expenses.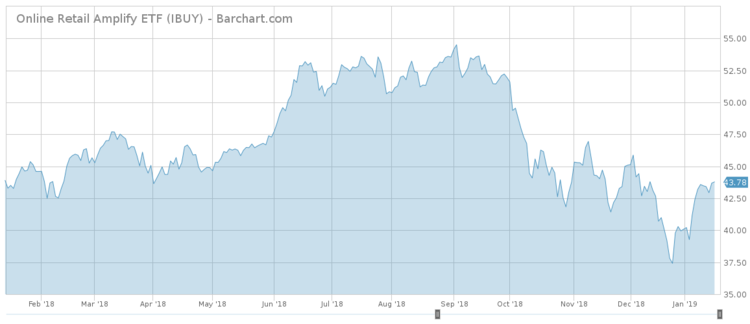 Brazilian Markets Roar to Record Highs
Investing in Brazil is still regarded as somewhat risky, despite an impressive momentum in its stock market. The country's main index, Bovespa, is already up 7.4% since the start of 2019, which makes it the third-best performer in the world, behind Buenos Aires and Saudi Arabia. Traffic surged more than 50% over the last five days as expectations for real economic reforms are high.
So far, rhetoric has been the movement of its stock market, but the largest South American economy needs to steer away from a burdening budget deficit and open up the country to outside investments in infrastructure and other large projects.
Data shows that local funds are, for now, the main players behind the latest records in Bovespa's quotes. Outside flows actually ebbed since 2019 began, with roughly $300 million leaving the Brazilian stocks as fears of over-valuations sparked liquidations.
A reduction in the country's public debt may lead to lower long-term interest rates futures, an impetus for stocks. The pension system reform is, however, the biggest worry. Jair Bolsonaro's Administration is expected to move the much needed legislation through Parliament in the next six months making use of the current wave of optimism that engulfed the country since last fall.
iShares MSCI Brazil ETF (EWZ A-) is unsurprisingly 12% above the level at which it ended 2018, but it has been stabilizing over the last week. The country's currency, the real, also gained in 2019 and is now 3.8% higher relative to the U.S. dollar, another positive sign.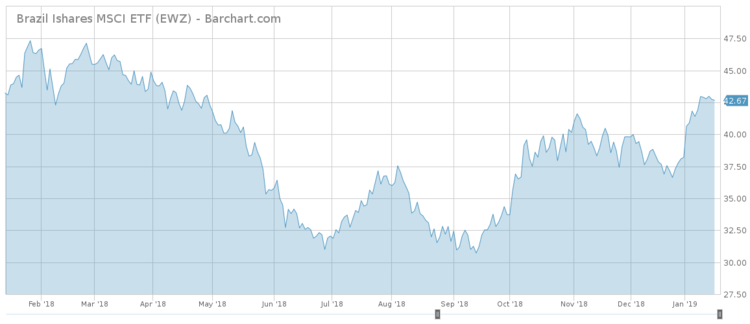 M&A Offers Thrust to Biotech Stocks
Dealmaking has been the driver of recent constructive developments in the biotechnology sector. Industry leaders Calgene (CELG) and Loxo Oncology (LOXO) have been subjected to merger proposals, news that flared investor interest and made traffic rise by 37% over the last week.
The New York-based pharma corporation Bristol-Myers Squibb said on the third day of 2019 that it put forward an offer of $74 billion for the cancer drug company Calgene. The cash-and-stock deal provides a 53% premium relative to the closing price of the previous day. The largest healthcare deal on record is actually valued at $95 billion after factoring in debt. The announcement caused Bristol-Myers Squibb shares to shed 12% and Calgene's quote to spike to 25%.
Another deal made public recently was the $8 billion Lilly-Loxo Oncology merger. The definitive agreement stipulates a $235 per share or a 68% premium for the Connecticut-based Loxo Oncology. Analysts are expecting further M&A expansion in 2019; the sector is already experiencing the best start of the year since 2012.
iShares Nasdaq Biotechnology ETF (IBB A-) is already up 14.5% for the year and more than 21% over the low on Christmas Eve. The ETF also offers exposure to Sage Therapeutics, a biotech company that presented encouraging late-stage data last week on its treatment for postpartum depression, an event that made its shares rise by 42%.
Small Caps
Companies with anywhere from $300 million to $2 billion in market capitalization are off to a promising start if year-to-date performance is any indication. The benchmark for small caps, the Russell 2000 Index, is 8.73% – way above the S&P 500, which only gained 5.24% in 2019. Small caps have seen their traffic rise by 24% over the previous week, as investors consider them as an alternative to the large-cap stocks.
Small caps are well-known for their sensitivity during market turbulences and investors should ponder the return to such assets as the misty global economic environment is not showing signs of brightening. However, when markets turn, these companies lead the way. Following the market corrections of 2011-2012 and 2015-2016, small caps have widely outpaced the broader market by 15% and 10%, respectively.
The largest ETF in the category, iShares Russell 2000 ETF (IWM A-), gained 8.78% for 2019 and has as its top holding the e-commerce marketplace operator Etsy. Shares in Etsy (ETSY) skyrocketed over the last 12 months, going from $19.74 per share to $54.53 per share at Wednesday's closing price.
For a deeper analysis on individual ETF investments such as (IWM A-) or (MJ B-), use our ETF Analyzer tool. You can select ETFs by Category or Type as well as add individual ticker symbols to compare performance, expenses and dividend yield, among other metrics.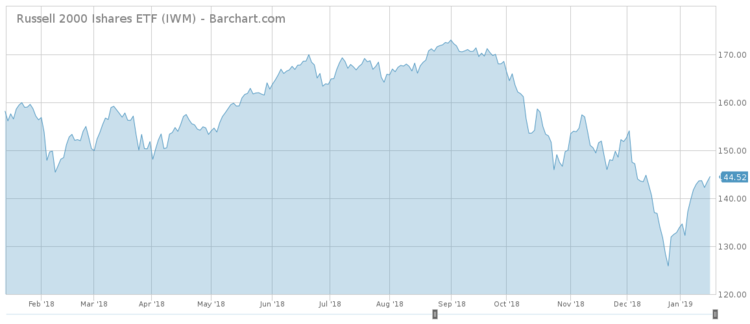 The Bottom Line
The steady and somewhat secure dividend payouts of Dividend Aristocrats are considered a safe haven in this stormy financial environment, prompting investors seeking refuge from high volatility to pour into the segment. Retail has had a solid holiday season but high street is continuing to suffer from ravaging online competition. Brazil made the news once again, as the investor community is expecting the new administration to deliver on promised reforms. Deals in the biotech industry sparked a brilliant start for the entire sector, while small caps are slowly making their way into investment strategies as they are a suitable short-term play after the markets bottomed.
For more ETF news and analysis, subscribe to our free newsletter.
By analyzing how you, our valued readers, search our property each week, we hope to uncover important trends that will help you understand how the market is behaving so you can fine-tune your investment strategy. At the end of the week, we'll share these trends, giving you better insight into the relevant market events that will allow you to make more valuable decisions for your portfolio.