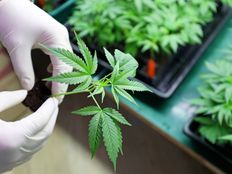 ETFdb.com is recommending a new long position for the month ahead. This long recommendation is based on our observation of very impressive relative strength in a niche industry during an otherwise choppy period for broad equity indexes. Below, we outline our investment thesis and outlook for the new recommendation.
This position is motivated by tight, sideways price action following an initial rally, which suggests that another leg higher is very likely.
The new long recommendation is based on:
North America Equity

ETF

that is up an impressive 33% in the past month, but down nearly 8% over the past one-year period
This fund is very concentrated and top-heavy; there are just 35 holdings in total and the top ten securities command about two-thirds of total assets
Another important feature of the portfolio is that it's dominated by smaller stocks; in fact, large caps account for just one quarter of the holdings while small and micro caps combined account for over 60%
This

ETF

has seen inflows of $86M over the past month and almost $460M in total over the past one-year period
Check out our previous sell recommendation here.