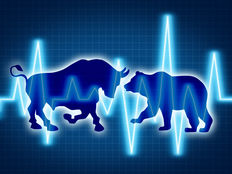 To help investors keep up with the markets, we present our ETF Scorecard. The Scorecard takes a step back and looks at how various asset classes across the globe are performing. The weekly performance is from last Friday's open to this week's Thursday close.
Brexit talks between the U.K. and the European Union have yet to yield a result that would please the British Parliament. The latest talks between Prime Minister Theresa May and EU officials focused on the perennial issue of the Irish backstop. Although Europeans ruled out a significant overhaul of the current agreement, they may accept a massaging of the language in order to assure that a hard border between Ireland and Northern Ireland will not be indefinite. Talks are still in progress.
U.S. Federal Reserve minutes revealed that policymakers are reviewing a plan to stop reducing asset holdings this year, providing a further signal that it wants to put the monetary policy tightening on pause. The Fed also used the word "patient" in its approach to interest rate hikes given the economic slowdown unfolding overseas.
U.S. consumer sentiment recovered in February, rising from a revised 91.2 in the prior month to 95.5, in a good sign for the U.S. economy.
U.K. average earnings index stayed at an elevated level of 3.4%, although it was slightly lower than expectations.
Germany's

ZEW

economic sentiment has improved to negative 13.4 but remains far from levels indicating optimism. The index has been below zero since April 2018.
Europe-wide flash manufacturing purchasing managers' index (

PMI

) came in at 49.2 in February, falling below the 50 levels.
European services

PMI

, meanwhile, expanded from a revised 51.2 to 52.3.
U.S. durable goods orders rose 1.2% in January month-over-month, disappointing forecasts of 1.6%.
Core durable goods orders were up 0.1% compared with forecasts of 0.3%.
Crude oil inventories jumped 3.7 million for the week ended February 15, marking the fifth weekly consecutive increase.
Risk Appetite Review
Equal weight (

RSP

) was surprisingly the best performer for the week, advancing 1.49%, amid uniform performance across the board.
The broad market (

SPY

) rallied 1.33%.
Sign up for ETFdb.com Pro and get access to real-time ratings on over 1,900 U.S.-listed ETFs.
---
Content continues below advertisement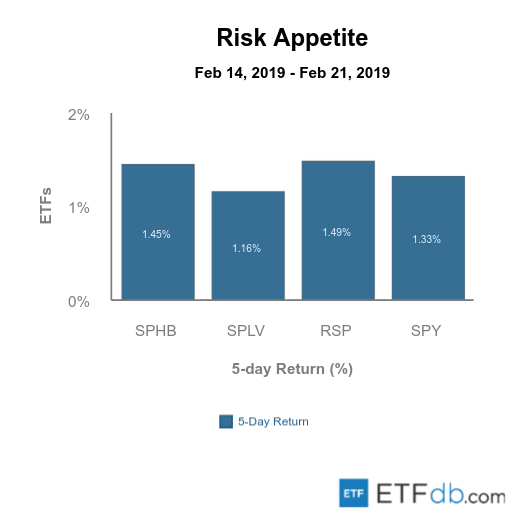 Major Index Review
Major indexes were mixed.
Small-cap stocks (

IWM

) continued to be the best weekly performer, as the Federal Reserve minutes gave another hint that policymakers would put monetary policy tightening on hold. With relatively high indebtedness, small-caps are expected to benefit from lower interest rates for longer.
To see how these indices performed over the past year, check out ETF Scorecard: February 15 Edition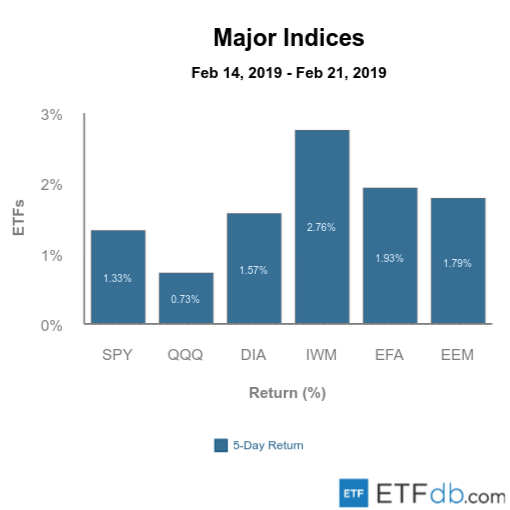 Sectors Review
Sectors posted mixed performance.
The telecom sector (

XTL

) jumped 3.13% for the week, making it one of the best performers from the pack, after being the worst performer last week. The sector was boosted in part by Donald Trump's tweets that he wanted 5G and even 6G as soon as possible in the U.S.
The real estate sector (

XLRE

) declined 0.58% this week, the worst performance from the pack.
Use our Head-to-Head Comparison tool to compare two ETFs such as (XLRE B+) and (XTL A) on a variety of criteria such as performance, AUM, trading volume and expenses.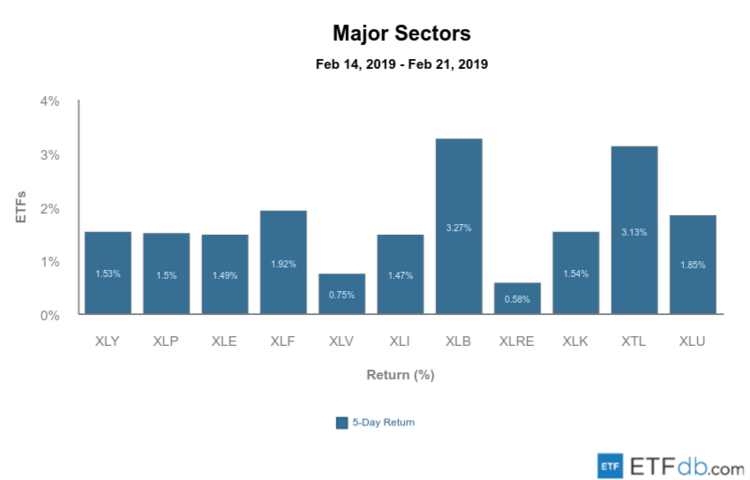 Foreign Equity Review
Foreign equities were all up.
Germany (

EWG

) rose nearly 3% for the week, beating its peers from the pack, despite a host of economic indicators deteriorating. The auto industry, however, received a boost from Trump's promise to EU Commission President Jean-Claude Juncker that he will not impose tariffs on auto imports for the time being.
India (

EPI

), meanwhile, was the worst performer, gaining only 0.81%.
To find out more about ETFs exposed to particular countries, use our ETF Country Exposure tool. Select a particular country from a world map and get a list of all ETFs tracking your pick.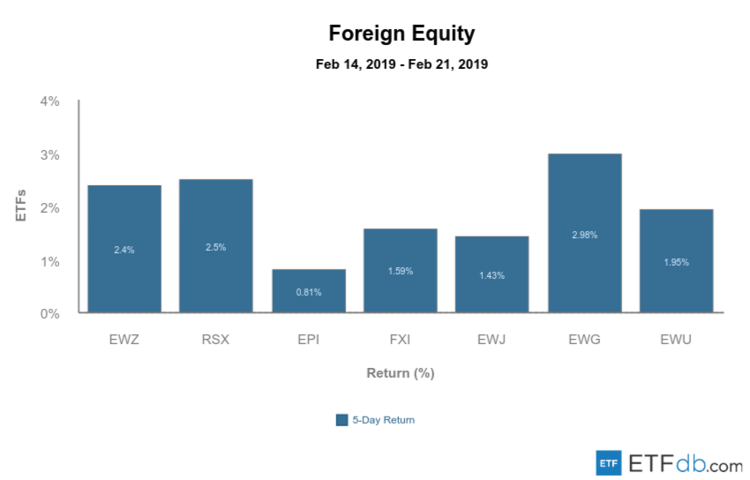 Commodities Review
Commodities posted mixed performance.
Crude oil (

USO

) continued its upward ascent this week, adding 5.41%, despite an inventory buildup in the U.S. Investors were optimistic about a potential deal between the U.S. and China.
The agricultural fund (

DBA

) was the worst performer, losing 0.59%.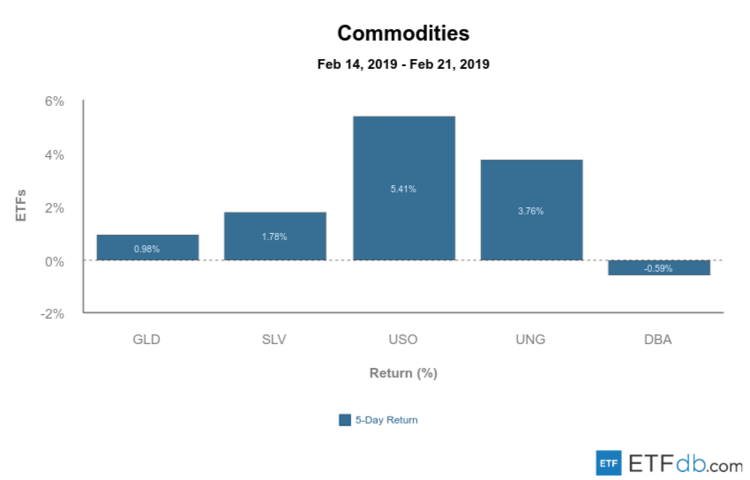 Currency Review
The euro (

FXE

) was again the worst performer for the week, as economic data across the board points to a looming economic slowdown.
The British pound (

FXB

) jumped nearly 2% on the prospects of a potential Brexit deal.