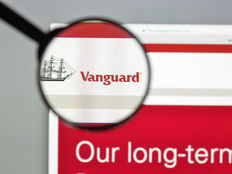 Vanguard Group has trimmed the fees on a handful of ETFs in the latest round of cost cutting on a number of products to gain an edge on competitors as an increasing number of investors look to cheap investment options.
According to new regulatory filings, Vanguard Group cut the expense ratio on the Vanguard Total Bond Market ETF BND (BND A), Vanguard FTSE All-World ex-US VEU (VEU A), Vanguard FTSE Europe ETF VGK (VGK A), Vanguard FTSE Pacific ETF VPL (VPL A), Vanguard Tax-Exempt Bond ETF VTEB (VTEB A+), Vanguard FTSE Emerging Markets ETF VWO (VWO A+) and Vanguard Total International Stock ETF VXUS (VXUS A), the Wall Street Journal reports.
"A broader and broader base of investors are using ETFs, and that's pushing more assets into these funds," Rich Powers, head of ETF product management at Vanguard, told the WSJ, adding that as the funds grow, economies of scale allow Vanguard to pass savings along to investors.
Vanguard's cost-cutting initiatives are the latest in an escalating fee war among ETF providers as fund sponsors find that the cheapest investment options have typically attracted the most investor money over recent years.
---
Content continues below advertisement