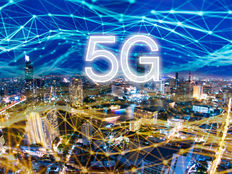 Whether society is ready for it or not, disruptive technology like robotics, artificial intelligence (AI) and machine learning is the next wave of innovation that could pave the way for the latest growth-momentum plays for investors. In the not-so-distant future, 5G technology could be a major disruptor and one such opportunity to take advantage of this is the 5G ETF (FIVG) from Defiance ETFs, which launched today on the New York Stock Exchange, with an expense ratio of 0.30%.
Investors who missed out on the serendipitous run of FAANG (Facebook, Amazon, Apple, Netflix, Google) stocks can look to capitalize on disruptive tech options in 2019 like 5G technology. 5G technology will use a higher frequency band versus the current 4G technology standard, resulting in faster transmission of data.
Being able to transmit copious amounts of data at a faster rate is certainly of benefit for wireless companies and their users, but 5G could be a major disruptor in various industries.
"When most people think about the 5G space, they mostly view it as a telecom solution," said Paul Dellaquila, Global Head of ETFs at Defiance ETFs. "5G is really a type of all-purpose technology so a lot of people compare it to electricity or the printing press—that's how disruptive and how transformative this ETF is going to be."
The Defiance Next Gen Connectivity ETF is the first ETF to emphasize securities whose products and services are predominantly tied to the development of 5G networking and communication technologies. FIVG does this by tracking The BlueStar 5G Communications Index, and FIVG attempts to invest all, or substantially all, of its assets in the component securities that make up the Index.
Related – Defiance ETFs: Investment Case for FIVG
---
Content continues below advertisement
The possible applications of 5G technologies are only in the exploration stages, and the possibility of returns is uncertain and may not be realized soon. Nonetheless, it presents an opportunity that could see early adopters reap the benefits, especially if the technology is utilized to its fullest capabilities.
"When we built this product, we wanted to ensure that we were capturing the entire ecosystem that goes into this 5G buildout because it's not just about Verizon and AT&T giving you 5G access on your phone, but the infrastructure that's going to be built out with that," Dellaquila said.
ETFs for the Next Wave of Investors
Disruptive technology in general is not relegated to certain sectors as it will permeate into all industries in some form or fashion. For example, augmented reality is technology comprised of digital images superimposed over the real world, and its use is primed to drive industry growth–industries like real estate and manufacturing are already putting the technology to use in a variety of ways.
As these industries begin to adopt more disruption, the technology deployed will eventually become the norm and as such, its investors will also evolve. Therefore, Defiance focuses on ETFs built for the next generation of investors who are not necessarily looking at individual stocks, but those who want to capitalize on specific, niche-like sectors such as disruptive technology.
"ETFs are great core building blocks," said Matthew Bielski, CEO of Defiance ETFs.
"This hunt for alpha, in my opinion, is not going away, but the way investors, advisors and institutional investors are accessing the ETF is changing. Less and less people want to make a bet on specific stocks; they're looking to ETFs to make those pure precision types of plays inside of a portfolio," added Bielski.
Since the advent of the ETF, its use has evolved from being a complementary component of a portfolio to a vital inclusion in a portfolio. As the ETF space continues to grow, its uses will also evolve.
Whereas the tech ETFs of years past focus on the largest names in a traditional cap-weighted index, Defiance is looking to build ETF products that capture a broad range of companies in order to gain the diversification benefits of the nascent, but quickly growing disruptive technology field.
"We look at ETFs as a big, giant toolkit," said Bielski. "What we want to do is build tools that allow investors to get more precision instruments in their portfolio."
FIVG joins Defiance's growing family of ETFs, which also includes the Defiance Quantum ETF QTUM (QTUM A-) and Defiance Future Tech ETF AUGR (AUGR ) providing investors exposure to technologies that may stand to see significant benefits from the expansion of 5G networks.
"As the exposure has changed inside of the ETF landscape, we wanted to build products that will be able to provide more tools for investors to get more precise access into the portfolios for these technologies that are going to transcend the way we work and live the decade beyond," said Dellaquila.
For more information on Defiance ETFs, visit https://www.defianceetfs.com/.