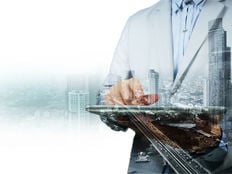 ETFdb.com is recommending a new long position for the month ahead. This bullish recommendation is based around falling interest rates prompting investors to seek out meaningful sources of income. Below, we outline our investment thesis and outlook for the new recommendation.
This position is motivated by momentum returning to a traditionally under-appreciated, income-generating asset class that has taken on fundamental appeal in light of today's stubbornly low-rate environment. Furthermore, this ETF is nearing its all-time highs resistance level from the 2008 crash and it looks technically well-poised to break above it.
The new long recommendation is based around:
Real Estate

ETF

that is up 3.5% for the month, but has gained over 16% year-to-date amid the market wide rebound
This

ETF

has seen solid inflows over the month to match its positive performance, totaling around $438M for the past four weeks and $995M year-to-date
The fund is fairly well balanced for being sector-specific; it holds around 100 securities in total and the top ten position account for just over one-third of total assets under management
In terms of exposure, this

ETF

is dominated by Large and Mid Cap size securities from the US
Investment Thesis
After the last FOMC meeting the Fed is more than likely going to hold off on quickening its pace of rate hikes. Officials indicated that while the labor market remains strong, economic growth has cooled off since the prior quarter. Furthermore, there was a big development in the bond market his past month as the yield curve finally inverted.
What does it actually mean? In short, the bond market is pricing in rising odds that a US recession is around the corner. While only time will prove whether these expectations are too pessimistic, or optimistic, what's certain is that policymakers are now even less inclined to tighten the reins on monetary policy. In fact, if there is more evidence of economic weakness the Fed could even find itself resuming expansionary policy once again.
What does it all mean for investors? Finding meaningful sources of current income will remain a challenge. What makes things even more difficult is striking the right balance between growth and dividends since you don't want to risk missing out on the broader equity market rally.
Enter REITs to the rescue.
This asset class is all to often ignored although the tide appears to be turning as more growth and income-minded investors alike are embracing this corner of the market in today's challenging environment. Because REITs offer a blend of capital appreciation potential as well as consistent distribution payouts they have managed to attract inflows from across the spectrum of growth-seeking to capital-preservation minded investors.
Now when we consider the fact that rates are likely to stay low for even longer, then its no bold prediction that this asset class is in prime position to keep attracting growth and dividend investors alike.
Evidence for this budding trend is the fact that IYR has staged an epic rally since the December 2018 lows, hitting 52-week highs while the broader equity indexes still have not and are trailing behind.
Let's move to the technical setup that the iShares U.S. Real Estate ETF presents at this moment. Consider (IYR B+) daily one year chart below:
---
Content continues below advertisement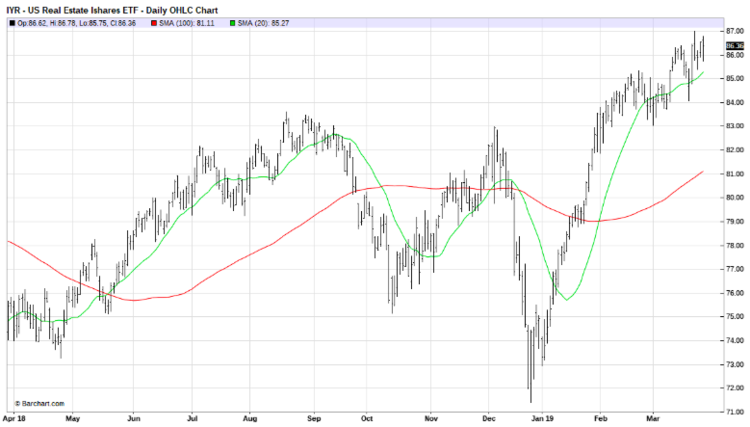 From an intermediate-term perspective, this

ETF

is trading above a rising 100-day moving average (red line) which suggests that longer-term bulls are in control. However, this moving average was recently flat and so the bullish momentum should be taken with a grain of salt especially when we consider that

IYR

is nearing its 2008 all time highs.
From a short-term perspective,

IYR

is showing more encouraging signs of a strong uptrend. This

ETF

is trading above a sharply rising 20-day moving average (green line) since the start of the year. Short-term momentum is overwhelmingly bullish here.
The rally in REITs year-to-date has been nothing short of impressive. However, we must keep context in mind and remind ourselves that IYR is nearing an important resistance level that might take time to breakout above. We advise buying any dips or sideways consolidation and exiting upon a break below the last support level at $84 a share.
The Bottom Line
We are recommending a long position in the US Real Estate ETF for two reasons. From a fundamental perspective, low-rates and growing worries of a recession are key factors that will drive investors to assets that offer the best of both worlds; growth as well as dividend income, and REITs can deliver on both of these. From a technical perspective, this ETF is showing excellent relative strength as it nears all-time highs ahead of the broad equity market. Buy with caution and always have an exit strategy in place.
Follow me @SBojinov
Disclosure: No positions at time of writing.