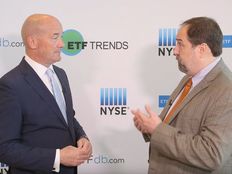 2019 is seeing a strong start for U.S. equities, but with a number of analysts warning investors that we're in a late market cycle, it can be easy to back off the domestic capital markets for fear of being late to the party. However, investors shouldn't forget about strength in the international markets, according to Joe Barrato, CEO of Arrow Funds.
Identifying opportunities overseas goes beyond investors simply tailoring their portfolios to have an overseas diversification tilt. If the proverbial steam does run out of U.S. equities, international markets could continue their forward momentum–this is where investors should be.
"We think we've entered a period of international strength," Barrato told ETF Trends. "We look at the overall performance of the country markets versus the United States, but there are also fundamental factors like where commodities are relative to where they were at the Dot-com bubble."
Investors who can remember the Dot-com bubble will recall a time when technological innovation spurred a rise in internet companies labeled "Dot-coms," which made investors wide-eyed with the potential these companies in a burgeoning internet space. As such, these Dot-coms were overvalued to exorbitant levels as investors were eager to cash in on the next big thing in this new economy.
At the time, U.S. stocks were vastly outperforming their international market counterparts, which could have signaled a red flag to unwary investors prior to the crash. It is these types of disparities that Arrow Funds will watch to determine trends–from a domestic economic viewpoint, for example, the spread between the greenback and inflation.
"We look at where the overall trends are–the spreads between inflation and the strength in the overall dollar," said Barrato. "When you have those wide spreads, specifically, they're turning points for where we're going to see strength in the international markets."
In addition, these trends are not specifically tailored for the fly-by-night trader seeking a quick profit, but also to long-term investors who want to capitalize on trends that can sustain themselves for an extended duration.
"When these trends happen, you're going to be there for about eight years," said Barrato.
It can be a dauting task when looking at the array of opportunities available for international exposure. So where exactly are these pockets of opportunity when an investor wants to add this exposure?
"They want to be hunting down at the country level or strategies that will be able to capture the alpha at that space," Barrato said.
---
Content continues below advertisement
Specifically, Arrow Funds, a leading provider of alternative investment solutions, offers a plethora of options can investor can take advantage of, such as country rotation models, mean reversion strategies, emerging markets, and single-country exchange-traded products just to name a handful.
"I suggest looking at things that are packaged to make it easier for the advisor or the investor," said Barrato.
More specifically, investors can look at these funds from Arrow:
Arrow

DWA

Country Rotation

ETF

(

DWCR

) seeks long-term capital appreciation by tracking the investment results of the Dorsey Wright Country and Stock Momentum Index. The index selection methodology consists of long positions in the equity markets of foreign countries exhibiting relatively strong momentum characteristics among the foreign universe.
Arrow Dogs of the World

ETF

(

DOGS

): seeks long-term capital appreciation by tracking the investment results of the AI Dogs of the World ex US Total Return Index. The index selects stock baskets representing the top 75% of the market capitalization for each country selected.
"When this strength (overseas) starts to occur, there's good income opportunities at the equity level and the fixed-income level," said Barrato.
For more market trends, visit ETFdb.com.