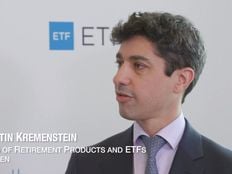 Socially responsible investments are gaining traction with more investors looking into ETFs that track environmental, social and governance, or ESG, factors.
"It's a branch of responsible investing, and it's really about taking into account factors that are based around a company's environmental, social and governance behavior and structures," Martin Kremenstein, Head of Retirement Products and ETFs, Nuveen, said at Inside ETFs.
For example, if it's the oil sector, an investor is looking at environmental scores and how companies do there. When it comes to technology companies, an investor is looking at data privacy or data security.
"What you're looking to do is look for better run companies by scoring them on the ESG factors that are most relevant for their industry," Kremenstein added.
Investors who are interested in socially responsible investments have a number of options to choose from. For example, the Nuveen ESG U.S. Aggregate Bond ETF (NUBD B+) helps fixed-income investors pair their bond investment needs with environmental, social and governance, or ESG, principles.
Investors can also fill out their equity portfolio with U.S. ESG-related ETFs, such as the Nuveen ESG Large-Cap Value ETF (NULV B), Nuveen ESG Large-Cap Growth ETF (NULG A-), Nuveen ESG Mid-Cap Value ETF (NUMV ), Nuveen ESG Mid-Cap Growth ETF (NUMG B-) and Nuveen ESG Small-Cap ETF (NUSC B), which screen companies of various market capitalization and asset categories for environmental, social and governance principles.
Lastly, the Nuveen ESG International Developed Markets Equity ETF (NUDM A-) and Nuveen ESG Emerging Markets Equity ETF (NUEM B) also align investors' international equity investments with their values.
At Nuveen, the money manager employs a number of other ESG criteria to better target companies that exhibit socially responsible characteristics. For example, Nuveen employs an ESG rating to capture an issuer's performance on key ESG risks relative to peers, a controversy score that captures an issuer's exposure and response to event-driven controversies, a controversial business investment component that captures an issuer's activity in industries that may cause significant social harm, and a low-carbon criteria that captures the carbon intensity of an issuer based on involvement in certain industries.
Watch the full interview with ETF Trends CEO Tom Lydon and Martin Kremenstein
---
Content continues below advertisement