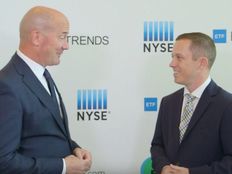 Smart beta or factor-based ETFs are growing in popularity as more money managers launch new products and more investors shift their money into these strategies. However, it is also important for investors to carefully select the right strategy for their investment portfolios.
"We think it's important to have a good framework in evaluating products. So, we think back to the active management days. We looked at what people called the 'Four Ps' – people, process, philosophy and performance, and that was the general framework to evaluate an active manager. When we look at smart beta products we think we need a new framework to make those evaluations. So beyond the factor itself, we like to look at what's called the 'Five Cs,' which is combination, concentration, construction, constraints and craftsmanship," Lance Humphrey, AVP, Portfolio Manager, USAA Asset Management Company, said at Inside ETFs.
The core factors include securities that should be selected using the most researched and empirically validated factors from both academic and practitioner research. Smart beta should provide balanced risk or stocks selection should be weighted in a portfolio in such a way to balance the risk of each individual security. Through thoughtful implementation, indices should be constructed thoughtfully to account for implementation concerns such as turnover, liquidity, and rebalancing. Lastly, the investment should provide consistent results by combining complementary factors in a balanced approach, which can lead to more consistent results relative to market capitalization weighted indices.
At USAA Asset Management Company, they try to focus on value and momentum factor-based investments. For instance, through their hands-on experience with investing in ETFs, USAA offers its own ETF suite, including USAA MSCI USA Value Momentum Blend Index ETF (ULVM C+), USAA MSCI USA Small Cap Value Momentum Blend Index ETF (USVM B+), USAA MSCI International Value Momentum Blend Index ETF (UIVM A-) and USAA MSCI Emerging Markets Value Momentum Blend Index ETF (UEVM B).
The suite of smart beta ETFs is built as core portfolio-building components and allows investors more choices at a competitive cost.
The factor-based lineup focuses on the value and momentum factors, identifying stocks with attractive valuations and positive price momentum and weighting the two factors in such a way to help investors diversify against the risk of individual holdings. Academic research suggests that focusing on stock companies with factors like attractive valuations and improving momentum have led to higher excess returns.
Watch the full interview between ETF Trends CEO Tom Lydon and Lance Humphrey
---
Content continues below advertisement