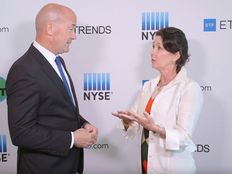 Women in ETFs, the first women's group for the exchange traded fund industry, has been helping to foster the careers of women across the U.S., Canada, EMEA and Asia Pacific in the financial industry.
"We're starting our sixth year," Sharon French, Head of Beta Solutions, OppenheimerFunds, said at Inside ETFs 2019.
"This organization has touched so many people in so many ways, and I've big shoes to fill. There's many wonderful women who came before me and so I'm very happy that I get to continue to carry that forward."
The Women in ETFs and its partners, including UN Global Compact, UN Women, IFC, Sustainable Stock Exchanges (SSE) Initiative, IFC and the World Federation of Exchanges, highlighted International Women's Day to "Ring the Bell for Gender Equality" during the NYSE Opening Bell on March 8.
"There's a bunch of like-minded organizations who feel like this is a great way to promote gender equality and themes of that same nature," French added.
The theme focuses on innovative ways in which the private sector can advance gender equality and women's empowerment, particularly in the areas of social protection systems, access to public services, and sustainable infrastructure.
Watch the full interview between ETF Trends CEO Tom Lydon and Sharon French
---
Content continues below advertisement
For more ETF-related commentary from Tom Lydon and other industry experts, visit our ETF Trends video category.