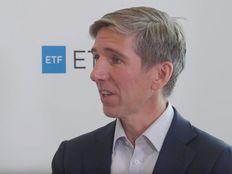 Cryptocurrency is an up-and-coming market, and financial advisors are taking a closer look at the opportunities the new asset may present.
Bitwise Asset Management, the leading provider of cryptoasset index and beta funds, and ETF Trends, recently released the findings of the inaugural Bitwise/ETF Trends Survey of Financial Advisor Attitudes Towards Cryptoassets.
"First of all, almost eighty percent of advisors had received questions from clients about crypto in the past year – that's really important. If you have clients coming to you and asking, 'Should I invest? What's this all about?' you need to have answers," Matt Hougan, Global Head of Research, Bitwise Asset Management, said at Inside ETFs 2019.
"Also interesting, the percentage of advisors allocating or thinking about allocating to crypto was going from nine percent last year to twenty-two percent – that's counterintuitive," he added.
While cryptocurrencies took a hit in 2018, the volatility, while painful, is fairly typical of this nascent asset class. For example, during the June 2011 through February 2013 cycle, cryptoassets plunged 93%. From the April through November months of 2013, cryptos declined 70%. From December 2013 through February 2015, cryptos plummeted 83%.
While the asset may be volatile, crypto can be a valuable component in a diversified portfolio if used properly. Looking at the impact of bitcoin in a portfolio starting in 2014 through November 2018, Hougan found that bitcoin's low correlations, combined with the strong returns crypto over long time periods, has made it uniquely valuable in a portfolio setting.
Furthermore, if we look past the performance over 2018, last year was actually a great year for cryptos. We saw futures launch on both CBOE and the CME, two of the five largest futures exchanges in the world. The SEC clarified that ethereum did not qualify as a security. Major market makers entered the space, with firms like Jane Street, Flow Traders, and Susquehanna – and as hedging options expanded, spreads came in dramatically. Endowments like like Yale, Harvard, MIT And Stanford made their first allocations.
Watch the full video between ETF Trends CEO Tom Lydon and Matt Hougan:
---
Content continues below advertisement