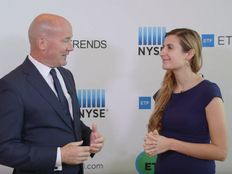 With volatility rearing its ugly head again, ETF investors should look to strategies that mitigate risks but still keep them in the markets to capture further upside potential.
"We want to be investing, maybe a little bit more cautiously. So, I think of U.S. equities, but with a quality and value tilt to them," Samantha Azzarello, Executive Director, Global Market Strategist, JP Morgan Asset Management, said at Inside ETFs 2019.
For example, ETF investors may consider smart beta strategies that focus on the quality and value factors, such as the multi-factor JPMorgan Diversified Return US Equity ETF (JPUS B+), along with single-factor strategies, including the J.P. Morgan U.S. Value Factor ETF (JVAL B) and J.P. Morgan U.S. Quality Factor ETF (JQUA A).
When considering factor-based investments or smart beta ETF strategies, investors may take broad strokes that cover multiple investment factors for a diversified approach or pick and choose individual factor exposures.
The underlying customized FTSE Russell indexing methodology selects components based on a diversified set of factor characteristics, such as relative valuation, price momentum and quality. The enhanced indexing process would allow the ETFs to exclude expensive, low-quality companies with poor momentum, which could help the ETFs diminish drawdowns without sacrificing too much from any potential upside of a market recovery.
Additionally, ETF investors can also looked to customized strategies on the fixed-income side.
"We need to be smart about fixed-income, so we need to know what we own, and traditional indices might not be cutting it," Azzarello added.
For instance, the JP Morgan US Aggregate Bond ETF (JAGG A-) holds a diversified portfolio of high-quality fixed income securities, including corporate bonds, U.S. Treasuries and government and agency securities, but the ETF applies a multi-factor credit screening process that seeks exposure to corporate debt issuers with attractive value, quality and momentum characteristics.
Watch the full interview between ETF Trends CEO Tom Lydon and Samantha Azzarello:
---
Content continues below advertisement
For more ETF-related commentary from Tom Lydon and other industry experts, visit our video category on ETF Trends.