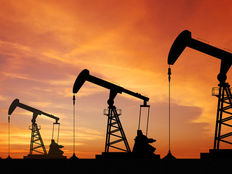 Oil ETFs surged upwards of 10 percent Monday after attacks on Saudi oil production facilities Saturday knocked out 5.7 million barrels of daily production.
Specifically, the United States Oil Fund (USO B) was up 11.1% while the United States Brent Oil Fund (BNO A) was up 12.06% as of 11:20am ET Monday.
Brent crude, the global oil benchmark, rose 11% to $67.03 a barrel. It had earlier jumped as much as 19.5% to $71.95 a barrel.
Related: Rising Middle East Tensions Could Spike Oil Prices This Week
WSJ reports President Donald Trump authorized the release of oil, if needed, from the Strategic Petroleum Reserve to help offset cost increases. The U.S. holds about 600 million barrels of emergency crude products, said Oswald Clint, a senior analyst for Sanford C. Bernstein & Co.
Saudi Arabia accounts for 12% of global oil production – this recent attack will cut that number in half until they're back up and running.
Tactical Oil ETF Plays
This incident provides trading opportunities and ETFs will play a roll. Further tension will decrease oil supply and prices will likely go higher for ETFs like USO and BNO.
For tactical plays, look to the VanEck Vectors Oil Services ETF (CRAK ) and the Energy Select Sector SPDR (XLE A).
With 50% of Saudi oil off the market, other international producers will pick up the slack and the profits of higher prices.
Long traders can look at the Velocity Shares 3x Long Crude Oil ETF (UWT ) +28% and Direxion Daily Energy Bull 3x (ERX A-) +10%. Meanwhile, short traders can look to the Velocity Shares 3x Short Crude Oil ETF (DWT) -28% and the Direxion Daily Energy Bear 3x (ERY) -10%.
For more information on the energy sector, visit our energy category.
This article originally appeared on ETF Trends.
---
Content continues below advertisement