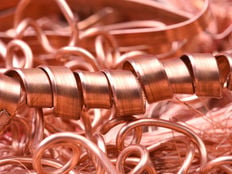 The global copper market is experiencing a supply deficit, which, in theory, should boost prices of the red industrial metal. However, the reality is that the iPath Series B Bloomberg Copper Subindex Total Return ETN (JJC A) may need more help than just supply shortfalls.
Some analysts are growing concerned that global troubles could drag down the industrial metal as well. Along with the trade concerns, copper prices were weakening on softening global economic data. The base metal is a significant component in many industries, including construction, and is widely seen as a barometer for global economic health.
"Global mined copper output dropped in the first six months of the year by 1.4% to nearly 9.92 million tonnes mainly due to weather disruptions in world's leader Chile and the transition of two mines in Indonesia to different ore zones," reports Cecilia Jasmine for Mining.com. "Chile's production dropped 2.5% as heavy rains in the country's north and lower grades weigh on the country's outcome, the latest report by the International Copper Study Group (ICSG) shows
Due to copper's widespread use, particularly when it comes to home building and commercial construction, it's a good measuring stick of how well the economy is doing. Good news: sentiment toward the red metal is improving.
Why It's Important
"Indonesia's copper concentrate output fell a staggering 55% owing to the transition of Grasberg into block caving and Batu Hijau mine to Phase 7," according to Mining.com. "It means that global refined copper market ended the first half of 2019 with a supply deficit of about 220,000 tonnes."
What could provide some support to JJC into year-end is the widespread nature copper shortfalls. Data indicate mining activity of the red metal is slumping throughout the world, excluding North America.
Related: Catch This Compelling Copper Conundrum
"On a regional basis, ICSG data shows that mine production declined 6% in Asia, 1% in Latin America and 3% in Europe, but increased around 2% in North America and 7% in Oceania, and remained essentially flat in Africa," according to Mining.com.
ETF investors sensing an opportunity in copper can also gain exposure to the metals and mining space through miner-related ETFs, such as the SPDR Metals & Mining ETF (XME A-), which is designed to track the broad metals and mining segment, and the Global X Copper Miners ETF (COPX B+), which takes a more focused approach to copper miners.
This article originally appeared on ETFTrends.com
---
Content continues below advertisement